Various Artists: A Tribute to Jerry Garcia - Deadheads Festival, Japan 1997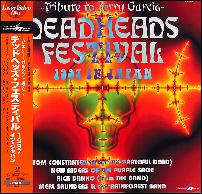 [Video cover] [Back cover] [Rick Danko cover photo]
Recorded April 8th 1997, Shibuya On Air West.
I found this in the reduced price rack in the Virgin Megastore in Paris. Itís a pretty low profile release with Tom Constanten, New Riders of the Purple Sage, Merl Saunders and The Rainforest Band. Itís rather a bizarre tribute, in that Rick Danko simply does four old Band songs. Theyíre not even ones that Jerry Garcia covered, and I thought the point of these things was doing versions of the artistís songs. In his interview sequence Danko says he met Garcia "Back in the sixties - 1965 I guess, when The Band and The Grateful Dead were cutting their teeth".
During The Weight he slips his guitar off during the first couple of lines and sings the rest of the song walking around the stage with the mic in his hand, looking uncannily like Ronnie Hawkins. Pity John Dawson is shaky on the words, but after singing backing on the chorus, he seems surprised to be invited to take a verse. There are four short solos, all well-taken on piano, both guitars and violin. In The Shape Iím In he seems to be having a lot of fun, dancing and even twirling. The largest back cover shot shows Dawson and Danko singing together, with Danko holding a mic and no guitar, but interestingly Dawson has a jacket on. He doesnít during the filmed show. Of course, thereís less than two hours of a three and a half hour show on the disc.
Merl Saunders finishes the show, in which he thanks the others for supporting him, which looks like the way it was on the disc, though not on the cover. Nice T-shirt. Great set.
-- Peter Viney
Contents
Side 1
Opening
(includes short extract of Crazy Mama, Rick Danko - solo)
Interview
Dead Medley - Tom Constanten
Interview
Ripple - New Riders of The Purple Sage
John Dawson - guitar, vocal / Russell Gauthier - guitar, vocal / Garry Vogensen - guitar, vocal
Midnight Moonlight- New Riders of The Purple Sage
John Dawson - guitar, vocal / Russell Gauthier - guitar, vocal / Garry Vogensen - guitar, vocal + Michael Warren - bass / James Vincent Littleton - drums
Interview
(includes a few bars of Superstition)
Stage Fright - Rick Danko
Rick Danko - guitar, vocal
It Makes No Difference - Rick Danko
Rick Danko - guitar, vocal
The Weight - Rick Danko
Rick Danko - vocal + John Dawson - guitar, vocal / Russell Gauthier - violin, vocal / Garry Vogensen - guitar / Tom Constanten - piano / Michael Warren - bass / James Vincent Littleton - drums
The Shape Iím In - Rick Danko
Rick Danko - guitar, vocal + John Dawson - guitar, vocal / Russell Gauthier - violin, vocal / Garry Vogensen - guitar / Michael Hinton - guitar / Tom Constanten - piano / Michael Warren - bass / James Vincent Littleton - drums
Side 2
Merl Saunders & The Rainforest Band
Interview
Leave Your Hat On
Sugaree
Forest Dance
Dark Star
Fire On The Mountain
+ Garry Vogensen - guitar / Russell Gauthier - violin
Artists
Tom Constanten - piano
New Riders of The Purple Sage - John Dawson - guitar, vocal / Russell Gauthier - guitar, violin, vocal / Garry Vogensen - guitar, vocal
Rick Danko - guitar, vocal Merl Saunders & The Rainforest Band - Merl Saunders - Hammond organ, keyboards, vocal / Michael Hinton - guitar / Michael Warren - bass / James Vincent Littleton - drums / Marina Rosmis - vocal

Various Artists - A Tribute to Jerry Garcia, Deadheads Festival, Japan 1997 - 116 minutes - 1997/8 - Japanese Laser Disc NTSC - VAP Video Super Rock series VPLR-70650
---
[History] [Members] [Library] [Discography] [Videography] [Filmography] [Pictures] [Audio Files] [Video Clips] [Tape Archive] [Concerts] [Related Artists] [Merchandise] [Guestbook] [Chat Room] [Search] [What's New?] [Main Page]
Webmaster