Festival Express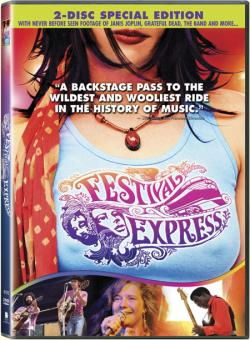 [DVD cover] [Screen shots] [Film] [Official web site]
High-resolution scans:
[DVD cover] [Disc 1] [Disc 2] [Inlay back] [Inlay front]
Festival Express is a rousing record of a little-known, but monumental, moment in rock n' roll history, starring such music legends as Janis Joplin, The Band, and the Grateful Dead. Set in 1970, Festival Express was a multi-band, multi-day extravaganza that captured the spirit and imagination of a generation and a nation. What made it unique was that it was portable; for five days, the bands and performers lived, slept, rehearsed and did countless unmentionable things aboard a customized train that travelled from Toronto, to Calgary, to Winnipeg, with each stop culminating in a mega-concert. The entire experience, both off-stage and on, was filmed but the extensive footage remained locked away until 2003, when director Bob Smeaton released the Festival Express movie. A momentous achievement in rock film archaeology, Festival Express combines the long-lost material with contemporary interviews nearly 35 years after it was first filmed.
In November 2004, New Line Home Entertainment released a Region 1 2-disc DVD set of the concert film. The DVD set has over 50 additional minutes of exclusive performance footage not seen in the theatrical version of the film, and also offers 25 minutes of additional interviews, "The Making of the Festival Express Film" featurette, the theatrical trailer and a photo gallery as well as a 16x9 widescreen version of the film with Dolby Digital 5.1 Surround Sound, DTS and stereo surround sound, with English and Spanish subtitles and closed captions.
MGM Home Entertainment put out an expensive two-disc Special Edition DVD in December 2004, with even more extras and a special feature that allows viewers to play only the performance tracks.
Song list - original film

1.
Grateful Dead
Casey Jones
2.
Grateful Dead
Don't Ease Me In
3.
Grateful Dead
Friend of the Devil
4.
The Band
Slippin' and Slidin'
5.
Delaney & Bonnie etc
Goin' Down the Road
6.
Buddy Cage/ Various Artists
Traditional Country Song
7.
Buddy Guy & Rick Danko
Baby Here I Come
8.
Jerry Garcia & Sylvia Tyson
Better Take Jesus' Hand (1st version)
9.
Mashmakan
Comin' Home Baby
10.
Buddy Guy
Money
11.
Flying Burrito Bros
Lazy Day
12.
The Band
The Weight
13.
Janis Joplin
Cry Baby
14.
Buddy Guy & Jerry Garcia
I Can't Do It Baby
15.
Rick Danko & Janis etc
Ain't No More Cane
16.
Buddy Guy & Rick Danko
Soul Jam
17.
Various Artists
Sunshine of Your Love
18.
Sha Na Na
Rock & Roll is Here to Stay
19.
Ian & Sylvia & The Great
Speckled Bird
CC Rider
20.
Grateful Dead
New Speedway Boogie
21.
The Band
I Shall Be Released
22.
Janis Joplin
Tell Mama
23.
Janis Joplin
Me & Bobby McGee
24.
New Riders of the Purple
Sage
Better Take Jesus' Hand (1st version)

DVD "bonus" songs

1.
Grateful Dead
Hard to Handle
2.
Grateful Dead
Easy Wind
3.
Janis Joplin
Move Over
4.
Janis Joplin
Kozmic Blues
5.
Buddy Guy
Hoochie Coochie Man
6.
Mashmakhan
As Years Go By
7.
Eric Anderson
Thirsty Boots
8.
Ian & Sylvia
Tears of Rage
9.
Tom Rush
Child's Song
10.
Seatrain
Thirteen Questions
Various Artists - Festival Express - 2004 - New Line Home Entertainment DVD N7573
Special Edition 2-DVD set - 2004 - MGM Home Entertainment
---
[History] [Members] [Library] [Discography] [Videography] [Filmography] [Pictures] [Audio Files] [Video Clips] [Tape Archive] [Concerts] [Related Artists] [Merchandise] [Guestbook] [Chat Room] [Search] [What's New?] [Main Page]
Webmaster