Robbie Robertson: Going Home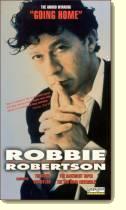 [Video cover] [Back cover]

Video release of the Robbie Robertson TV documentary originally broadcast on the Disney Channel in 1994. Includes "rare clips of The Band on the road w/ Dylan, previously unseen footage of 'basement tapes,' and the first ever concert footage of Robertson & Red Road Ensemble." The vintage film clips and interviews with Eric Clapton, Martin Scorsese, Barry Levinson and producer Daniel Lanois help explain Robertson's role in the recording and film industries, in a fast-paced, entertaining style.

The "rare clips of The Band on the road w/ Dylan" are from "Eat the Document." The "previously unseen footage of 'basement tapes,'" is the footage from the Sammy Davis pool room recording for the brown album - not the basement tapes. The film clips with Eric Clapton are from the Rock HOF induction and rehearsals for it. In those clips E.C. talks about wanting to be part of The Band. Also clips of RR's comments at the ceremony, which were funny, and very gracious in acknowledging the contributions of Levon, Rick, Garth and Richard. The clips of Martin Scorsese and producer Daniel Lanois appear to have been done for this video. The clips of Barry Levinson are minor.

There are clips of various videos for the solo albums, live material from the Red Road Ensemble, and some "explanation" from him on the break up of The Band. In particular, a small clip on why they did not record after The Last Waltz, that is poorly edited so in its context it seems like he is just talking about the break up of the group.

The song "Pray" from the TV program was nominated for the 1995 Emmy Award, in the category for best music and lyrics. The program was directed by Findlay Bunting and written by HP Newquist. For sale on VHS tape from e.g. the Internet store CDnow ($9.90),

Going Home was released on DVD in 1998. It's worth noting that it's a comparatively rare "Region 0" release, playable in all regions.
DVD Scene Index
Introduction
Is this a documentary?
"Makh Jchi"
Childhood on Reservation
"A Good Day To Die"
That First Guitar Lick
New Orleans Music
"Go Back To your Woods"
The Blues Are The Roots
Ronnie Hawkins
The Hawks On Their Own
Early Days with Bob Dylan
The Band & Big Pink
Hypnotism At winterland
Scorsese & Woodstock
The Road And Success
The Last Waltz
Film Music
"What About Now"
Robbie & Scorsese
"Raging Bull"
"Jimmy Hollywood"
Daniel Lanois
Rock & Roll Hall of Fame
Looking Back
"Skinwalker"
End Credits

Robbie Robertson - Going Home - 1997 - 70 min. - Laserlight Digital 80 547, NTSC VHS video
DVD: Laser Light 82 016 (1998)

---

[History] [Members] [Library] [Discography] [Videography] [Filmography] [Pictures] [Audio Files] [Video Clips] [Tape Archive] [Concerts] [Related Artists] [Merchandise] [Guestbook] [Chat Room] [Search] [What's New?] [Main Page]

Webmaster