Levon Helm/Various Artists: Great Drives

Great Drives promotional pic of Levon.
Photo copyright © 1995 Mark Wilkins.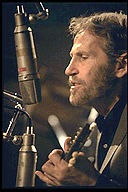 Levon Helm performing "Highway 61" at the Sam Phillips Recording Studio in Memphis, Tennessee. Photo copyright © 1995 Mark Wilkins.

Levon Helm was the host of a one hour documentary airing in the U.S. in February 1996 on PBS, entitled Highway 61, revisited. It was the first hour of a 5 hour mini-series on the great highways of America. The Band itself performs the main title theme for all five episodes. Highway 61 has Levon revisiting many sites of his childhood as well as historical sites (musical and otherwise) along the road. He visits: Beale Street in Memphis, Muddy Waters' cabin, Robert Johnson's grave and The Dew Drop Inn in New Orleans. The show opens with Levon performing a new version of Dylan's "Highway 61, Revisited" at Sam Phillips recording studio in Memphis. Other performances: "40 days and 40 Nights" with James Cotton and "One More Shot" at a Civil War memorial. The show also features Vasser Clemens and James Cotton.

Great Drives was produced and directed by Jay Russel, who also directed the 1987 movie End of the Line, where Levon was one of the actors.

Here is a listing of some of the music for the Highway 61 episode:
Great Drives Theme (Mark Leggett)
Recorded at Levon Helm's studio, Woodstock, NY, produced by The Band and Aaron L. Hurwitz. Performed by Richard Bell, Randy Ciarlante, Rick Danko, Levon Helm, Garth Hudson, Aaron L. Hurwitz, and Jim Weider.
(218K)
Highway 61 Revisited (Bob Dylan)
Recorded at Sam Phillips's studio, Memphis, TN. Performed by Tommy J. Burroughs, Vassar Clements, C. W. Gatlin, Levon Helm, Yvette Preyer, and Errol Thomas.
(204K)
Forty Days & Forty Nights
Performed by Levon Helm and James Cotton.
(263K)
Throw out the Lifeline
Performed by O'Landa Draper and The Associates.
One More Shot (Kennerley)
Performed by Levon Helm and C. W. Gatlin. Originally from the concept album The Legend of Jesse James, also appearing on the album Danko/Fjeld/Andersen.
(188K)
Don't Start Me To Talkin'
Levon Helm (guitar) and some people on the street in Clarksdale, Mississippi, do a "variation" of "Don't Start Me To Talkin'" written by Sonny Boy Williamson. Williamson was an influence on the Band, and especially on a young Levon Helm.
(211K)
Helm performed guitar, harmonica, and mandolin on the video segments shown. A video is available (for $24.95?) by calling 800-328-PBS1 and asking for the "Great Drives video".
Levon Helm/Various Artists - Great Drives - 1996 - PBS/Four Star Entertainment
---
[History] [Members] [Library] [Discography] [Videography] [Filmography] [Pictures] [Audio Files] [Video Clips] [Tape Archive] [Concerts] [Related Artists] [Merchandise] [Guestbook] [Chat Room] [Search] [What's New?] [Main Page]
Webmaster