The Last Waltz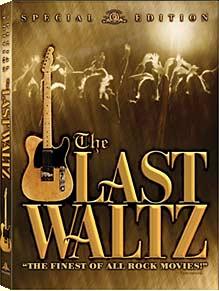 [VHS cover] [Laserdisc] [VHS cover 2001 re-release] [DVD cover] [Blu-Ray disc cover] [2008 2-DVD version] [DVD audio] [2002 poster] [Danish VHS] [Dialogue transcript]
Martin Scorsese's 1978 capsule history of the Band is mixed with footage of the group's allegedly last performance (certainly their last performance as a quintet) in this particularly stylish concert film. Scorsese shoots the players and their sundry guests with the same flair and enthusiasm one can see in the later The Color of Money or Goodfellas. He also proves a good interviewer with Band members, particularly Robbie Robertson, whose sleepy-sexy good looks make a star-caliber impression in close-up. But the film's real hook is the stage show, which features a rotation of rock legends (Van Morrison, Joni Mitchell, Paul Butterfield, Bob Dylan, and so on) playing with the Band before a wildly appreciative audience.
--Tom Keogh

Simply incredible! Take America's best film-maker, the greatest group of musicians ever assembled on a single stage, the cream of Hollywood's camera talent (Zsigmond, Kovacs, Chapman) and you're left with a wonderful document of an historic event. What more could one possibly want?
--Amazon customer review

It's all the little things that really make this move great; Joni Mitchell's vocal coming in perfectly on que from backstage. Neil Young's "greatest pleasure of my life". Clapton losing his guitar strap and Robbie not missing a note jumping in for him. I could go on and on. Then of course there is The Band themselves. Musicians who have change my appreciation of all genres. Can you imagine any band today that could pull off Ragtime, Blues, Country, and as Levon would say "Rock and Roll" in one performance? As you watch, keep an eye on the folks backstage in the wings. They all knew they were watching an historical event and didn't want to miss a moment.
--Amazon customer review

I first saw the movie The Last Waltz at a theater in 1979. I was in my late teens at the time and I remember being mesmorized. After seeing the video again just a few weeks ago, I truly had goose-bumps while watching it. What an amazing piece of rock and roll history. When I actually thought of the caliber of talent that was involved in that concert, I ached that I wasn't able to be there in person. It is a real life experience to watch The Last Waltz. It has had a lasting impact on my life.
--Amazon customer review


In May/April 2002, United Artists, MGM Home Entertainment, and Rhino Records re-released the film, a special edition DVD with a remastered and remixed soundtrack, and a remastered four-CD boxed set, all featuring performances from the concert that didn't make the original film or album. A 30-track audio DVD was also released in 2002. Sony/MGM released The Last Waltz as a high-definition Blu-Ray video disc in July 2006.
The DVD contains not only the film but also previously unreleased "jam footage" featuring the Band and concert guests such as Eric Clapton, Ringo Starr, Neil Young, the Rolling Stones' Ron Wood, Dr. John, and Stephen Stills. Scorsese and Robertson provide scene-by-scene commentary for the DVD, and there are interviews with surviving Band members Levon Helm and Garth Hudson, concert guests Ronnie Hawkins and Mavis Staples, and various crew members and journalists who covered the event, along with a photo gallery and the original theatrical trailer for the film.
The four discs in the Last Waltz boxed set on Rhino ("dedicated to the memory of Rick Danko and Richard Manuel"), feature a variety of previously unreleased performances featuring Van Morrison, Dr. John, Paul Butterfield, and Emmylou Harris. New liner notes have been written by Rolling Stone magazine's David Fricke, and an 80-page booklet feature previously unseen photos, notes, and memorabilia.
20th Century Fox in Japan released a "stereophile" extended 2-DVD version of The Last Waltz in 2008.

Video Clips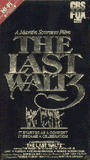 See also the pages for triple album The Last Waltz, the movie (Internet Movie Database), the bootleg The Complete Last Waltz and the article on the different versions of the Last Waltz by Dror Warschawski and Jonathan Katz.
The Band - The Last Waltz - 117 min. - MGM/UA - Warner Home Video R-18
Laserdisc: MGM Home Video - ML 100482
DVD - May 2002 - MGM - w/commentary by Robbie Robertson and Martin Scorsese and featured musicians - Featurette: Revisiting The Last Waltz, rare, unseen footage and memorabilia - 8-page booklet written by Robbie Robertson
Blu-Ray HD disc - July 2006 - Sony/MGM Home Entertainment
2-DVD with DTS 5.1-CH audio - December 2008 - 20th Century Fox Japan MGBGF-17337

---
[History] [Members] [Library] [Discography] [Videography] [Filmography] [Pictures] [Audio Files] [Video Clips] [Tape Archive] [Concerts] [Related Artists] [Merchandise] [Guestbook] [Chat Room] [Search] [What's New?] [Main Page]
Webmaster