Levon Helm: Levon Helm on Drums and Drumming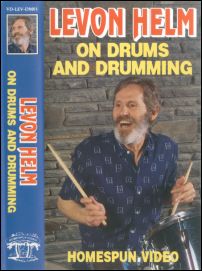 [Video cover] [Back cover portrait]
Take a lesson from a veteran musician and born storyteller! Levon Helm shares musical history and the influences that helped shape his signature style. Beginners learn a variety of basics: shuffles, eighth-note grooves, the rim shot, drum intros and fills, and more. Advanced drummers will appreciate his "ghost notes,"; how his snare triggers the bass drum (and vice versa); his "eighth-note rubbin' the shuffle" feel and other techniques. Levon shares his approach to drumming and singing, shows how he transforms a song with his trademark half-time feel and demonstrates the power of double drumming in a rock 'n' roll band.
He plays and sings some of his best-known tunes, from country blues to Band hits, both solo and with his legendary group: "The Weight", "King Harvest", "Milk Cow Boogie", "The Battle Is Over (But The War Goes On)", "Blues Stay Away From Me", "I Don't Want To Hang Up My Rock 'n' Roll Shoes", "Short Fat Fanny", "Up On Cripple Creek", "Life Is A Carnival" and the Bo Diddley-inspired "Hand Jive".
This video has also been released by Homespun under the title Classic Rock, Country and Blues Grooves.
Sound sample

Short Fat Fannie (412K)
Video samples

Promo video (3.6MB WMV-file)



Blues Stay Away From Me (4.14MB)



I Don't Want to Hang Up My Rock 'n' Roll Shoes (4.81MB)



Short Fat Fanny (5.13MB)



Life is a Carnival (5.29MB)



Hand Jive (3.75MB)
Reviews
"Drummers have been somewhat buried in the blizzard of guitar videos, but one enjoyable and useful video is Band member Levon Helm's generous 105-minute tour through the blues, country, rockabilly, and Memphis forms that shaped his style. He covers such basic techniques as shuffles, eighth-note grooves, intros, and fills, before moving on to the subtleties that define his rhythmic signature. Helm's folksy, unassuming manner helps get his points across in an entertaining fashion."
-- Request

"The drum tape is likely to be very valuable to just about any drummer, even those with plenty of chops and experience, simply because Helm's ways of describing things he does are very entertaining, and would likely give fresh insight into things you might think you already know. . . . . Since drumming is very central to rock 'n' roll, this tape is a good idea for ANY players."
-- Blue Suede News

"Levon Helm's instructional video tape is refreshing and unpretentious. All in all, this tape and booklet set is enlightening and I highly recommend it. Levon Helm is an "alright guy" and that jumps right out at you as you watch the tape. This video presents the perfect balance to some of the over-produced, technical, ego-trip, chop-dominated, so-called lesson tapes that are creating their own market. This puts into perspective that the music comes first, no matter what the style. Here, here!"
-- The Music Paper

"(Much of The Band's) appeal is in their salt-of-the-earth feel, image and lyrics. . . . After some reminiscences about his early influences (including some neat historic photographs), Helm explains some of the concepts he employs, like finding that "sweet spot" between a shuffle and an 8th-note feel, adjusting parts for different feels, playing in half time, and playing with another drummer. All of these concepts are easily seen and heard by the viewer, with good sound and camera angles."
-- Modern Drummer

"A more grass-roots approach to the drums can't be imagined. The Arkansas-born Helm is a purist. He blasts the use of click-tracks popular in modern studios, preferring the human touch and the dynamics that entails. . . . an engaging peek at his craft."
-- The Boston Globe

Levon Helm - Levon Helm on Drums and Drumming - 1992 - 105 min.- Homespun Video VD-LEV-DM01
---
[History] [Members] [Library] [Discography] [Videography] [Filmography] [Pictures] [Audio Files] [Video Clips] [Tape Archive] [Concerts] [Related Artists] [Merchandise] [Guestbook] [Chat Room] [Search] [What's New?] [Main Page]
Webmaster