Levon Helm: Ramble at the Ryman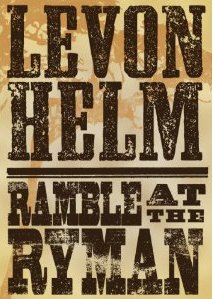 Live video of the Levon Helm band, recorded at Nashville's historic Ryman Auditorium on September 17, 2008, with guests Buddy Miller, John Hiatt, Sheryl Crow, George Receli, Sam Bush and Billy Bob Thornton.
In this release, The Levon Helm Band includes: Levon Helm, Larry Campbell, Amy Helm, Teresa Williams, Brian Mitchell, Erik Lawrence, Clark Gayton, Jay Collins, Steven Bernstein, Paul Ossola, Tony Leone and Sammy Davis.
Released in May 2011. Also available on CD.
Tracks
Ophelia
Back To Memphis
Fannie Mae
Baby Scratch My Back
Evangeline
No Depression In Heaven
Wide River to Cross
Deep Elem Blues
Anna Lee
Rag Mama Rag
Time Out For The Blues
A Train Robbery
The Shape I'm In
Chest Fever
The Weight
Levon Helm - Ramble at the Ryman - 2011 - Vanguard Records
---
[History] [Members] [Library] [Discography] [Videography] [Filmography] [Pictures] [Audio Files] [Video Clips] [Tape Archive] [Concerts] [Related Artists] [Merchandise] [Guestbook] [Chat Room] [Search] [What's New?] [Main Page]
Webmaster