Levon Helm/Various Artists: Red Hot + Country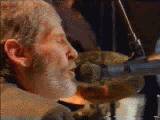 Levon - Red Hot TV special

The fifth in a series of AIDS awareness music TV specials produced by the Red Hot Organization was released on video. Filmed live at the legendary Ryman Auditorium, home of the original Grand Ole Opry. Features Clint Black, Billy Ray Cyrus, Sammy Kershaw, Kathy Mattea, Levon Helm, Waylon Jennings, Carl Perkins, Earl Scruggs, and more. Also includes rare artist interviews and behind the scenes footage.

Levon does 2 songs, "Caledonia" and "The Weight," the latter together with John Hiatt, Radney Foster and Mark Collie.

There's also an album titled Red Hot + Country (Polygram 22639, 1994), but Levon Helm is not credited there.
Sound sample
"The Weight" - Red Hot TV Special (4.8MB)

Video - Red Hot + Country - 1994 - Approx. 70 min. - Polygram CW-284

---
[History] [Members] [Library] [Discography] [Videography] [Filmography] [Pictures] [Audio Files] [Video Clips] [Tape Archive] [Concerts] [Related Artists] [Merchandise] [Guestbook] [Chat Room] [Search] [What's New?] [Main Page]
Webmaster