Goin' down the road
Bruce McDonald's Avant-garde Portrait of an Icon

by Jason Anderson
Copyright © 2001 Eye

Road Songs: A Portrait of Robbie Robertson
On CBC-TV's Life & Times, Tuesday, Jan. 9, at 7pm.

Offered the chance to do a documentary on musician Robbie Robertson for CBC-TV's Life & Times, Toronto director Bruce McDonald sought to do "something fresh." What the director of Highway 61, Hard Core Logo and the just-wrapped Claire's Hat delivered may be the most avant-garde program to show up on the Mother Corp. since Moses Znaimer's infamous TVTV.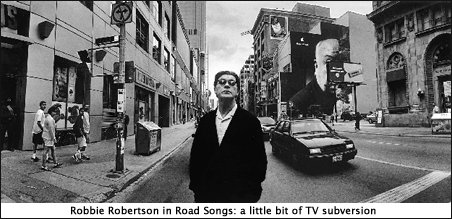 Road Songs: A Portrait of Robbie Robertson features a rapid-fire, Godardian collage of music, archival footage, jump-cuts, streaming text, multiple pictures in the same frame and copious amounts of static and noise. All this tumult adds up to a startling and surprisingly efficient attempt to compress the life of one of the country's best and most intriguing musicians into 42 minutes.
Standing on a snowy rooftop after a screening of their doc in Toronto, McDonald and producer Marc Betsworth speak about how excited they are to expose the nation to their little bit of TV subversion.
"You see rock videos or commercials like this, but very rarely does television drama or documentary really make use of this AVID computer editing technology," says McDonald. "It's surprising to me that television is still very linear and straight-up. This is something fresh."
McDonald then goes into his impression of a Canuck yokel being battered by Road Songs. "There's something wrong with the TV, Marge! What's goin' on? We're gettin' three channels at once!"
The unorthodox treatment turns out to be very appropriate to the subject of Robertson and his music. Most of the literature on him focuses on his days tearing up the Yonge Street strip in Ronnie Hawkins' band the Hawks, or else his time in the Band, who accompanied Bob Dylan on his controversial debut electric tour, then retired to Woodstock, N.Y., to create The Basement Tapes with Dylan and their own classic debut album, Music From Big Pink.
But Robertson, unlike so many of his contemporaries, has never been mired in '60s rock mythology. He's since done extensive soundtrack work for Martin Scorsese, Oliver Stone and others, and embraced both the music of his Mohawk roots and electronica, merging them on his underrated 1998 disc Contact From the Underworld of Redboy. He also works as an A&R guy for Dreamworks, developing new artists, including Toronto's Nelly Furtado.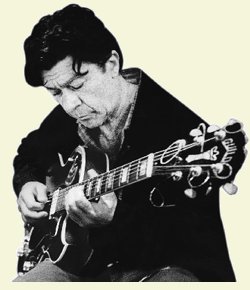 The documentary captures Robertson at each of these stages in his career, within a general framework of an interview with Robertson by York professor and rock scholar Rob Bowman. All this is juxtaposed with historical material and new footage of Robertson visiting the remains of Yonge Street haunts like the fabled Le Coq d'Or -- now the site of the HMV Superstore.
Road Songs is McDonald's second doc for Life & Times, after a more conventionally styled episode on director Norman Jewison. When Betsworth approached him with the idea, McDonald thought to himself, "If I'm gonna do another one, let's just fucking do something that's in the spirit of Robbie."
McDonald was also influenced by the look and format of the Mike Wallace Interview show of the late '50s. "I was watching this stuff at the Museum of Television and Radio in New York and I thought, 'Fuck, that's pretty compelling: two cameras, one on the interviewer and one on the guy, black and white, really stark, and the two just having a conversation.'
"The great thing about Robbie is that he's a good storyteller and a good presence, unlike some of the other subjects that documentary makers have had on Life & Times. They might be interesting people but they're not that captivating on camera, so the filmmakers have to cut to a lot of other people. The first thing we thought to do was have Robbie tell the story with this Mike Wallace thing as a base, then pop-art it up."
The documentary presents Robertson from a Canadian perspective and in a way that highlights artistic and intellectual concerns. That's a far cry from the style currently prevalent in music documentaries, as exemplified by VH1's Behind the Music. Smut-filled exposÚs can be entertaining, but they may be more appropriate for Duran Duran or Styx than for Robertson. (That said, I never get tired of the story of how they had to airbrush out the rock of coke in Neil Young's nose from his scene in Scorsese's Band concert film The Last Waltz.)
"So much of the press on Robbie, especially recently, has been that way," says producer Betsworth. "But this is a great way to go another way and ask, 'How did you get musically and artistically from A to B?' I think Rob Bowman certainly brought that out."
"It's a good little template," says McDonald of Road Songs, which he feels has potential as a pilot. "We may show it to other musicians and go, 'Hey, do you wanna do something like this? We just need you for a day to talk to you.' Then we'll spend five fucking months cutting it!"