Rick Danko and Levon Helm: AIRS
Sound Stage '80 & Midnight Special '80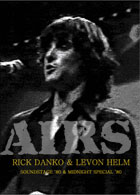 Japanese bootleg DVD with two separate 1980 TV performances, one with Rick Danko and his band, and one with Levon Helm and various artists.
The Rick Danko video is from an edition of Soundstage, an Austin City Limits-type program produced by WTTW Ch. 11, the Chicago PBS affiliate. Rick's brother Terry Danko was one of the members of the group. Rick did several tunes from his Arista album on the show. There are extended solos on many songs and each song is also presented in an extended version compared to the Arista album. among them a very soulful and long version of "Sip the Wine", slowly building to a climax. Rick is in top form, he dances and bounds across the stage in obvious delight.
Set list from Sound Stage:
Rick Danko introduction/Java Blues
This Wheel's on Fire
Tired of Waiting
Sweet Romance
Brainwash
Sip the Wine
What a Town

Levon and Sissy Spacek, Midnight Special, 1980
Levon Helm appears with actor Sissy Spacek at a special edition of the Midnight Special TV show (episode number 313, April 18, 1980), promoting their movie Coal Miner's Daughter. They co-hosted the show and sang several songs. Beverly D'Angelo, who played Patsy Cline in Coal Miner's Daughter, also performed in the same episode, singing a few songs from the film. Scenes from the movie were shown and Helm, Spacek and D'Angelo also sang with Phyllis Boyens. The 90-minute late-night NBC rock music series Midnight Special aired Friday nights (or, rather, early morning Saturdays) from 1973 to 1991. It followed The Tonight Show starring Johnny Carson.
Set list from Midnight Special:
He's Walking Away
Honkytonkin'
Scene from Coal Miner's Daughter
Coal Miner's Daughter
America's Farm
Walking After Midnight [Beverly D'Angelo]
Some Small Crime
Ain't Got the Time
Sweet Dreams of You [Beverly D'Angelo]
Watermelon Time in Georgia
China Doll
Don't Call Me Cowgirl
Watermelon Time in Georgia
Rick Danko and Levon Helm - Soundstage '80 & Midnight Special '80 - 2004 - Japanese DVD
---
[History] [Members] [Library] [Discography] [Videography] [Filmography] [Pictures] [Audio Files] [Video Clips] [Tape Archive] [Concerts] [Related Artists] [Merchandise] [Guestbook] [Chat Room] [Search] [What's New?] [Main Page]
Webmaster