Various Artists:
Woodstock - The Lost Performances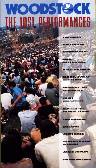 120 miles of film was shot of the historic Woodstock festival in 1969. This 1991 video shows some of the footage that did not make it to the original Woodstock movie, including performances by The Band, Joe Cocker, Canned Heat, Paul Butterfield, Arlo Guthrie, Blod Sweat & Tears, Country Joe McDonald, John Sebastian, Sly and the Family Stone, Tim Hardin, Melanie, Joan Baez, Crosby, Stills & Nash, Janis Joplin, and Richie Havens.
The video starts with a completely awful and useless introduction that should have never been made (the footage needs no narration so why have that moron say anything?). Some of the performances are poorly edited: The Band's "The Weight" is severely cut, so is Paul Butterfield's "Drifting Blues."
Released on VHS tape and LaserDisc.
The Band's set on the festival was "Chest Fever", "Don't Do It", "Tears Of Rage", "We Can Talk", "Long Black Veil", "Don't You Tell Henry", "Ain't No More Cane", "Wheels On Fire", "Loving You Is Sweeter Than Ever", and "The Weight".
Performances
1.
The Weight
(The Band)

(1.8MB)
2.
Let's Go Get Stoned
(Joe Cocker)
3.
Going Up The Country
(Canned Heat)
4.
Drifting Blues
(Paul Butterfield)
5.
Walking Down The Line
(Arlo Guthrie)
6.
More & More
(Blood Sweat & Tears)
7.
Rockin' Around The World
(Country Joe McDonald)
8.
Darling Be Home Soon
(John Sebastian)
9.
Love City
(Sly & The Family Stone)
10.
If I Were A Carpenter
(Tim Hardin)
11.
Birthday of the Sun
(Melanie)
12.
We Shall Overcome
(Joan Baez)
13.
Marrakesh Express
(Crosby Still & Nash)
14.
Work Me Lord
(Janis Joplin)
15.
Strawberry Fields Forever
(Richie Havens)
Various Artists - Woodstock The Lost Performances - 69 min. - 1991 - Warner WEA12202
---
[History] [Members] [Library] [Discography] [Videography] [Filmography] [Pictures] [Audio Files] [Video Clips] [Tape Archive] [Concerts] [Related Artists] [Merchandise] [Guestbook] [Chat Room] [Search] [What's New?] [Main Page]
Webmaster