Severi Pyysalo: Autumn Leaves - Severi Comes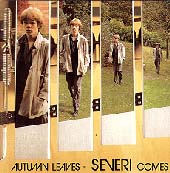 Finnish jazz artist and vibes wizard Severi Pyysalo's version of The Band's "Where Do We Go From Here" from Cahoots was issued on his debut album Autumn Leaves - Severi Comes in 1984, when Pyysalo was only 18 years old. The performers were Severi Pyysalo, Pentti Mutikainen, Christian Schwindt and Ilpo Murtojrvi. The album was re-released on CD in 1992.
During his career Pyysalo has performed in most European countries and in the USA, Canada and Australia. He has played with McCoy Tyner, Frank Foster, Zoot Sims, Rick Margitza, Wayne Kratz, James Newton, Bobby Hutcherson and Bobby Bradford, to name just a few.
Tracks
I Hear a Rhapsody
It Never Entered My Mind
Here's That Rainy Day
3839 Sherman Street
Brussels in the Rain
Autumn Leaves
Severi Pyysalo - Autumn Leaves Severi Comes - 1984 - Selecta SELP/SECD 015
---
[History] [Members] [Library] [Discography] [Videography] [Filmography] [Pictures] [Audio Files] [Video Clips] [Tape Archive] [Concerts] [Related Artists] [Merchandise] [Guestbook] [Chat Room] [Search] [What's New?] [Main Page]
Webmaster