Dr. Music: Dr. Music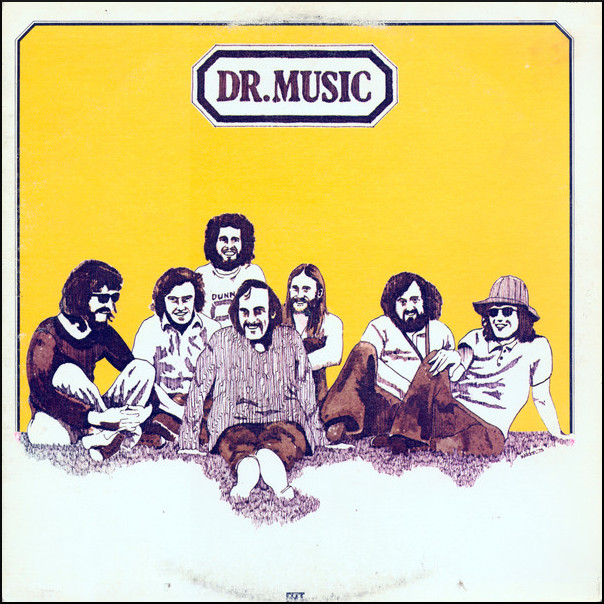 Douglas Riley began playing music with the R&B group the Silhouettes in Toronto. Throughout the late '60s and '70s he worked in Canadian television as a musical director and arranger for various music and variety shows, including Music Machine and The Wolfman Jack Show. The jazz group Dr. Music, that included saxist Steve Kennedy who played in a pre-Hawkins group with Robbie Robertson, began on The Ray Stevens Show, touring and recording after the show was cancelled in 1970.
Dr. Music released two eponymously-titled albums, in 1972 and 1973, both on the same label. The 1973 album included a cover version of The Band's "Where Do We Go From Here" from Cahoots, described by Canadian musicologist Bill Munson as "more effective" than The Band's version.
For the first 1972 LP, the group had about 16 members - half of them singers - doing what might be called gospel-rock, not so much in content, but in feel. All of the singers, aside from those who also played instruments, were gone by the time the second LP came out in 1973. By then the gospel was gone, replaced by more jazz-tinged rock, and the next album, Bedtime Stories (1975?) is all jazz, with just one vocal. When Dr. Music Circa 1984 came in 1985, Dr. Music was no longer a group, just whoever Doug Riley chose to use. Riley released the solo album Freedom in 1990 for PM.
Tracks
Long Time Comin' Home
On The Road
In My Life
6-5
Tryin' Times
Doctor Doctor
Rollin' Releases
Dr. Music - Dr. Music - 1973 - GRT 9233-1004
---
[History] [Members] [Library] [Discography] [Videography] [Filmography] [Pictures] [Audio Files] [Video Clips] [Tape Archive] [Concerts] [Related Artists] [Merchandise] [Guestbook] [Chat Room] [Search] [What's New?] [Main Page]
Webmaster