The Mekons: F.U.N. '90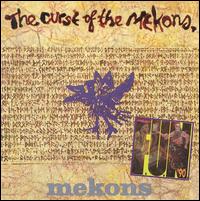 Founded in Leeds in 1977, the Mekons are not only the longest-lived, but the most critically-acclaimed of England's seminal punk bands. The late Lester Bangs rated them as "better than the Beatles." Their EP release F.U.N. '90 opens with a cover of The Band's "It Makes No Difference". They also covered "The Shape I'm In" on their New York album.
F.U.N. '90 was produced by the Mekons with Ian Caple, some say it was The Mekons' reaction to house music. "One Horse Town" features rants by Lester Bangs. It was recorded for fun, as the title suggests, at the prompting of some airhead at A&M records. F.U.N. '90 was received with stunning silence at the label and got zero promotion, but eventually proved a contract breaker. Adding insult to injury, A&M also chose to lop off two tracks from the Blast First U.K. 12". See the Mekons home page for more information on this group.
F.U.N. 90 was re-released as a CD on the Collector's Choice label in 2001, paired with the 1991 album The Curse Of The Mekons.
Tracks
It Makes No Difference (Robertson,R.)
Having a Party (Coyne,Kevin)
Sheffield Park (Traditional)
One Horse Town (Bangs,Lester/Mekons,The)
*Hashish In Marseille (Tony Byker reads Walter Benjamin)
*One Horse Dub
*: Not included on later releases.

The Mekons - F.U.N. '90 - 1990 - A&M 75021-5325-2
---
[History] [Members] [Library] [Discography] [Videography] [Filmography] [Pictures] [Audio Files] [Video Clips] [Tape Archive] [Concerts] [Related Artists] [Merchandise] [Guestbook] [Chat Room] [Search] [What's New?] [Main Page]
Webmaster