Various Artists: Jee Jee Jee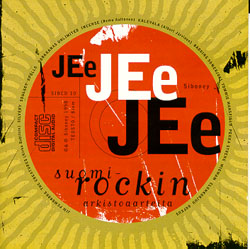 The Jee jee jee CD is a by-product of a book Jee Jee Jee: Suomalaisen Rockin Historia (History of Finnish Rock) by Seppo Bruun, Jukka Lindfors, Santtu Luoto, and Markku Salo (WSOY 1998). The book in turn is based on a 52-part radio series Jee Jee Jee which was broadcasted first in 1996 by YLE. Both the book and the radio series are by any standards brilliant pieces of work, comparing easily to the corresponding Anglo-american attainments, although the topic - Finnish rock - may only be of marginal interest outside Finland.
Jee Jee Jee has many rare tracks from Finnish 60s and 70s bands, released in 1998 by Siboney records. Included is a previously unreleased cover version of The Band's "Up on Cripple Creek", by the Finnish supergroup Wigwam. This is a 12-minute live version from the Ruisrock festival at Turku in 1970, and actually they also play parts of some other songs ("If I were a Carpenter" etc!) bound together with "Up on Cripple Creek". Another live The Band cover from Wigwam, "The Moon Struck One", was released in 1975 on the album Live Music from the Twilight Zone.
In 1998, YLE's Radiomafia is repeating these programmes, one of which deals with Wigwam. It includes a cover version of The Band's "The Weight" recorded at the same concert as "Up on Cripple Creek". The former sounds more faithfull to the original version and probably also better than "Up on Cripple Creek" which is just a little bit too outdated and corny with its medleyish "progressive" structure. Wigwam mentioned often The Band as one of their big idols, and the material Wigwam played in live was even up to 80% by them. So it is possible that the forthcoming Wigwam rarities compilation includes new The Band covers.
Tracks
I ain't got you / Jim Pembroke & The Beatmakers
Bright lights, big city / Jim & The Beatmakers (aka Jormas)
Takaan sen (Stuck on you) / The Creatures
There's no other (like my baby) / Silvery
Memphis soul song / Soulset
You shook me / Apollo
Come on (let the good times roll) / Porkkanas Unlimited
Sookie sookie / Incense
Shakin' all over / Kalevala
Around & around / Badding Somerjoki & Tommie Mansfield
Makea Sandra / Pekka Streng & Soulset
Up on Cripple Creek / Wigwam
Ocean song / Elonkorjuu
Echoes / Orfeus
Various Artists - Jee Jee Jee, Suomi-rockin arkistoaarteita - 1998 - Siboney OY SIBCD10
---
[History] [Members] [Library] [Discography] [Videography] [Filmography] [Pictures] [Audio Files] [Video Clips] [Tape Archive] [Concerts] [Related Artists] [Merchandise] [Guestbook] [Chat Room] [Search] [What's New?] [Main Page]
Webmaster