Wigwam: Live Music from the Twilight Zone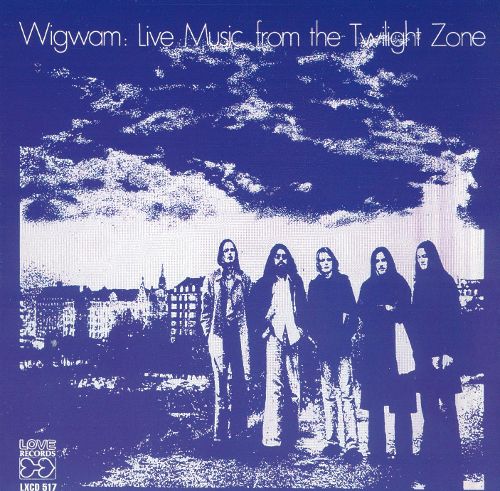 With the talents of Jim Pembroke and bass maestro and The Band fan Pekka Pohjola, Wigwam are one of the biggest Finnish bands ever, a classic of the Scandinavian progressive scene. Their music is dominated by piano and organ, with somewhat of a Canterbury feel to it, though it is unmistakebly Scandinavian in nature. Wigwam's existence as a band was divided into two periods; first with Pekka Pohjola and Jukka Gustavson as creative forces, then a second period with guitarist Rekku Reckhardt and Jim Pembroke. Pohjola and Gustavson left the band after an English tour about 1975, Gustavson for religious reasons and Pohjola for his solo career. Wigwam's first albums were heavily influenced by the Beatles, the Band and Stevie Winwood. The group reunited in the '90s after fifteen years with the studio album Light Ages, and continues straight from where they left in '78.
Their 17-minute epic version of The Band's "The Moon Struck One" on Live Music from the Twilight Zone is one of Wigwam's very few published The Band covers, but they used to perform many during their live sessions. The lineup for the cover version was Ronnie Osterberg (dr), Jim Pembroke (voc, piano), Jukka Gustavson (voc, org), Pekka Pohjola (bass), and Pekka Rechardt (gtr). A live version of "Up on Cripple Creek" by Wigwam surfaced in 1998, on the compilation Jee Jee Jee. Two more Band covers surfaced on the 2000 Wigwam rarities compilation Fresh Garbage.

Tracks
Let It Be
Groundswell
Pigstorm
Nipistys
Imagine
Help Me / Checkin' Up On My Baby
Grass For Blades
Wigwam - Live Music from the Twilight Zone - 1975 - Love Records Love LXLP517/518
Compact Disc: Love Records LXCD517 (1995)
---
[History] [Members] [Library] [Discography] [Videography] [Filmography] [Pictures] [Audio Files] [Video Clips] [Tape Archive] [Concerts] [Related Artists] [Merchandise] [Guestbook] [Chat Room] [Search] [What's New?] [Main Page]
Webmaster