Blackie & The Rodeo Kings: Kings Of Love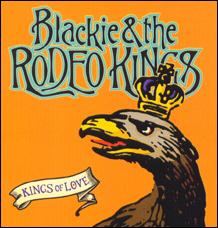 What started out as a side project for folk singer Stephen Fearing, guitarist and The Band-collaborator Colin Linden, and Junkhouse singer Tom Wilson, has turned into an on-going career sidebar for the three musicians. High or Hurtin' - the group's 1996 debut and tribute to Canadian songwriter, Willie P. Bennet, proved to be greater than anyone initially expected, with the album ending up on several domestic year-end lists. In 1999 the trio joined forces once again with the release of the double CD Kings of Love.
Kings of Love includes a cover version of The Band/Colin Linden song "Remedy" from The Band's 1993 come-back album Jericho and also a version of the Jericho outtake "Tombstone", written by Jules Shear and originally recorded in 1991 by The Band as a demo with an amazing vocal from Rick Danko. The Band's pianoman Richard Bell plays on many of the tracks on Kings of Love.
Tracks
49 Tons
Lean On Your Peers
Nickles & Dimes
Boots Of Leather
Patience Of A Working Man
You Don't Have To Play
Horses
Vigil
King Of Love
Summer Dreams
Queen With A Broken Crown
Red Dress
Calling On The Angels
Vale Of Tears
Lucky Ones
As Lonely As You
Don't Want To Know
King Of Love
Andrew's Waltz
Paleface
If You Have To Choose
Skybound Station
Blackie & The Rodeo Kings - Kings Of Love - 1999 - True North TND 0180
---
[History] [Members] [Library] [Discography] [Videography] [Filmography] [Pictures] [Audio Files] [Video Clips] [Tape Archive] [Concerts] [Related Artists] [Merchandise] [Guestbook] [Chat Room] [Search] [What's New?] [Main Page]
Webmaster