Sneaky Pete Kleinow: Meet Sneaky Pete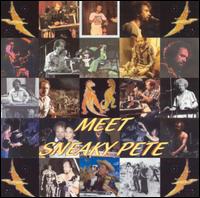 Meet Sneaky Pete is the third solo record from Flying Burrito Brother and steel guitar legend Kleinow (his debut solo album Cold Steel came in 1974, followed by Sneaky Pete in 1979). Released in 2001, Meet Sneaky Pete is a compilation of never before released tracks recorded in the '70s and '80s, including a beautiful instrumental cover of The Band's "It Makes No Difference".
Sneaky Pete and Garth Hudson later played together as members of the group Burrito Deluxe, releasing the albums Georgia Peach in 2002 and The Whole Enchilada in 2004.
Kleinow's instrumental "Difference" can also be found on the January 2008 Sneaky Pete compilation The Shiloh Records Anthology (Sundazed SC 11179).
Tracks
No More Love to Give (Kleinow)
Sister (Kleinow)
Fly the Bright Sea (Kleinow)
Sneak Attack (Kleinow)
It Makes No Difference (Robertson)
Ain't No Easy Way (O'Neal)
Woman Lennon
From Me to You (Lennon, McCartney)
Sleepwalk (Santo and Johnny)
Star (Kleinow)
Dancin' Wheels (Kleinow)
Sneaky Pete Kleinow - Meet Sneaky Pete - 2001 - Shiloh/Beautown 2252
---
[History] [Members] [Library] [Discography] [Videography] [Filmography] [Pictures] [Audio Files] [Video Clips] [Tape Archive] [Concerts] [Related Artists] [Merchandise] [Guestbook] [Chat Room] [Search] [What's New?] [Main Page]
Webmaster