Norah Jones and the Handsome Band: Live in 2004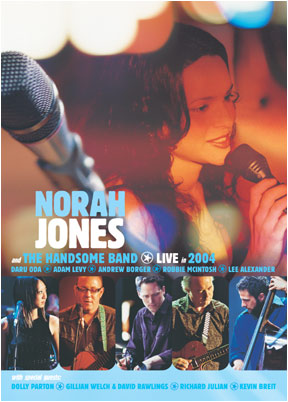 Blue Note Records released the DVD Live In 2004 in November 2004. Shot August 8 and 9 at Nashville's historic Ryman Auditorium, the concert film includes performances of several songs from Jones' quadruple platinum 2004 release Feels Like Home and her landmark debut album Come Away With Me. Special guests include Dolly Parton, Gillian Welch and David Rawling.
Songs on the DVD include the hits "Come Away With Me," "Don't Know Why," and "Sunrise," as well as the Gram Parsons gem "She." Track 16 is a version of The Band's "Life is a Carnival." Norah also covered The Band on her Live in New Orleans DVD.
Tracks
What Am I To You?
Sunrise
Those Sweet Words
In The Morning
Carnival Town
That's The Way That The World Goes 'Round
Humble Me
Don't Miss You At All
The Long Way Home
Don't Know Why
Creepin' In
The Prettiest Thing
Moon Song
Above Ground
Loretta
Extras
Bonus Tracks
She
Come Away With Me
Creepin' In (rehearsal version)
Toes
Music Videos
Those Sweet Words
What Am I To You?
Behind the Scenes Documentaries
The Handsome Band Bio: From The Beginning
24 Hours on the Handsome Bus
Norah Jones and the Handsome Band - Live in 2004 - DVD - Blue Note
---
[History] [Members] [Library] [Discography] [Videography] [Filmography] [Pictures] [Audio Files] [Video Clips] [Tape Archive] [Concerts] [Related Artists] [Merchandise] [Guestbook] [Chat Room] [Search] [What's New?] [Main Page]
Webmaster