10 answers to 9 questions
The Rhythm & News interview with Garth Hudson
---
by George A. Fletcher
From Rhythm and News Magazine, July 2001. Copyright © 2001 Drezdon Media. All rights reserved.
---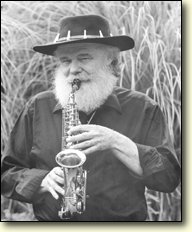 Photo by Gosha Quick.

As an original member of The Band, multi-instrumentalist Garth Hudson has shared stages and studios with not only his former group, but with a diverse crowd of artists including Bob Dylan, Keith Richards, Cyndi Lauper and even an old Bandmate's latest assemblage, Levon Helm and the Barn Burners.

But his list of accomplishments doesn't end there. His "Rotlings" (that's Hudson's word for "musical noodlings") can be heard on a handful of movie soundtracks, as well as recordings by artists such as polka king, Jimmy Sturr, and local guys such as Aaron "Professor Louie" Hurwitz and the Crowmatix. In fact, the good professor and company has returned the favor by pitching in on Garth's long-awaited debut solo recording, The Sea To The North, upon which they can be heard on two tracks.

Though busier than ever with rehearsals for Rick Chertoff's Largo at Vassar College's New York Stage and Film Center, Hudson took a few moments out to speak with Rhythm and News magazine publisher, George Fletcher.

Rhythm and News: Can The Sea To The North be considered a true solo project?

Garth Hudson: This is definitely a team production. I got a lot of help from Professor Louie and the Crowmatix. They helped me record and mix and master. We did it all on computer and that's a big help, and we really enjoyed the experience.

R&N: Is the mindset of doing a solo recording any different than your many sideman gigs?

GH: We had to approach it differently and I'll tell you why. The revelation is that I could not play as well with my left hand than my right so I had to take some extra time in the studio. To be poetic, and not too laborial or complex ... some musical ideas are done in an improvisational fashion and end up sometimes incomplete. On the other hand, I have been in a lot of situations, so I know how it's gonna go. And we had very few problems this time out.

R&N: What instruments do you play in the studio that you can use on a gig, too?

GH: A Technics digital piano. It's amazing and sounds "close enough." So, now I can do some things live the same way I did in the studio and it all sounds right. I believe that this keyboard is the answer to the problem. I checked out an awful lot of keyboards in studios and on stage and this one is very nice. I also went and got a Yamaha upright with a disclavier. You pop in a disc and hit a couple buttons. You can then edit that into another program.

R&N: Is the instrument as important as the player?

GH: The instruments play a big role in the sounds and the thickness. You spend hours and hours getting your sounds together and that's a big part of the music.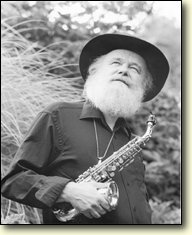 Photo by Gosha Quick.
R&N: What did you use in the days before digital sounds and synths?
GH: There was my old Lowery Festival keyboard. It had about 90 tubes and a great distortion that I have not been able to imitate since. That's the sound you hear on the beginning of "Chest Fever." (Chest Fever, a favorite of Band set lists, featured a intro by Hudson that was often improvised, rarely played the same twice, yet always inspired.)
R&N: Was it a quick recording to make?
GH: Well, one piano piece took a month or more to do. But we got through it.
R&N: Do you feel that you accomplished what you set out to do on this record?
GH: Oh, yeah. I really love everything about it. It's all there. I would have loved to add some more things to it, but I think we did the right things and made a good record. It has a lot of variety on there.
R&N: Are you always so easy to please?
GH: Yeah, even when I get up there in front of a few thousand people only to find that the accordion has ladies sized keys, and then I try to get in a number - that's a bad place, man. So I just rotle around on the keys and try to make something of it. (Hudson breaks into an impromptu song, singing "We're definitely in a waltz mode here.")
R&N: Are you happy with your musical life?
GH: Am I still in the ring? Oh, yeah, and I can spend great, long times getting happy. There have been many real fortunate occurrences and blessing over the years. I am happy. After the conclusion of our conversation, Hudson called back within minutes to add the following: I want to let everybody know that I have had tremendous support in doing the record, and that I feel very fortunate to have the opportunity to get my music out there. It's been a lot of fun.

---
[History] [Members] [Library] [Discography] [Videography] [Filmography] [Pictures] [Audio Files] [Video Clips] [Tape Archive] [Concerts] [Related Artists] [Merchandise] [Guestbook] [Chat Room] [Search] [What's New?] [Main Page]
Webmaster