The Band
Music From Big Pink - The Band - Stage Fright - Cahoots
---
Robert Wilonsky
From Phoenix New Times, 08/31/2000. Copyright © 2000 New Times, Inc. All rights reserved.
---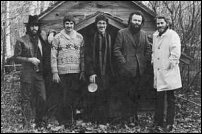 The Band takes a load off with a quartet of reissues

For far too long now, The Band has rested on the dusty shelves of musty intellectuals who treat the works of Robbie Robertson, Levon Helm, Garth Hudson, Richard Manuel and Rick Danko as though they're history lessons instead of rock songs. Punch up one wonderful Web site devoted to The Band (http://theband.hiof.no) and you will find among the digital literature a 21-page essay devoted to the origins and meanings of a single song, "The Night They Drove Old Dixie Down," off 1969's The Band, complete with annotations and comments from the likes of Greil Marcus, Levon Helm, fans and Civil War historians. The essay, by Peter Viney, is indeed a fascinating experiment in deconstruction -- every word is interpreted, and every action taken by narrator Virgil Kane ("played" by Helm) is examined as though he existed on yellowing pages -- but it serves to suck the very marrow out of the song until it turns brittle and, finally, crumbles into dust. Elliott Landy's legendary sepia-tinted portraits of The Band made the group members seem like 100-year-old relics way back when, Canadian hippies and an Arkansas hillbilly playing Civil War dress-up, but theirs was a most progressive sound -- "country-rock," as Time referred to it in 1970, performed by men who spent years playing rockabilly while listening to the blues and dreaming of Elvis. Even now, 30 years later, Music From Big Pink and The Band hint at something beyond, not behind. (Stage Fright and Cahoots suffer only in comparison to the preceding masterpieces; it's hard to top perfection, and you're lucky to wind up with even an echo of greatness.)


It's nice that Capitol Records has seen fit to reissue The Band's first four albums with a healthy amount of bonus tracks. So many of those tracks have shown up on bootlegs for nearly three decades, especially the indispensable three-disc "Genuine Bootleg Series" collection. Each disc includes alternate versions of songs found on the original albums and The Basement Tapes, and never-before-heard songs belonging to private collectors. (The first album has eight extras; the second, seven; the final two, only five each.) After all, that's how you get people to buy copies of discs they already have -- by adding on a handful of extras to justify the expenditure, because nobody makes a purchase based on that "digitally remastered from the original masters" sticker alone. But the fact remains, bonuses or no, that The Band and Music From Big Pink remain among the few flawless and essential albums made in the 1960s; they've outlived their expiration date, long after so many other rock records from that era (cf. Sgt. Pepper's Lonely Hearts Club Band and Tommy) have grown stale and moldy with age. Such are the benefits, perhaps, of having constructed music out of rickety remnants: pump organ and harmonica, tuba and mandolin, and five men who sang and played together like a gospel choir or a chain gang that's seen too many nights in the roadhouses. Nothing's more timeless than a memory.

The first two Band albums are among those rare discs that never wear down or out the longer you play them; they survive -- thrive -- with each successive spin. Those who talk, write and theorize all day long about the vintage clothing and Robert E. Lee mentions and how The Band pieced together an America that exists only in history books miss the thrill of creation, the way four Canucks and a good ol' boy from Arkansas "rebelled against the rebellion," as Helm wrote in his book This Wheel's on Fire. During the era of psychedelics and other indulgences, The Band kept it short and sweet: They opened the first record with a slow song ("Tears of Rage"), allowed nary a single guitar solo anywhere on the album and let the horns and organs play 'til they ran out of breath. Music From Big Pink sounds as if it was recorded during a party at which everyone swapped bottles and instruments. The extras only affirm that notion, especially "If I Lose" (an old Stanley Brothers song), Richard Manuel's solo pianos-and-vocals take on "Orange Juice Blues" (sounds like some old OKeh single from the 1930s) and the oft-bootlegged "Ferdinand the Imposter," which is as close to soused and sloppy as The Band ever got.

The outtakes on The Band are most notable for the inclusion of alternate versions of "The Night They Drove Old Dixie Down" and "Jemima Surrender." The former is a stop-and-start affair, the sound of men making it up as they go; listening to it is like watching a magician reveal his tricks. It begins like some half-remembered dream, with the sound of nothing but a slightly strummed acoustic guitar guiding a falsetto, barely heard vocal (most likely Manuel's) until a piano appears suddenly, quietly, in the distance. The Band then launches into the song, only to stop once more; everything's a little . . . off. The third time's the charm, only this time, the song contains overdubs not heard on the final version -- a little flute, perhaps, and other accompaniment later deemed unnecessary (including out-of-tune horns). The version of "Jemima Surrender" is most notable for the fact that Manuel plays drums on it, while Helm plays guitar; in the end, it mattered little who played what.

Capitol found fewer extras to include on Stage Fright and Cahoots: Both discs contain radio commercials among their handful of rarities, and they're nothing more than oddities meant to satisfy the cultist. The alternate take of "Daniel and the Sacred Harp" off the third disc is interesting, if only because it sounds like a brilliant, half-assed demo; the "W.S. Walcott Medicine Show" outtake, mixed by Todd Rundgren, is more horn-heavy than its album counterpart. Cahoots features the organ-drenched "Bessie Smith," which fans long assumed was a Basement Tapes song (hell, Helm says as much in his book), though Robertson insists it was in fact recorded during the period between Stage Fright and Cahoots. But the best outtake on that record is "Don't Do It," a live version of which appeared on Rock of Ages (the song is just a redo of the Holland-Dozier-Holland song "Baby, Don't You Do It" written for Marvin Gaye in 1964). No longer the prerequisite show-closer, the unreleased studio version sounds not so unlike The Band when it was The Hawks, playing shitholes with Ronnie Hawkins in the early 1960s. It's rough, ramshackle and rock 'n' roll -- the sound of five men who made magic even when they were just killing time.

---
[History] [Members] [Library] [Discography] [Videography] [Filmography] [Pictures] [Audio Files] [Video Clips] [Tape Archive] [Concerts] [Related Artists] [Merchandise] [Guestbook] [Chat Room] [Search] [What's New?] [Main Page]
Webmaster