Various Artists: Lucinda Williams - Artist's Choice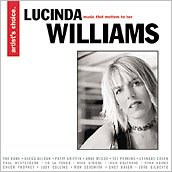 Compilation CD released in 2002 by Starbuck Coffee's on-line music magazine Hear Music. Their "Artists Choice" series offer compilations hand-picked by artists with established credibility (e.g. Yo-Yo Ma and Ray Charles).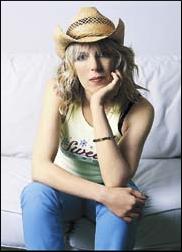 Lucinda Williams, 2002

The songs picked by veteran country singer/ songwriter Lucinda Williams includes The Band's ballad "It Makes No Difference" from Northern Lights - Southern Cross as the opening track. In the liner notes, Williams says: "This is just a great song. The melody, the harmonizing, the lyrics. It's real organic. What can you say about The Band? They had a great thing. They wrote great songs, and you always know it's The Band."
Tracks
It Makes No Difference - The Band
Good Day - Paul Westerberg
Mary - Patty Griffin
These Things - Anne Mccue
To Us - Tex Perkins
These Days - Gregg Allman
Tears Are In Your Eyes - Yo La Tengo
Famous Blue Raincoat - Leonard Cohen
Don't Explain - Nina Simone
Say It (Over And Over Again) - John Coltrane
Sylvia Plath - Ryan Adams
No Other Love - Chuck Prophet
La Chanson Des Vieux Amants - Judy Collins
April After All - Ron Sexsmith
My Funny Valentine - Chet Baker
Eclipse - Joao Gilberto
Various Artists - Lucinda Williams - Artist's Choice - 2002 - Starbucks Corp.

---
[History] [Members] [Library] [Discography] [Videography] [Filmography] [Pictures] [Audio Files] [Video Clips] [Tape Archive] [Concerts] [Related Artists] [Merchandise] [Guestbook] [Chat Room] [Search] [What's New?] [Main Page]
Webmaster