Various Artists: Norah Jones - Artist's Choice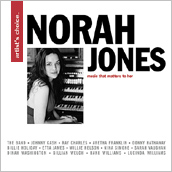 Compilation CD released in 2004 by Starbuck Coffee's on-line music magazine Hear Music. Their "Artists Choice" series offer compilations hand-picked by artists with established credibility (e.g. Lucinda Williams and Ray Charles).
The 14 songs chosen by the lovely Norah Jones for this CD includes "The Night They Drove Old Dixie Down" from The Band. In an ad explaining the songs she chose, Ms. Jones described the musical influences in her life as -- "the songs she heard in the car when she was a kid, the importance of Ray Charles, and why she loves the sound of Levon Helm's voice".
Tracks
What Would I Do Without You - Ray Charles
What A Little Moonlight Can Do - Billie Holiday
I Love You More Than You'll Ever Know - Donny Hathaway
The Night They Drove Old Dixie Down - The Band
Can I Sleep In Your Arms - Willie Nelson
I Still Miss Someone - Johnny Cash
Fruits Of My Labor - Lucinda Williams
I Just Want To Make Love To You - Etta James
Today I Sing The Blues - Aretha Franklin
Slick Chick (On The Mellow Side) - Dinah Washington
Whatever Lola Wants (Lola Gets) - Sarah Vaughan
I Want A Little Sugar In My Bowl - Nina Simone
Lovesick Blues - Hank Williams
Dear Someone - Gillian Welch

Various Artists - Norah Jones: Artist's Choice - 2002 - Starbucks Corp.
---
[History] [Members] [Library] [Discography] [Videography] [Filmography] [Pictures] [Audio Files] [Video Clips] [Tape Archive] [Concerts] [Related Artists] [Merchandise] [Guestbook] [Chat Room] [Search] [What's New?] [Main Page]
Webmaster