Eric Andersen: Beat Avenue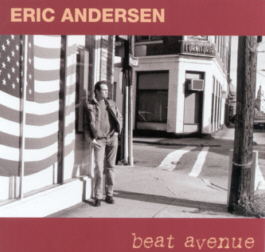 Eric Andersen, who worked with Rick Danko in the Danko/Fjeld/Andersen trio, used both Rick and Garth Hudson as musicians on 1998's Memory of the Future. On the double CD Beat Avenue, recorded in New York in the spring of 2002 and released on the Appleseed folk music in Februry 2003, Garth Hudson guests again on keyboards, accordion and sax. Appleseed also released the 2-CD Danko/Fjeld/Andersen set One More Shot in the US in 2002.
Other musicians included on this hard-hitting, guitar-driven album are guitarist Eric Bazilian from The Hooters, drummer Shawn Pelton from The Saturday Night Live Band and recording/performance veteran of Sheryl Crow and Shawn Colvin, bassist Mark Egan of the Pat Methany Group, New Hampshire violinist, Joyce Andersen, who writes, sings, performs, and records on her own and with Harvey Reid, and multi-instrumentalist, Robert Aaron, who has been a member of the Wyclef Jean Band for the past 6 years. Back-up singers include Pheobe Snow and Lucy Kaplansky, as well as Eric's daughter, singer-sonwriter Sari Andersen.
The first CD comprises 12 new songs while the 2nd features the long cinematic narrative, "Beat Avenue." This centerpiece recitative, set-to-music work, Eric first started out writing as a companion piece to his song "Ghosts Upon the Road." "Beat Avenue" is a 26-minute song about a 24-hour day that takes place in San Francisco on the day John F. Kennedy was assassinated. It recaps the story of the evening where young Eric attended a poetry reading and a party with poets Allan Ginsberg, Lawrence Ferlinghetti, David Meltzer, Michael McClure and Neal Cassady, the hero of Jack Kerouac's novel, On The Road.
Tracks
CD 1
Ain't No Time To Bleed (duet with Phoebe Snow)
Before Everything Changed
Salt On Your Skin
Song Of You And Me
Shape Of A Broken Heart
Great Pyramid
Under The Shadows
Rains Are Gonna Come
Run Away
Stupid Love
Still Lookin For You
Feel Like Comin' Home
CD 2
Beat Avenue
Blue Rockin Chair
Eric Andersen - Beat Avenue - 2003 - Appleseed Recordings
---
[History] [Members] [Library] [Discography] [Videography] [Filmography] [Pictures] [Audio Files] [Video Clips] [Tape Archive] [Concerts] [Related Artists] [Merchandise] [Guestbook] [Chat Room] [Search] [What's New?] [Main Page]
Webmaster