Bob Dylan: Live 1961-2000
Thirty Nine Years Of Great Performances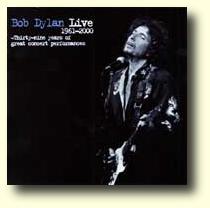 "...Bob Dylan Live 1961-2000 is a phenomenal collection of 16 live tracks bringing together nearly 4 decades of great concert performances by one of the greatest singer/songwriters of the last 40 years. Featuring many 'rare' and previously 'unreleased' tracks Bob Dylan Live is the definitive performance album and will appeal to fans and collectors alike..."
This limited edition album, released in Japan in March 2001, contains previously unreleased live recordings (tracks 1, 2, 3, 4, 15 and 16) and tracks that have never been released on a Bob Dylan album (tracks 6, 8, 10, 13 and 14.) Track 6 is from a compilation that is no longer in print, track 8 is from a promo only album, track 10 is the "B" side of a cassette single and tracks 13 and 14 were released on EP only.
The Hawks/Band are present on tracks 5, 6 and 7, from 1966, 1968 and 1974, respectively.
Tracks
Somebody Touched Me
9/24/2000 (Portsmouth, England)
Wade In The Water
12/22/1961 (Minneapolis)
Handsome Molly
1962 (Gaslight tapes)
To Ramona
1965 (Outtake from the film Don't Look Back)
I Don't Believe You
5/17/1966 (Free Trade Hall, Manchester, released on the album, Live 1966)
Grand Coulee Dam
1968 (from Woody Guthrie Tribute Album)
Knockin' On Heaven's Door
1/30/1974 (Madison Square Garden NY from Before the Flood)
It Ain't Me Babe
1975 (from Renaldo & Clara)
Shelter From The Storm
1976 (from HARD RAIN)
Dead Man, Dead Man
1981 (New Orleans)
Slow Train
1987 (from Dylan & the Dead)
Dignity
1994 (from Unplugged)
Cold Irons Bound
12/16/1997 (El Ray Theatre, Los Angeles)
Born In Time
2/1/1998 (New Jersey Center, New Jersey)
Country Pie
2000 (Portsmouth, England)
Things Have Changed
2000 (Portsmouth, England)
Bob Dylan - Live 1961-2000- 2001 - Sony SRCS2438
---
[History] [Members] [Library] [Discography] [Videography] [Filmography] [Pictures] [Audio Files] [Video Clips] [Tape Archive] [Concerts] [Related Artists] [Merchandise] [Guestbook] [Chat Room] [Search] [What's New?] [Main Page]
Webmaster