Bob Dylan with The Band:
The Bootleg Series Vol. 4
Bob Dylan Live 1966 - The "Royal Albert Hall" Concert
(2 CDs)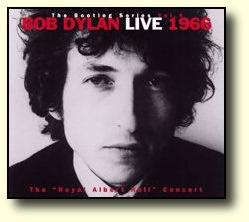 Perhaps the most famous bootleg of all time was to be released officially at last by Sony in October 1998. This is the complete show with Bob Dylan and The Hawks (with Mickey Jones replacing Levon Helm) from May 17th 1966, and the much-rumored next installment of Bob Dylan's Bootleg Series, the first three volumes of which were released as a box set in 1991. Vol. 4 is titled Bob Dylan Live 1966: The "Royal Albert Hall" Concert. As most Dylan fans know, the reason for the quotation marks is that the May 17, 1966, live recording credited for years to the famed London concert venue was in fact recorded at Manchester's Free Trade Hall.
The Manchester performance, which critics recognize as one of the greatest in rock and roll history, has been bootlegged dozens of times (most notably on the excellent 2CD set Guitars Kissing & The Contemporary Fix), but this marks its first official release, offering superior remastered sound and impressive packaging. The set's booklet include an extended essay by musician and longtime Dylan friend Tony Glover along with many photographs, some previously unpublished.
From Tony Glover's liner notes essay:
These two CDs document one of the great confrontational performances of the 20th century. Bob Dylan, intent on following his own inner vision, wasn't the first artist to NOT give the audience what they wanted, but he may have been the loudest.

In 1913, Russian composer Igor Stravinsky wrote music for "The Rite Of Spring" a Diaghilev ballet, choreographed by Nijinsky. His twelve-tone scales and use of unfamiliar structures caused not just a scandal, but rather a riot, as Parisian audiences stood and shouted, drowning out the orchestra. They considered Stravinski's score a "blasphemous attempt to destroy music as an art" and booed roundly throughout the piece.

In 1922, modern dancer Isadora Duncan began a tour with her husband, Russian poet Sergei Esenin, he read and she danced in auditoriums across the US. It was the height of the Red Scare, the powers-that-be were threatened by the bolshevik revolution of a few years before. When Duncan performed in Boston, she gave an impassioned speech, imploring a highly conservative audience- "you were once wild here, don't let them tame you!" When she waved a red scarf and bared a breast, declaring "nudity is truth, it is beauty, it is art!", the audience fled the hall.

In 1935, actor-director-writer Antonin Artaud performed his play "The Cenci", a dramatized myth of murder, incest and adultery, in Paris. Artaud had championed the "Theater Of Cruelty", where an audience was to be transformed through their encounter with his work. Settings were designed to disorient the spectator, recorded sound effects of trampling feet, an amplified metronome and tolling church bells were played through loudspeakers located in the four corners of the building and spectators were assaulted with macabre lighting effects. The play soon closed, and Artaud eventually wound up in an asylum.

In May of 1966, Bob Dylan stands on an English stage, coming back for the second half of a concert. The first part, done solo and acoustic, was well received, even though the lyrics were not the socially-conscious politically-motivating messages that had gained Dylan popularity barely a year before. Now he appears in a check houndstooth "rabbit" suit and pointed boots in front of a 5 piece band with an electric guitar in hand, playing incandescent rock and roll. There are catcalls throughout the set, and finally, just before the last number, someone yells "Judas!". Dylan replies, "I don't believe you!", turns to the band and snarls "play fucking loud!"--drummer Mickey Jones cracks the snare like a rifle shot and the Hawks roar into "Like A Rolling Stone". Dylan's voice is a velvet sneer as he shouts out the line "how does it feeeeeeel" and the performance rolls on with power, defiance and a sheer majesty rarely captured on tape.

By the time the first so-called "Royal Albert Hall" bootleg came out, some 4 or 5 years later, the mythology was in place: a blues-tinged Woody Guthrie comes out of the midwest, moves to NY, writes some poetic topical songs that become the soundtrack for the civil rights and anti-war struggles, turns inward and begins doing existentially surrealistic visionary work, hooks up with a kick-ass rock band, barnstorms the US and the Euro-continent, ends 4 months of grueling touring with a triumphant concert, returns to the US, breaks his neck in a motorcycle accident, and retires into a 20 month seclusion. When he returns, it's as a vastly changed man, a bearded biblical poet, with acoustic parables from a whole other century. So what happened, and why were those people so angry? Therein lies a tale...
A Classic Records limited edition 2-LP box set version of Bootleg Series Vol. 4 / Bob Dylan Live 1966 was released in 1999. This analog version was produced by Classic under license from Sony as part of the 50th anniversary of the Columbia label, and is pressed on ultra quiet 180-gram vinyl mastered by Bernie Grundman from the original master tapes. The separate acoustic & electric set LPs come in their own picture outer sleeves in a rather large box that also contains the LP sized booklet. The records come with a reproduction of the red "Columbia 360-Sound" label. The vinyl version sounds much "warmer" than the CD version, with more dynamic detail and a deeper soundstage. It's relatively expensive, at around $60 retail.
Tracks
Disc 1
| | |
| --- | --- |
| 1. | She Belongs To Me |
| 2. | Fourth Time Around |
| 3. | Visions Of Johanna |
| 4. | It's All Over Now, Baby Blue |
| 5. | Desolation Row |
| 6. | Just Like A Woman |
| 7. | Mr. Tamborine Man |
Disc 2
1.
Tell Me Mama
(94K)
2.
I Don't Believe You
(94K)
3.
Baby, Let Me Follow You Down
(94K)
4.
Just Like Tom Thumb's Blues
(94K)
5.
Leopard-Skin Pill-Box Hat
(94K)
6.
One Too Many Mornings
(94K)
7.
Ballad Of A Thin Man
8.
Like A Rolling Stone
(94K)
Bob Dylan with the Hawks - Bootleg Series Vol. 4 - 1998 - Columbia/Sony 491485
Vinyl 2LP box set - Columbia CK2-65759 - 1999
---
[History] [Members] [Library] [Discography] [Videography] [Filmography] [Pictures] [Audio Files] [Video Clips] [Tape Archive] [Concerts] [Related Artists] [Merchandise] [Guestbook] [Chat Room] [Search] [What's New?] [Main Page]
Webmaster