Gene Clark & Friends: A Star For Every Stage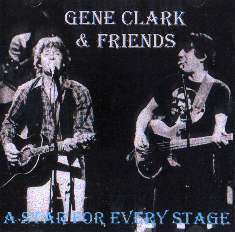 A Star For Every Stage is a bootleg with former Byrds member Gene Clark and friends, recorded live May 16, 1985 at 3-T's, Evansville, IN. The "friends" include The Band's Rick Danko and Richard Manuel, ex-Beach Boy Blondie Chaplin, and others. Danko and Chaplin toured for a while with Clark on his Byrds / Burritto Bros. "reunion" concerts in the '80s.
Danko and Manuel sing lead on "Honest I Do" (mistitled "Stop Driving Me Crazy" in the CD tracklist) and on the two Band songs "The Rumor" and "The Shape I'm In."
Tracks
It's All Over Now
Just an Arrow (mistitled "Old Paint")
The Rumor (Danko/Manuel)
The Shape I'm In (Manuel)
Shake Your Ass
Why Did You Leave Me?
Silver Raven
Feel A Whole Lot Better
Chimes Of Freedom
Sail On Sailor
So You Want To Be A Rock & Roll Star
Eight Miles High
Turn Turn Turn
Personell
Gene Clark, guitar / vocal
Michael Clarke, drums
Rick Danko, bass / guitar / vocal
Richard Manuel, keyboard / vocal
John Yorke, bass / guitar / vocal
Blondie Chaplin, guitar / vocal
Rick Roberts, vocal
Gene Clark & Friends - A Star For Every Stage - 1999 - Massive Attack MA990115
---
[History] [Members] [Library] [Discography] [Videography] [Filmography] [Pictures] [Audio Files] [Video Clips] [Tape Archive] [Concerts] [Related Artists] [Merchandise] [Guestbook] [Chat Room] [Search] [What's New?] [Main Page]
Webmaster