Bob Dylan: Acetates On The Tracks Vol.2 (1965-74)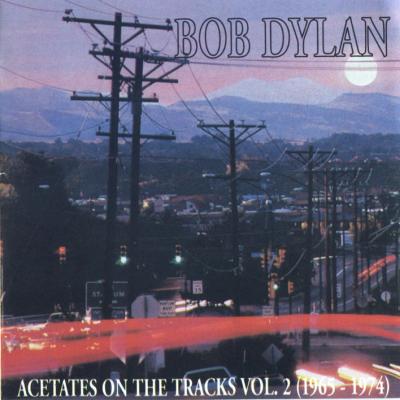 [Front cover] [Back cover] [Inner cover]
Review from Deep Beneath the Waves:
Selection of outtakes & alternate versions. tracks: 15, time:74, source: acetates/tape*, quality: excellent.
A superb follow-up to Vol.1 with tracks covering Highway 61 / Blonde on Blonde plus several sundry studio tracks from 1970 & 1973. Once again, quality is top notch and equivalent to the best previous CDs have had to offer - that's right, it seems to me that everything on here has been previously available. The upside is that many of the disks that offer these tracks are long out of print and near impossible to find. Anyway, included on here is the devastating solo piano version of "She's Your Lover Now," which is worth the price of admission alone. I always joke that this is the one song you must cue up for your friends who don't like Dylan - it will just reinforce their aversion to him because they just won't get it, particularly the opening (I can't really say I get it either -even if I thought I did I would'nt say so :-) ). Anyway, I feel compelled to be a little anal here and point out that 0:21 into this song, Dylan provides us with the most wondrous 3-4 seconds of humming I've ever heard - truly inspiring and tuneful and words can't describe it ("Come on, xyx, it's 3 seconds of humming, quit bullshitting and looking for some deep meaning in there." OK, sorry). Suffice it to say this track is a killer - the singing, the piano, the words - if you have'nt heard it, do yourself a favor and at least cop a tape of it. Then decide which one you prefer - this or the GBS 1-3 version w/the Band.
I've wasted enough of your time already but I would be remiss not to mention the other legendary unreleased cut included here - the "boiled guts of birds...nightingale's code" version of "Desolation Row." Many lyric variations and different musically to the H61 version. A must to hear this one also if you've never had the pleasure. Last detailed mention will go to the 2 cuts of "Visions of Johanna" (both sound similar to me), also completely different than the version on BonB. This one is also a necessity.
A wonderful collection of tracks and if someone can provide the source linkage it would be much appreciated . For instance, are these all from acetates? Maybe someone can print the full listing of Grogan and Gelston acetates. I'm also wondering about the sources of the last 4 tracks, as the only one where surface noise is evident is "Nobody 'Cept You." In any case, this one will certainly not disappoint.
Tracks
Can You Please Crawl Out Your Window
(2 full different takes + a 1:00 false start)
Desolation Row
(outtake)
Ballad of A Thin Man
(2 takes - diff mixes, one very spooky w/organ mixed way up)
I Wanna be Your Lover
I Don't Wanna Be Your Partner
Visions of Johana
(2 versions)
She's Your Lover Now
(see above)
Instrumental (I'll Keep It With Mine)*
Working on a Guru
(Harrison session 1970 - amazing quality)*
Tomorrow Is A Long Time
(rare version available only on GBS Take 2)*
Nobody 'Cept You
(sounds like it may be a different mix)*
Bob Dylan - Acetates On The Tracks Vol.2 - 1997 - Howlin Wolf Records / Treasure Records
---
[History] [Members] [Library] [Discography] [Videography] [Filmography] [Pictures] [Audio Files] [Video Clips] [Tape Archive] [Concerts] [Related Artists] [Merchandise] [Guestbook] [Chat Room] [Search] [What's New?] [Main Page]
Webmaster