And the Band played on...with Robbie Robertson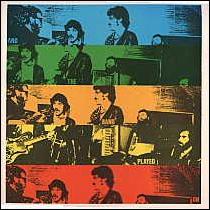 This is substantially the same as the bootlegs Live in Washington D.C. and Ophelia, which are from the King Biscuit Flour Hour radio show in 1990. It's simply taken from a different King Biscuit radio CD, presumably the 1991 one. The difference is that this version is plus "Forbidden Fruit" and "This Wheel's on Fire", but minus "Don't Do It" (compared to KBFH 1990) and "It Makes No Difference" (compared to KBFH 1993).
Also released under the title Live USA.
Tracks
Shape I'm In
The Weight
King Harvest
Ophelia
Tears of Rage
Forbidden Fruit
Wheel's on Fire
The Night They Drove Old Dixie Down
Chest Fever
Up On Cripple Creek
W.S. Walcott Medicine Show
The Band - And the Band played on...with Robbie Robertson - 199? - Wallyjig WJ76
---
[History] [Members] [Library] [Discography] [Videography] [Filmography] [Pictures] [Audio Files] [Video Clips] [Tape Archive] [Concerts] [Related Artists] [Merchandise] [Guestbook] [Chat Room] [Search] [What's New?] [Main Page]
Webmaster