Live in Washinton D.C.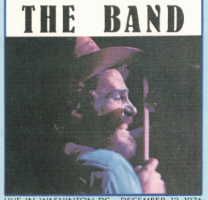 Bootleg from a Band concert in Washington. The cover claims the recording is from Dec. 12, 1976, meaning the Band actually gave a concert after the Last Waltz. This is of course incorrect, Seagull Records, the "label" here, is probably Italian, and their CD artwork is full of errors ("Washinton", "Le Von Helm" (credited for guitars), etc).
The recording is from the July 17, 1976, concert, the second night of a two-night engagement at Carter Baron Amphitheatre, Washington D.C., that first was broadcasted on the King Biscuit Flower Hour radio show on August 29, 1976 (The Band books say the Washington D.C. show was August 16, 1976, also incorrect).
The same show can be found on the bootleg Ophelia.
Tracks
1.
Don't Do It
2.
Shape I'm In
(2.8MB)
3.
The Weight
4.
Tears of Rage
5.
Ophelia
6.
King Harvest
7.
Night They Drove Old Dixie Down
8.
The Genetic Method
(2MB)
9.
Chest Fever
10.
Up On Cripple Creek
11.
W.S. Walcott's Medicine Show
The Band - Live in Washington D.C. - 1989 - Seagull Records 002
---
[History] [Members] [Library] [Discography] [Videography] [Filmography] [Pictures] [Audio Files] [Video Clips] [Tape Archive] [Concerts] [Related Artists] [Merchandise] [Guestbook] [Chat Room] [Search] [What's New?] [Main Page]
Webmaster