The Band: The King Biscuit Flour Hour
The Carter Baron Amphitheater - Washington DC - August 16, 1976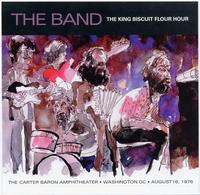 [CD cover] [Back cover]
Japanese 2003 bootleg, originally part of a "tree" put together in 2003 on the Yahoo Group "bandtrades". It appears that a copy of that "tree disc" that was meant to be shared and traded freely, made it into the hands of bootleg sellers. The bootleg artwork is lifted from this web site, it's one of Swedish artist Ingemar Almeros' Band paintings.
This is the "King Biscuit Flower Hour" radio concert, from pre-broadcast reels. The tracks "Twilight," "Forbidden Fruit," and "This Wheel's On Fire" that are included here, do not appear on any of the previous KBFH CD's, only on LP and reel versions of the program
The actual date of the performance is assumed to be 17 July 1976, not 16 August 1976 as stated in Band books and on bootlegs.
Tracks
Don't Do It
The Shape I'm In
It Makes No Difference
The Weight
King Harvest
Twilight
Ophelia
Tears Of Rage
Forbidden Fruit
This Wheel's On Fire
The Night They Drove Old Dixie Down
The Genetic Method
Chest Fever
Up On Cripple Creek
W.S. Walcott's Medicine Show
The Band - King Biscuit Flour Hour - 2003 - BND 005
---
[History] [Members] [Library] [Discography] [Videography] [Filmography] [Pictures] [Audio Files] [Video Clips] [Tape Archive] [Concerts] [Related Artists] [Merchandise] [Guestbook] [Chat Room] [Search] [What's New?] [Main Page]
Webmaster