Various Artists: Can We Go Higher?
A Song for the Victims of War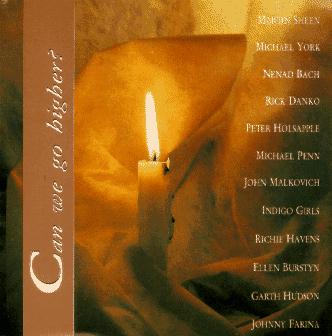 Croatian-American musician Nenad Bach brought well known actors and artists together to call for an end to the war in the former Yugoslavia. "Can We Go Higher?" is a moving and powerful song that has been compared to "We Are The World." The release is "for humanitarian aid for the victims of the war in Croatia and Bosnia & Herzegovina." For further info: Nenad Bach Music, Box 274, Irvington, NY 10533, or e-mail Mr.Bach himself at bachnenad@aol.com.
"Can We Go Higher" was re-released again in 1997 on Nenad Bach's album I Love Losers.
The CD contains two tracks:
Can We Go Higher? (John Timpane & Nenad Bach) (316K)
Garth Hudson on accordion
8 non-Band people playing instruments
Rick Danko, Nenad Bach, et 9 al. doing vocals
Nenad Bach et 5 al. doing backup vocals

Almost There (John Timpane & Nenad Bach)
Nenad Bach doing vocals, acoustic guitar
3 non-Band people playing instruments

Sidemen
(only members of the Band listed)
Rick Danko, vocals
Garth Hudson, accordion
Various Artists - Can We Go Higher? A Song for the Victims of War - 1992 - Nenad Bach Music
---
[History] [Members] [Library] [Discography] [Videography] [Filmography] [Pictures] [Audio Files] [Video Clips] [Tape Archive] [Concerts] [Related Artists] [Merchandise] [Guestbook] [Chat Room] [Search] [What's New?] [Main Page]
Webmaster