Mercury Rev: Deserter's Songs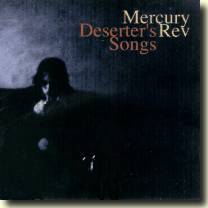 Few albums released in 1998 received the kind of advance buzz surrounding Deserter's Songs, the new album on the V2 label from New York state psychedelic maximalist rockers Mercury Rev. Entertainment Weekly called it "the art-rock album of the year," the British press is in paroxysms of bliss usually reserved for homegrown talent, and the Chemical Brothers' Tom Rowlands says simply, "I think they've made the best album of the year so far."
Garth Hudson and Levon Helm of The Band both do guest appearances on Deserter's Songs, Garth on sax on the song "Hudson Line" and "vocal" on "Pick Up If You're There", and Levon on drums on "Opus 40". Mercury Rev, who started out in the mid'80s making soundtracks for student films and lower-budget films, has been known for their avant-pop music and their rather chaotic performances; not exactly the kind of band you'd expect to see Levon or Garth with. But then again Garth has worked with an amazing variety of artists, including Camper van Beethoven and the Bengali Bauls, and I guess not many of us had expected Levon and The Band to cover En Vogue songs... Also present on Deserter's Songs are Levon Helm's daughter Amy and Marie Spinosa of The Crowmatix.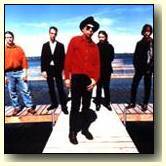 The collaboration between The Band and the Catskills-based Mercury Rev was initiated by local engineer Aaron Hurwitz, who also produced The Band's 1998 album Jubilation. Guitarist Sean "Grasshopper" Mackiowiak heralds Hudson's tenor- and alto-saxophone parts on "Hudson Line" as being nothing short of visionary:
"Garth, he's pretty out there. You don't know what he's doing -- it sounds confusing or whatever -- and then an hour later you see there's a method to the madness," Grasshopper said in a recent interview. "He would play a few notes here and there on a bunch of tracks and it doesn't sound like anything at first and then suddenly it all fits together."
Mercury Rev's lead singer Jonathan Donahue says in the same interview:
"We would see Levon around because we have the same barber. Lee showed up in the middle of an April snowstorm and played drums like nobody else in the world can."
In the British review in The Independent, 9 October 1998, Andy Gill, who calls Mercury Rev "the missing link between The Chemical Brothers and The Band" and says about Deserter Song that "the results are like Pet Sounds with Neil Young on vocals," quotes Donahue:
"We got along so well with Levon and Garth, probably because we share a lot of the same influences - we spent less time playing than we did talking, about old jazz standards, and the polkas which Garth loves. It made a lot more sense to us than certain people around us - they'd say 'Why would you be working with Levon and Garth when you guys are an American avant-garde group?' But we never thought of ourselves as experimental or avant-garde, we were just pursuing the timeless song, as they were; that's why it all seemed to get along so well."
Deserter's Songs represents something of a stylistic change for Mercury Rev. Gone are much of the electric guitars and kitchen-sink approach of past records. Instead, Deserter's generally gives more emphasis to bowed saws and harpsichords, B3 and Wurlitzer organs, pianos and acoustic guitars -- and lots of gorgeous, almost-cinematic orchestration. Some of the songs sound like they were written with the Band in mind -- at places you'll hear chords that are distinctly "Dixie Down"-like.
Tracks
Holes
Tonite It Shows
Endlessly
I Collect Coins
Opus 40
Hudson Line
The Happy End (The Drunk Room)
Goddess On A Hiway
The Funny Bird
Pick Up If You're There (441K)
This track has a sample of Garth's voice with noise and vinyl-LP "pops" added intentionally.
Delta Sun Bottleneck Stomp
Untitled
Musicians and sidemen
Mercury Rev
Jonathan Donahue, vocals / acoustic guitar / chamberlin
Sean "Grasshopper" Mackowiack, vocals / guitar / woodwinds
Suzanne Thorpe, flute
Dave Fridmann, piano / Mellotron / bass / background vocals / engineer
Adam Snyder, Wurlitzer piano / Mellotron / Hammond B-3 organ
Jimmy Chambers, harpsichord / clavinet / drums
Additional personnel
Garth Hudson, alto & tenor saxophones
Levon Helm, drums
Matt Jordan, flugelhorn
Amy Helm
Marie Spinosa
Mary Gavazzi Fridmann, vocals
Garrett James Uhlenbrock, slide guitar
Rachel Handman, violin
Jim Burgess, trombone
Aaron Hurwitz, piano / engineer
Scott Pettito, acoustic & electric basses
Jeff Mercel
Joel Eckhouse, bowed saw
Mercury Rev - Deserter Songs - 1998 - V2 Records 27027
---
[History] [Members] [Library] [Discography] [Videography] [Filmography] [Pictures] [Audio Files] [Video Clips] [Tape Archive] [Concerts] [Related Artists] [Merchandise] [Guestbook] [Chat Room] [Search] [What's New?] [Main Page]
Webmaster