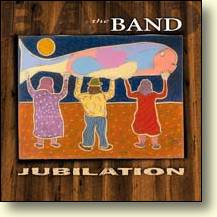 [CD cover] [Liner notes] [Poster] [Promotional CD] [Promotional video] [CD booklet back cover] [CD booklet details] [European CD]
"Jubilation finally and decisively reaffirms and expands The Band's sound and soul."
--Roy Kasten

"A damn fine album that proves that The Band is still alive, still original, and still masters of good old time Americana Music."
--"Tiny Montgomery"

"The ringing sounds from guitar, bass, dobro & mandolin strings echo out from the wooden sound boxes to mix with drums, accordians & harmonicas. Every once & a while someone picks up a horn to add a lonesome wail to the sound. From the back, Eric lets loose a few notes on his electric guitar ..."
--David Powell's
The Band's studio album Jubilation was recorded in Levon Helm's Woodstock barn in the spring of 1998, and released by River North Records on September 15th the same year. It includes songs written by Rick Danko, Levon Helm, Garth Hudson, Bobby Charles, John Hiatt (also guesting), and Allen Toussaint, and has Eric Clapton playing slide guitar on the song "Last Train To Memphis."
For more about this wonderful album, see these reviews:
See also the Jubilation promotional video.
In January 2003, Intersound Records re-released Jubilation in their Original Artist Hit List budget CD series. Jubilation was also released as a limited-edition colored vinyl LP. The LP is a little different from the CD in packaging, and the back of the cover has the printed autographs from the members.
The International Music Group AG (TIM) in Germany released Jubilation in Europe in April 2003, as part of the "Noble-Price" series on their Documents label, with new cover art.
Tracks
With comments by Jubilation producer Aaron Hurwitz.
Musicians
The Band

Rick Danko, vocals / guitar / bass
Levon Helm, vocals / drums / mandolin / french harp / acoustic guitar / percussion
Garth Hudson, saxophones / accordion / organ / piano / synthesizers / percussion
Randy Ciarlante, vocals / drums / percussion
Jim Weider, dobro guitar / electric guitar / mandolin / acoustic guitar
Richard Bell, piano / keyboards / accordion

Sidemen

Tom "Bones" Malone, sax / trumpet / trombone
Eric Clapton, guitar
John Hiatt, vocals / guitar
Amy Helm, vocals
Mike "Little Elmo" Dunn, bass
Jimmy Eppard, guitars / mandolin
Aaron Hurwitz, producer / engineer / mixer / vocals / accordion / organ / piano
Kevin Doherty, vocals
Tom Pacheco, guitar
Marty Grebb, vocals / keyboards
Bobby Charles, vocals / percussion
Maud Hudson, vocals
Marie Spinosa, vocals / percussion
Thomas R.Leavens, executive producer
Scott Petito, digital engineering
Paul Antonelli, post production engineer
Bob Ludwig, mastering
George Colin, cover art
Conni Treantafeles, art direction
Valerie Behling, photography / art direction
George J. Lembesis, photography
Gilbert Ross, photography

The Band - Jubilation - 1998 - River North Records CD 51416 1420 2
Liner notes by Greil Marcus
Limited-edition colored vinyl LP released in September 1998.
Promotional CD: River North Records 51416 1418 2PR (1998)
European CD: Documents/TIM 221416-205 (April 2003)

---
[History] [Members] [Library] [Discography] [Videography] [Filmography] [Pictures] [Audio Files] [Video Clips] [Tape Archive] [Concerts] [Related Artists] [Merchandise] [Guestbook] [Chat Room] [Search] [What's New?] [Main Page]
Webmaster