Richard Bell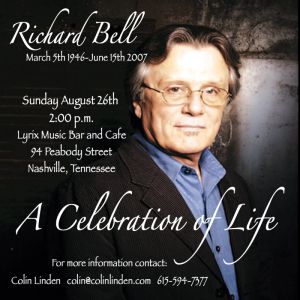 [Richard Bell discography] [Memorial concert poster]
Canadian pianoplayer Richard Bell was a member of Ronnie Hawkins' Hawks in the late '60s, and also played in Janis Joplin's Full Tilt Boogie Band. He took over the piano chair in the Band in 1991, after the death of Stan Szelest, and was a permanent member of The Band since then. Bell can be heard on The Band albums from the '90s, Jericho, where he wrote the song "The Caves of Jericho", High on the Hog, and Jubilation. He was also a writer on the lovely song "Out of the Wilderness" from Colin Linden's Through the Storm Through the Night album.
Richard Bell played with many other artists, including Bruce Cockburn, John Sebastian, Bonnie Rait, and Paul Butterfield. When not playing with the Band, he also played in a group with Colin Linden.
Sadly, Richard Bell passed away on June 15, 2007, after a long bout with cancer.
---
[History] [Members] [Library] [Discography] [Videography] [Filmography] [Pictures] [Audio Files] [Video Clips] [Tape Archive] [Concerts] [Related Artists] [Merchandise] [Guestbook] [Chat Room] [Search] [What's New?] [Main Page]
Webmaster