The Band: Original Artist Hit List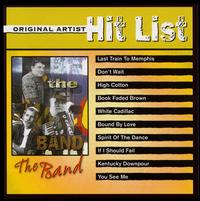 This is The Band's final album Jubilation from 1998, dressed up in new cover and "title" and released by Intersound Records in 2003.
Intersound released 24 CDs, including this one, in their low-price Original Artist Hit List series in January 2003, with a jumbled assortment of artists including Louis Armstrong, Edgar Winter, George Clinton and various gospel acts. All available for 4-5 dollars from music net shops.
Tracks
Last Train to Memphis (Band/Charles/Helm)
Don't Wait (Band/Doherty/Helm)
High Cotton (Danko/Helm/Pacheco)
Book Faded Brown (Jost)
White Cadillac (Ode to Ronnie Hawkins) (Ciarlante/Helm/Weider)
Bound by Love (Hiatt)
Spirit of the Dance (Ciarlante/Danko/Helm/Weider)
If I Should Fail (Danko/Pacheco)
Kentucky Downpour (Band/Gregg/Helm)
You See Me (Toussaint)
French Girls (Hudson)
The Band - Original Artist Hit List - The Band - 2003 - Intersound 4810
---
[History] [Members] [Library] [Discography] [Videography] [Filmography] [Pictures] [Audio Files] [Video Clips] [Tape Archive] [Concerts] [Related Artists] [Merchandise] [Guestbook] [Chat Room] [Search] [What's New?] [Main Page]
Webmaster