Biography
---
by Dawn LoBue

Copyright © 2006 Levon Helm Studios, Inc. All Rights Reserved.
Published with permission from Levon Helm Studios.
---
Levon Helm was in the right place at the right time. He saw the birth of rock and roll and though he's too much of a gentleman to say it, his role in helping to keep that rebellious child healthy is more than just instrumental.
On May 26, 1940, Mark Lavon Helm was the second of four children born to Nell and Diamond Helm in Elaine, Arkansas. Diamond was a cotton farmer who entertained occasionally as a musician. The Helm's loved music and often sang together. They listened to The Grand Ole Opry and Sonny Boy Williamson and His King Biscuit Entertainers regularly on the radio. A favorite family pastime was attending traveling music shows in the area. According to his 1993 autobiography, This Wheel's On Fire, Levon recalls seeing his first live show, Bill Monroe and His Blue Grass Boys, at six years old. His description: "This really tattooed my brain. I've never forgotten it."
Hearing performers like Monroe and Williamson on the radio was one thing, seeing them live made a huge impression.
Levon's father bought him his first guitar at age nine. At ten and eleven, whenever he wasn't in school or at work on the farm, the boy could be found at KFFA's broadcasting studio in Helena, Arkansas, watching Sonny Boy Williamson do his radio show, King Biscuit Time.
Helm made his younger sister Linda a string bass out of a washtub when he was twelve years old. She would play the bass while her brother slapped his thighs and played harmonica and guitar. They would sing songs learned at home and popular hits of the day, and billed themselves as "Lavon and Linda." Because of their fresh faced good looks, obvious musical talent and Levon's natural ability to win an audience with sheer personality and infectious rhythms, the pair consistently won talent contests along the Arkansas 4-H Club circuit.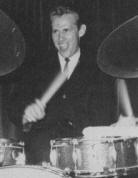 In 1954, Levon was fourteen years old when he saw Johnny Cash and Carl Perkins do a show at Helena. Also performing was a young Elvis Presley with Scotty Moore on guitar, and Bill Black on stand-up bass. They did not have a drummer. The music was early jazz-fueled rockabilly, and the audience went wild. In '55 he saw Elvis once more, before Presley's star exploded. This time Presley had D.J. Fontana with him on drums and Bill Black was playing electric bass. Helm couldn't get over the difference and thought it was the best band he'd seen. The added instruments gave the music solidity and depth. People jumped out of their seats dancing to the thunderous, heart-pumping, rhythms. The melting pot that was the Mississippi Delta had boiled over and evolved. It's magnificently rich blues was uniting with all the powerful, new, spicy- hot sounds and textures that became rock and roll.

Natural progression led Levon to form his own rock band as a high school junior, called "The Jungle Bush Beaters." While Little Richard and Jerry Lee Lewis were making teens everywhere crazed, Levon would practice, play, watch and learn. After seeing Jerry Lee's drummer Jimmy Van Eaton, he seriously began thinking of playing the drums himself. Around this same time, the seventeen year old musician was invited by Conway Twitty to share the stage with Twitty and his Rock Housers. He had met Twitty when "Lavon and Linda" opened for him at a previous show. Helm was a personable, polite teen who took his music seriously, so Twitty allowed him to sit in whenever the opportunity arose.

Ronnie Hawkins came into Levon Helm's life in 1957. A charismatic entertainer and front-man, Hawkins was gathering musicians to tour Canada where the shows and money were steady. Ronnie had a sharp eye for talent. He needed a drummer and Levon fit the bill. Fulfilling a promise to Nell and Diamond to finish high school, Levon joined Ronnie and his "Hawks" on the road. The young Arkansas farm boy, once a tractor driving champion, found himself driving Hawkins' Cadillac to gigs, happily aware that all the unknown adventures of rock and roll would be his destiny.

In '59 Ronnie got "The Hawks" signed to Roulette Records. They had two hits, "Forty Days" and "Mary Lou," sold 750,000 copies and appeared on Dick Clark's American Bandstand.

Hawkins and Helm recruited four more talented Canadian musicians in the early sixties, Richard Manuel, Rick Danko, Robbie Robertson and Garth Hudson. Under Ronnie's tutelage they would often perform until midnight and rehearse until four in the morning. Other bands began emulating their style, now they were the ones to watch and learn from.

Eventually, the students surpassed their teacher. Weary of Ronnie's strict regulations, and eager to expand their own musical interests, the five decided to break from Hawkins. They called themselves "Levon and the Hawks."

About 1965, Bob Dylan decided to change his sound. He was ready to "go electric" and wanted "The Hawks" to help him fire it up. The boys signed on to tour with Dylan but unfortunately Dylan's die-hard folk fans resisted. Night after night of constant booing left Levon without the pleasure of seeing his audience enjoy themselves. He calls his drummer's stool "the best seat in the house," because he can see his fellow musicians and his audience simultaneously. What pleases him most, then and now, is that his audience is having a good time. He left the group temporarily and headed to Arkansas. Dylan and the rest of the band took up residence in Woodstock, N.Y. They rented a large, pink house where they wrote and rehearsed new material. Danko called for Helm to join them because Capitol Records gave them a recording contract.

Woodstock residents called them "the band," so they kept the moniker. The name "The Band" fit. The sound was no frills rock and roll but far from simplistic. They fused every musical influence they were exposed to over the years as individuals and as a unit. The result was brilliant. Their development as musicians was perfected by years of playing. Living together at "Big Pink" allowed complete collaboration of their artistic expression. Americana and folklore themes, heart-wrenching ballads filled with naked emotion, majestic harmonies, hard driving rhythms, and exquisite instrumentation made critics, peers and fans realize that this music was unlike any heard before. Their first album, Music from Big Pink, released in July of 1968, made them household names and as a result they were invited to appear on the Ed Sullivan Show in autumn of '69. Following "Big Pink's" success the next album, called simply The Band, is considered by some as their masterpiece. They made seven albums total, including one live recording in 1972, Rock of Ages. Many of their hits such as "The Weight," "W.S. Walcott's Medicine Show," and "The Night They Drove Old Dixie Down, were spawned from stories of Levon's beloved south.

Helm was working in Los Angeles in '74, at a Sunset Blvd. hotel when he spotted a beautiful young brunette taking a dip in the pool. Her name was Sandra Dodd and when she looked up at him smiling, she didn't recognize him at first. The charming musician offered to take the lovely lady for sushi and never looked back. They were married on September 7, 1981 in Woodstock and today remain at each other's side.

The barn and studio Helm built in Woodstock, which became his permanent home, was just about complete in 1975. He invited Muddy Waters to his new studio and they recorded Muddy Waters in Woodstock. To the delight of everyone involved, it won a Grammy.

The Band held a farewell concert at Winterland in San Francisco on Thanksgiving 1976. It was a bittersweet time for many who felt the group's demise was too soon. They called it The Last Waltz which included Ronnie Hawkins, Dr. John, Muddy Waters, Ringo Starr, Bob Dylan, Eric Clapton and an all-star guest list of peers and friends that read like the "Who's Who" of rock and roll. The event eventually sold as a triple album and was also filmed, becoming a historical "rockumentary."

Group members went on to individual pursuits. Levon cut his debut album The RCO All-Stars, in 1977. His next effort was the self-titled Levon Helm, followed by American Son, released in 1980. That same year was pivotal as Helm turned his attention to acting. He played Loretta Lynn's father in the Coal Miner's Daughter, winning great reviews for his first film appearance. He did another self-titled album and Hollywood again came knocking in '83 giving Helm a role in The Right Stuff. The authenticity he brings to his characters has brought him numerous movie roles from 1980 to date. Levon gave a sensitive, convincing portrayal of a destitute blind man in the 2005 Tommy Lee Jones' vehicle, The Three Burials of Melquiades Estrada. In 2007 he filmed Shooter with Mark Wahlberg. Helm recently portrayed Confederate General John Bell Hood in a movie called In the Electric Mist, again with his friend Tommy Lee Jones. Watch for it's release in December 2007.

Rick Danko and Levon reunited to play music after Danko had been living in California. Rick moved back to Woodstock and the friends did an acoustic tour in early '83. In San Jose the following year, they received excellent reviews when Hudson and Manuel joined them for their first U.S. appearance as The Band since 1976. They continued playing together until the tragic death of their dear friend and comrade, the forty-two year old Manuel.

During the 90's three more Band albums were recorded. Jericho, High on the Hog, ending with Jubilation. In 1996, Levon was diagnosed with throat cancer and the famous voice with the rich southern nuances was silenced to a whisper. He still played the drums, mandolin and harmonica, often performing with his daughter, Amy Helm, also a vocalist and instrumentalist. A great emotional support to her father during this time, Amy continues to appear with him regularly at Levon Helm Studios. In 1999, Helm endured another tragic loss when Rick Danko passed away the day after his birthday at fifty-six years old. His death marked the end of an era.

Today, Levon's voice has miraculously recovered. He is singing again, strong and clear. His imagination and vision conceived The Midnight Ramble Sessions, a series of live performances at Levon Helm Studios in Woodstock. Named for the traveling minstrel shows of his youth, the first Midnight Ramble was held in January, 2004. It featured one of the last performances by great blues pianist, Johnnie Johnson. Friends old and new have joined Levon on his stage including: Emmylou Harris, Dr. John, John Sebastian, Allan Toussaint, Elvis Costello, Larry Campbell, Jimmy Vivino, Hubert Sumlin, Little Sammy Davis, The Muddy Waters Band, Donald Fagen, Hipmotism, Ollabelle, The Alexis P. Suter Band, The Love Trio, The Bruce Katz Band, Sex Mob and The Brian Mitchell Band. The monthly Rambles have been so successful they are usually sold out in advance.

New releases produced by Levon Helm Studios are Volume I and II of The Midnight Ramble Sessions, plus a live RCO All-Stars performance from New Year's Eve 1977, at the Palladium which came from Helm's personal "vault." The vitality and magnetism of these recordings speak for themselves. The newly released Dirt Farmer is Levon's first solo, studio album in twenty-five years. A project particularly close to his heart, the CD contains music reminiscent of his past and songs handed down from his parents.

The intimacy of the shows performed at Levon's hearth offer a hospitality and warmth found in no other venue, not to mention the excellence of the performances themselves, hosted by a man whose gifts are legendary. Though always an enthusiastic and passionate performer, today with sheer joy and gratitude, he effortlessly captivates his audience young and old, with a rhythmic power all his own. During a career that has spanned almost five decades, Levon Helm has nurtured a tradition of professionalism with a deep respect for his craft and remains refreshingly genuine in a world that often compromises integrity. He is a master storyteller who weaves his tales with the magic thread of universality that ties us all. He beckons us to come in, sit awhile and enjoy. We see ourselves in his stories and we are home.