Levon Helm & The Crowmatix: Souvenir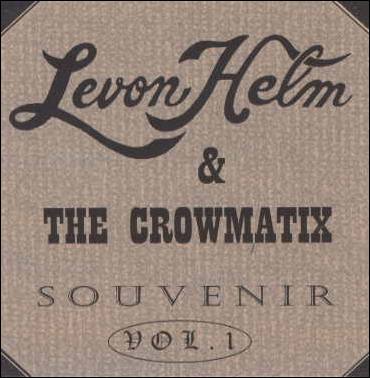 The Woodstock-based group The Crowmatix did several concerts in '96 and '97 together with Levon Helm, and also recorded both on their own and with Levon during this period. Their first CD, released on Aaron Hurwitz' Woodstock Records, is titled Souvenir because Levon refers to it as a "souvenir record", i.e. not a major label release.
The CD is now sold out and is no longer available from Woodstock Records. The music is still available for download from iTunes.
The Crowmatix are Marie Spinosa, Randy Ciarlante (also drummer and singer with The Band), Aaron Hurwitz, Mike Dunn, and Jim Eppard. The Band members Garth Hudson, Jim Weider, and Richard Bell are also present on Souvenir.
Tracks
Java Blues
(761K)
Vocal and accoustic guitar by Levon, back-up vocals by Amy Helm and Marie Spinosa, Garth on accordion. Studio recording.
Crazy 'Bout You, Baby
Lead vocal by Randy Ciarlante. Live recording.
Don't Ya Tell Henry
Levon on lead vocal and mandolin. Live.
That's Alright Marie Spinosa vocal, Garth Hudson horns, Richard Bell organ. Studio recording.
Milk Cow Boogie
Levon on vocal. Live recording.
Rag Mama Rag
Levon on vocal and mandolin. Live recording.
Too Close Chairs
Marie & Aaron on vocal. Studio recording.
Paramount
Randy on vocal. Studio recording.
300 Lbs.
Jimmy E. on vocal, Levon on harp. Studio recording.
Great Beyond Aaron & Marie on vocal. Studio Recording.
Sidemen
Levon Helm, vocals/mandolin/guitar/harp
Aaron Hurwitz, keyboards/vocals/back-up vocals
Mike 'Little Elmo' Dunn, bass/back-up vocals
Jimmy Eppard, guitars/vocals/back-up vocals
Randy Ciarlante, drums/vocals/back-up vocals
Marie Spinosa, vocals/back-up vocals
Amy Helm, back-up vocals
Garth Hudson, horns, accordion.
Richard Bell, organ
Tom "Bones" Malone, horns
Jim Weider, slide guitar
Levon Helm & The Crowmatix - Souvenir - 1997 - Woodstock Records Collector Edition
---
[History] [Members] [Library] [Discography] [Videography] [Filmography] [Pictures] [Audio Files] [Video Clips] [Tape Archive] [Concerts] [Related Artists] [Merchandise] [Guestbook] [Chat Room] [Search] [What's New?] [Main Page]
Webmaster