Jawbone
The Band Fanzine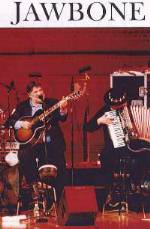 [Front cover of Jawbone, issue 5, 1997]
Lee Gabites from Manchester, U.K., was the editor of the now defunct '90s The Band fanzine Jawbone.
Jawbone was aimed at true fans, it was well written, and of good overall quality. The fact that the fanzine was a non-profit publication made it even more enjoyable. Inside Jawbone you'd find in-depth articles about historical events and albums, news, interviews with Band members, full-page color photos, and more. E.g. the content of Issue No.4 (spring/summer 1997) of Jawbone were:
Editorial
Odds and Ends
Various news and updates on The Band, including film projects, live and TV appearances, reviews and info. about upcoming videos, albums, and books, etc.
The Basement Tape: Mixed up Confusion? (Harm Van Sleen)
An attempt to categorize what Basement Tape songs are currently in circulation, and to determine if some of the tracks that are generally credited to the Basement Tape actually were recorded in Big Pink.
The Weight (Peter Viney)
Analysis of The Band's most famous song. An article about "The Night They Drove Old Dixie Down" will probably appear in the next issue.
Interview with Randy Ciarlante (Lee Gabites)

From the Archives
Sheet music to the early Robertson/Hudson song "Bacon Fat".
New Releases
Including ordering info. for the CD release of Levon Helm's American Son, and reviews of Danko/Fjeld/Andersen's Ridin' on the Blinds and Tom Pacheco's Woodstock Winter.
Tour News
Photos
Several color and b/w shots, some previously unreleased, by Elliott Landy, George Lembesis, and others.
Material from Jawbone have also been used at this web site, e.g. the wonderful Band photos by George Lembesis, interviews with Levon Helm and Randy Ciarlante, and Peter Viney's analysis of "The Weight".

Here are a few words from the editor himself:
The fanzine was established in 1996, a few months after seeing Rick Danko perform some shows in the U.K. He played 3 shows with Four Men And A Dog in November '95. The Band got very little press outside the U.S., if any in Europe, and the basic idea was to produce a fanzine of The Band as they are today. Since I started the fanzine, and was lucky enough to spend some time with them on their 1996 European Tour, I've received thanks from Levon Helm and The Band's management for producing a fanzine on their behalf. Also, the guys in 'The Band' organization gave me support and kindness in this project. It would've been impossible to produce each issue of the fanzine without their help, and the help of The Band's friends and fans who gave of their time.
--Lee Gabites
---
[History] [Members] [Library] [Discography] [Videography] [Filmography] [Pictures] [Audio Files] [Video Clips] [Tape Archive] [Concerts] [Related Artists] [Merchandise] [Guestbook] [Chat Room] [Search] [What's New?] [Main Page]
Webmaster