Levon Helm: The Ties That Bind
The Best of ... 1975-1996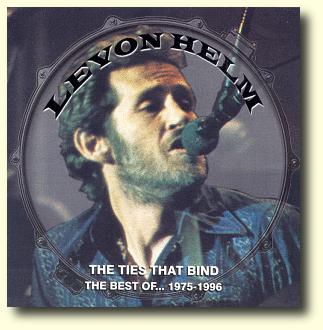 [CD cover] [Back cover] [Tray photo] [CD booklet] [Liner notes] [Review]
"... the best work on this compilation is the material from Levon's solo albums. These little-known tracks find our Arkansas son in fine vocal fettle, on a selection of blues and R&B numbers that aptly showcase his talents; many of them have New Orleans-style horn sections that blend admirably with the vocals and set the feet joyfully tapping ... Helm clearly revels in this kind of material, and proves himself the equal of such classic R & B performers as Lee Dorsey or James Booker."
-- from Chris Rollason's review of The Ties That Bind
The Ties That Bind is an Australian Levon Helm compilation on Raven Records, released in February 1999. Raven has been operating for more than 20 years and is essentially an Australian equivalent of Rhino Records.
The CD includes recordings with The Band, The Nitty Gritty Dirt Band and John Martyn, as well as tracks from Levon's solo albums. The live "Don't Ya Tell Henry" is the Watkins Glen version. "The Weight" is credited in the booklet to 'Levon Helm with Ringo Starr's All Star Band.' The first pressing of the CD instead included the version with The Band and the Staple Singers from The Last Waltz. The CD was then withdrawn and reissued with the correct Ringo Starr All Star Band version.
The album is named after track two on Levon's first album from 1977.
Tracks
| | | | |
| --- | --- | --- | --- |
| 1. | Milk Cow Boogie | (94K) | |
| 2. | The Weight | (94K) | |
| 3. | Atlantic City | (94K) | |
| 4. | The Tie That Binds | (94K) | |
| 5. | You Got Me | (94K) | |
| 6. | Even A Fool Would Let Go | (94K) | |
| 7. | Willie & The Hand Jive | (94K | |
| 8. | Lucrecia | (94K) | |
| 9. | Caves Of Jericho | (94K) | |
| 10. | Don't Ya Tell Henry (live) | (94K) | |
| 11. | Take Me To The River | (94K) | |
| 12. | Livin' In A Dream | (94K) | |
| 13. | Rock Salt & Nails | (94K) | |
| 14. | Play Something Sweet (Junkyard Blues) | (94K) | |
| 15. | Stand Up | (94K) | |
| 16. | Standing On The Mountain Top | (94K) | |
| 17. | When I Get My Rewards | (94K) | |
| 18. | Hurricane | (94K) | |
| 19. | Watermelon Time In Georgia | (94K) | |
Levon Helm - The Ties That Bind - 1999 - Raven Records RVCD-87
---
[History] [Members] [Library] [Discography] [Videography] [Filmography] [Pictures] [Audio Files] [Video Clips] [Tape Archive] [Concerts] [Related Artists] [Merchandise] [Guestbook] [Chat Room] [Search] [What's New?] [Main Page]
Webmaster