Levon Helm: The Ties That Bind
The Best Of ... 1975-1996
Raven Records (Australia) RVCD-87, 1999
---
by Chris Rollason
This review of the Levon Helm compilation The Ties That Bind was posted by the author in the Usenet newsgroups alt.music.the-band and rec.music.dylan in November 1999. Christopher Rollason is a British national living in France. He has an M.A. in English from Cambridge and a Ph. D. from the University of York (his doctoral thesis was on Edgar Allan Poe). He was formerly a university lecturer in Portugal and is currently an international official. His numerous Internet publications include a large number of articles on Bob Dylan in rec.music.dylan, as well as essays on literature, travel, ethnic music and other topics. See also his Bob Dylan Critical Corner web site.
---
'Ain't no reason to hang my head -
I could wake up in the morning dead'
(The Band - 'When You Awake', 1969)

Most readers of this will no doubt identify Levon Helm as the drummer in the 'classic' lineup of the Band, and, probably, as the only non-Canadian member of the legendary quintet. Levon, born in Marvell, Arkansas, on 26 May 1942 (one year and two days after Bob Dylan), made an unforgettable contribution, with his tight, intent drumming and back-country Southern vocals, to the Band's series of 60s and 70s albums, from Music From Big Pink (1968) up to Islands (1977) and their celebrated, Scorsese-filmed all-star farewell concert, released on record as The Last Waltz in 1978 - as well as to the group's mid-70s collaborations with Bob Dylan, Planet Waves (1974) and the live album Before the Flood (1975). This is enough of a contribution for Helm to be considered a lynchpin member of the Band; some, however, may be surprised to learn that he was actually not present on some of that outfit's most famous recordings. History tells us that Levon was not there backing Dylan at the so-called 'Albert Hall' concert in 1966 (the drummer was Mickey Jones); nor does he feature on the sixteen Dylan-and-the-Band recordings of 1967 from West Saugerties, N.Y. that appeared in 1975 on the official Basement Tapes album (he does play on the eight Band tracks included on that release, but those tracks, for all their undoubted merits, are not genuine Basement Tape recordings, but out-takes for the Big Pink album recorded at a later date).

Levon Helm's contribution to the Dylan/Band legend is thus a little oblique, and less central than the input of his compeers Robbie Robertson, Richard Manuel, Rick Danko and Garth Hudson. In fact, having been a key member of the Hawks, as the group was at first called, Levon left the Band in November 1965 and rejoined in autumn 1967, at some point between the Basement Tapes sessions and the recording of Big Pink. From that moment on, as is well known, the Band become a model of continuity and musical solidarity, soldiering on for an entire decade and eight albums right up to The Last Waltz - a byword for a music-making community, a bunch of rock'n'rollers bound in cahoots together, drawing deep from the roots of the American musical tradition. They were not only musician's musicians, but critic's musicians too: their exploits, with and without Dylan, have given birth to some of the best rock criticism ever, in the shape of Greil Marcus' Mystery Train (1975; London: Omnibus Press, 1977) and Invisible Republic (New York: Henry Holt, 1997) and Barney Hoskyns' Across the Great Divide: The Band and America (New York: Hyperion, 1993).

This new compilation, enterprisingly issued by an obscure Australian label, covers not the Band's glory years but a more obscure and recent period of Levon's career, from 1975 to 1986. Starting where the original Band left off, with the Islands album, it charts Helm's subsequent musical history through four solo albums, various collaborations with other artists, and, latterly, a number of releases by a reconstituted group going under the name of the Band.

That denomination is, quite arguably, both controversial and confusing. The Band re-formed in 1983, under its original name and with four original members, but neither then nor since has Robbie Robertson wanted anything to do with the exhumation project. In 1986 came the tragic death by hanging of Richard Manuel. Since then, the act known as the Band has consisted of the remaining three original members and a varying number of support musicians - a set-up which, whatever it is, is not the rock-solid quintet of the old days, so that one wonders if today's group might not more legitimately be labelled 'Danko, Helm, Hudson and friends' (in fact, the authors of our compilation distinguish between 'the Band (I)' and 'the Band (II)'). Those who want to know the ins and outs of the Band (II) up to 1992 may find them chronicled in Hoskyns' book, in his closing chapter - significantly titled 'Twilight'; he seems to find it rather sad that the revamped group should be 'eking out a humble existence on rock's margins, playing the tiny redneck bars of New York state' (p. 395).

The original Band's first two albums, Music From Big Pink (1968) and The Band (1969), have long been seen, by both critics and listeners, as rock classics. Big Pink included powerful covers of three of Dylan's basement songs, 'Tears of Rage', 'This Wheel's On Fire' and 'I Shall Be Released' (the first two being actually co-written by Dylan with Manuel and Danko respectively), and Robertson's own epic 'The Weight'; the second revealed Robertson's writing powers in full blossom, with magnificent tributes-in-song to the American tradition like 'The Night They Drove Old Dixie Down', 'When You Awake' and 'King Harvest (Has Surely Come)'. To quote Marcus on the second album, 'the songs were made to bring to life the fragments of experience, legend, and artefact every American has inherited as the legacy of a mythical past' (Mystery Train, p. 62). The critical orthodoxy is that the later albums, especially those after Stage Fright (1970), represent a sharp falling-off: the Penguin Encyclopaedia of Popular Music (ed. Donald Clarke, London: Penguin/Viking, 1989) is typical in speaking of a 'slow decline for this group' post-1971 (p. 67). My own view, however, is that at least two of these - Moondog Matinee, the magisterial covers album of 1973, and the delicately adventurous Northern Lights Southern Cross of 1975 - are every bit as strong as the first two. There can also be no doubt that the Band's musical contribution to Dylan's Planet Waves is remarkable, or that The Last Waltz reveals their enormous versatility as they jam with artists as diverse as Joni Mitchell, Emmylou Harris and Eric Clapton.

The listener who turns from the Band's classic albums to this compilation will find a mixed bag gleaned from Levon Helm's musical activities over two decades. The 19 tracks run to 77:16 minutes, which certainly denotes value for money; the booklet notes, by Terry Reilly, contain full and interesting documentation, complete with bibliographical credits to Marcus, Hoskyns, and Levon's own book This Wheel's on Fire. There are three tracks from the Band (I), all from the twilight phase of the group's career; eleven from Helm's four solo albums (Levon Helm and the RCO All Stars, 1977, Levon Helm, 1978, American Son, 1980, and, confusingly, a second and different Levon Helm from 1982); three from the Band (II) (the reconstituted group has released three albums to date, namely Jericho in 1993, and the later High on the Hog and Jubilation; the last-named is not represented); and two collaborations with other artists. The packaging actually claims there are two Band (I) numbers and three collaborations, but here a rather strange error has crept in. Two of the tracks flagged as collaborations do, indeed, offer Levon at work with, respectively, John Martyn and the Nitty Gritty Dirt Band, but track 2, a version of 'The Weight' credited in the booklet to 'Levon Helm with Ringo Starr's All Star Band', is most definitely, on my copy at least, nothing of the sort. It is, unmistakably, the recording of the song by the Band (I) with the Staples from The Last Waltz: a fine piece of music, but someone has blundered!

To my ears, the best work on this compilation is the material from Levon's solo albums. These little-known tracks find our Arkansas son in fine vocal fettle, on a selection of blues and R&B numbers that aptly showcase his talents; many of them have New Orleans-style horn sections that blend admirably with the vocals and set the feet joyfully tapping. The songs covered include the old blues standard 'Milk Cow Boogie', the Johnny Otis classic 'Willie and the Hand Jive', Harlan Howard's atmospheric 'Watermelon Time in Georgia', and Al Green's 'Take Me To The River'; plus, notably, 'Play Something Sweet (Junkyard Blues)', a song by Allen Toussaint, the New Orleans luminary who did the old Band proud in the past by supplying the horn charts for 'Life Is A Carnival' (on Cahoots, 1971) and for the entire Rock of Ages live album (1972), as well as the song 'Holy Cow' (on Moondog Matinee). Helm clearly revels in this kind of material, and proves himself the equal of such classic R & B performers as Lee Dorsey or James Booker. The Band (II) material, however, is less convincing; the best track of those chosen is a cover of Bruce Springsteen's 'Atlantic City', which features Levon in fine vocal form but overall sounds a shade strained and perfunctory - though it is a particularly good song, which would be difficult to ruin.

Those whose main interest in a compilation like this is the tracking-down of Dylan connections will not be disappointed. This album notably doesn't include certain of the Band (II's) better-known covers of Dylan songs: there is no sign of their rendering of the classic 'Blind Willie McTell' from Jericho, or of their reworking of the Band I's version of 'When I Paint My Masterpiece' from the Bob Dylan 30th Anniversary Concert album of 1993. Instead, we find two other Dylan-related tracks.

There's a live version of Dylan's 'Don't Ya Tell Henry', by the Band (I) with Levon on lead vocal, from Live At Watkins Glen, an obscure posthumous release; the only previous official release of this song is on the 1975 Basement Tapes, where it features as one of the 'extra' Band tracks (with, therefore, Helm's participation). Dylan and the Band-without-Helm had in fact recorded the song together at the basement sessions, but that version has never been officially released.

Also featured is a cover of Utah Phillips' 'Rock, Salt and Nails', from a John Martyn album of 1993 called No Little Boy. Levon's guest appearance on this track also, curiously, sends the listener back to 1967 and the basement sessions, for this too was one of those songs recorded by Dylan, Danko, Hudson, Manual and Robertson at West Saugerties that remain unreleased to this day. As Marcus says in Invisible Republic, this song 'feels like a very old ballad' (p.256), and on this slow, sinister version Helm and Martyn do its ancient force proud. By a strange irony, the two Dylan-related songs on this Helm compilation both refer back to those classic sessions - sessions at which Helm was not actually present. The force of rock'n'roll history, of a key defining moment like the making of the basement tapes, pushes its way through, like a weight that refuses to be denied. Levon, you put the load right on me!

Chris Rollason
November 1999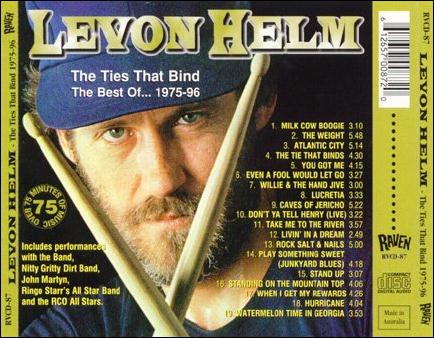 (Much of the factual information in this review is taken from the books by Marcus and Hoskyns; anyone who cares about the Band has to be eternally grateful to both).
---
[History] [Members] [Library] [Discography] [Videography] [Filmography] [Pictures] [Audio Files] [Video Clips] [Tape Archive] [Concerts] [Related Artists] [Merchandise] [Guestbook] [Chat Room] [Search] [What's New?] [Main Page]
Webmaster