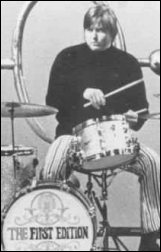 Mickey Jones with Kenny Rogers' First Edition, ca. 1970.
Mickey Jones
Texan drummer Mickey Jones, who had played with Johnny Rivers and Trini Lopez, joined the Dylan/Hawks tour in the spring of 1966, taking over the drum stool from Sandy Konikoff. Jones followed the Hawks to Australia, and later to Europe, where he played on some of the famous, and later heavily bootlegged, Dylan shows in England. Jones' primitive "ham-fisted" style of playing, quite different from the technically advanced, loose, drumming of Levon Helm, was described by an Australian journalist as "making Ringo Starr sound as subtle as an Indian tabla player". Jones left the Hawks when the Dylan tour ended in the summer of 1966.

In 2002, Jones released his own 8mm film footage from the '66 tour on video, titled World Tour 1966, The Home Movies.

Mickey Jones' 'big' gig was as drummer with (Kenny Rogers and) The First Edition from the late '60s and well into the '70s. He later became an actor. See Carol Caffin's interview with Jones and the Mickey Jones' web site for more.

---
[History] [Members] [Library] [Discography] [Videography] [Filmography] [Pictures] [Audio Files] [Video Clips] [Tape Archive] [Concerts] [Related Artists] [Merchandise] [Guestbook] [Chat Room] [Search] [What's New?] [Main Page]
Webmaster