Sandy Konikoff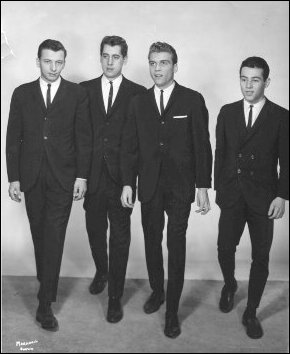 Sandy Konikoff (right) with the Ravens, Buffalo, NY, 1962. The others musicians are, from left to right: Chuck McCormick[*], guitar, Pete Haskell, bass and Stan Szelest, piano.
Drummer Sandy Konikoff was, like Stan Szelest, from Buffalo. In the early '60s, Konikoff was briefly imported from Buffalo by Ronny Hawkins to take over from Levon on drums while Helm moved to second guitar. Prior to that Konikoff had been in several of Stan Szelest's groups. After the Band left Ronnie Hawkins, Konikoff had played with the Hawk for a while when, according to Hawkins, Robbie Robertson "lured him away" from his old boss to take over for Bobby Gregg as the Hawks' drummer during their tour with Dylan. Konikoff joined the Hawks in January 1966 and played several shows in February and March the same year. When the Dylan/Hawks tour moved on to Australia and Europe in April '66, Konikoff was replaced by Mickey Jones. Konikoff later worked with e.g Joe Cocker on his "Mad Dogs & Englishmen" tour in the '70s. After Cocker he was in Grinderswitch with Garland Jeffreys (who released an album on Vanguard) and did session work with the Ry Cooder crowd .
--Bill Munson
[*] Like Konikoff and Stan Szelest, Chuck McCormick soon moved north of the border - in his case to join Big John Little and the Hot Toddies (or Toddys). That Niagara Falls, Ontario group was known at the time for their 1959 cross-border hit, "Rockin' Crickets" (one of a young Jimi Hendrix' favourite records, of all things!). When, in 1963, the producers of a defunct Buffalo group, the (Rockin', or Buffalo) Rebels, needed a follow up to their belated hit version of "Wild Weekend", they just repressed the Hot Toddies record, but mis-credited it to the Rockin' Rebels. And now, in 2000, Sandy Konikoff plays around Buffalo with the Kippler brothers, the leaders of the original Rockin' Rebels!

---
[History] [Members] [Library] [Discography] [Videography] [Filmography] [Pictures] [Audio Files] [Video Clips] [Tape Archive] [Concerts] [Related Artists] [Merchandise] [Guestbook] [Chat Room] [Search] [What's New?] [Main Page]
Webmaster