Music from Big Pink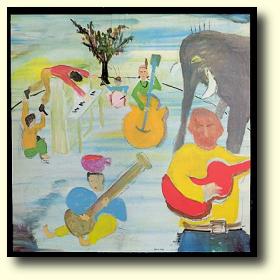 [LP cover] [Liner notes] [LP back cover] [LP inner gatefold] [CD cover)] [CD Back cover] [Master Recording LP] [2000 reissue cover] [Limited edition Japanese CD] [DVD audio] [50th Anniversary Edition] [Big Pink] [Band photo] ["Next of Kin" photo] [Sheet Music] [Rolling Stone ad] [New York Times review] [Charts and ratings]
None of the Band's previous work gave much of a clue about how they would sound when they released their first album in July 1968. As it was, Music From Big Pink came as a surprise. At first blush, the group seemed to affect the sound of a loose jam session, alternating emphasis on different instruments, while the lead and harmony vocals passed back and forth as if the singers were making up their blend on the spot. In retrospect, especially as the lyrics sank in, the arrangements seemed far more considered and crafted to support a group of songs that took family, faith, and rural life as their subjects and proceeded to imbue their values with uncertainty. Some songs took on the theme of declining institutions less clearly than others, but the points were made musically as much as lyrically. Tenor Richard Manuel's haunting, lonely voice gave the album much of its frightening aspect, while Rick Danko and Levon Helm's rough-hewn styles reinforced the songs' rustic fervor. The dominant instrument was Garth Hudson's often icy and majestic organ, while Robbie Robertson's unusual guitar work further destabilized the sound. The result was an album that reflected the turmoil of the late '60s in a way that emphasized the tragedy inherent in the conflicts. Music From Big Pink came off as a shockingly divergent musical statement only a year after the ornate productions of Sgt. Pepper, and initially attracted attention because of the three songs Bob Dylan had either written or co-written. Soon, however, as "The Weight" became a minor singles chart entry, the album and the group made their own impact, influencing a movement toward roots styles and country elements in rock. Over time, Music From Big Pink came to be regarded as a watershed work in the history of rock, one that introduced new tones and approaches to the constantly evolving genre.
--William Ruhlmann, All-Music Guide
A special 180 gram vinyl LP reissue of Big Pink, produced using analog cutting from analog tapes, was released by EMI in 1999 as part of their Centenary series. A limited edition Japanese CD, with very nice artwork and covers, but horrible lyrics transcriptions, came in 1998.
In August 2000 Capitol Records released a remastered Music from Big Pink, produced (mostly) from the original master tapes, with 9 bonus tracks and a booklet with liner notes by Rob Bowman included (Band biographer Barney Hoskyns wrote the original liner notes for the 2000 reissue, but they were rejected by Capitol/ Robertson.)
EMI/Capitol Special Proucts released Music From Big Pink on DVD-Audio in January 2003. This disc, produced by Robbie Robertson, includes complete lyrics on screen, photo gallery and discography. An "audiophile" SACD version was put out by the Mobile Fidelity label in 2009.
in 2018, 50 years after the release of Big Pink, Capitol/Universal Music Enterprises released remixed and expanded 50th Anniversary Editions of the album.
Tracks
(*: bonus track on 2000 CD re-issue)
| | | | |
| --- | --- | --- | --- |
| 1. | Tears of Rage | (94K) | |
| 2. | To Kingdom Come | (94K) | |
| 3. | In a Station | (94K) | |
| 4. | Caledonia Mission | (94K) | |
| 5. | The Weight | (94K) | |
| 6. | We Can Talk | (94K) | |
| 7. | Long Black Veil | (94K) | |
| 8. | Chest Fever | (94K) | |
| 9. | Lonesome Suzie | (94K) | |
| 10. | This Wheel's on Fire | (94K) | |
| 11. | I Shall Be Released | (94K) | |
| | |
| --- | --- |
| 12.* | Yazoo Street Scandal |
| | (94K) |
| | Outtake (take 10) - recorded 1/10/68 at A&R Recorders (studio A) - NYC. A version of this song appeared on The Basement Tapes. |
| 13.* | Tears Of Rage |
| | (94K) |
| | Alternate take (take 8) - recorded 1/10/68 at A&R Recorders (studio A) - NYC. |
| 14.* | Katie's Been Gone |
| | (94K) |
| | Outtake - probably recorded in NYC at either A&R Studios or CBS Studios - 1968. A version of this song was included on the Dylan/Band album The Basement Tapes, even though this release seems to confirm that the song was not recorded at the same time as Dylan's songs. |
| 15.* | If I Lose |
| | (94K) |
| | Stanley Brothers original, sung by Levon Helm. Available on several "basement" bootlegs. |
| 16.* | Long Distance Operator |
| | (94K) |
| | Outtake - recorded 2/21/68 at Goldstar Studios (studio B) - Los Angeles. Bootlegs from Dylan's first electric dates supported by members of The Band include a version of this song. |
| 17.* | Lonesome Suzie |
| | (94K) |
| | Alternate take. |
| 18.* | Orange Juice Blues |
| | (94K) |
| | Outtake - recorded 9/5/67 at CBS Studios (studio E) - NYC. Like "Katie's Been Gone," a version was included on The Basement Tapes. |
| 19.* | Key To The Highway |
| | (94K) |
| | Outtake - recorded 9/10/68, probably at Bearsville. Although the group performed this song at some concerts, it wasn't included on any of their studio albums. |
| 20.* | Ferdinand The Imposter |
| | (94K) |
| | Robertson song, lead vocal by Danko. Available on several "basement" bootlegs. |
Credits
Robbie Robertson , Guitar / Keyboards / Vocals
Rick Danko , Bass / Violin / Vocals
John Simon , Producer
Don Hahn , Engineer
Levon Helm , Guitar / Drums / Vocals
Garth Hudson , Keyboards / Saxophone
Richard Manuel , Drums / Keyboards / Vocals
Song-by-song Credits
Tears Of Rage
Richard Manuel: Lead Vocal & Piano
Rick Danko: Back Vocal & Bass
Robbie Robertson: Electric Guitar
Garth Hudson: Lowrey Organ & Soprano Sax
Levon Helm: Drums & Tamburine
John Simon: Tenor Sax
To Kingdome Come
Robbie Robertson: Lead Vocal & Electric Guitar
Richard Manuel: Lead Vocal & Piano
Rick Danko: Bass
Levon Helm: Drums
Garth Hudson: Lowrey Organ
In A Station
Richard Manuel: Lead Vocal & Piano
Rick Danko: Back Vocal & Bass
Robbie Robertson: Electric Guitar & Acoustic Guitar
Garth Hudson: Clavinette & Electric Piano
Levon Helm: Drums
Caledonia Mission
Rick Danko: Lead Vocal & Bass
Richard Manuel: Back Vocal
Robbie Robertson: Electric Guitar & Acoustic Guitar
Garth Hudson: Lowrey Organ
Levon Helm: Drums
John Simon: Piano
The Weight
Levon Helm: Lead Vocal & Drums
Rick Danko: Lead Vocal & Bass
Richard Manuel: Back Vocal & Hammond Organ (cut)
Robbie Robertson: Acoustic Guitar
Garth Hudson: Piano
We Can Talk
Richard Manuel: Lead Vocal & Piano
Levon Helm: Lead Vocal & Drums
Rick Danko: Back Vocal & Bass
Robbie Robertson: Electric Guitar
Garth Hudson: Lowrey Organ
Long Black Veil
Rick Danko: Lead Vocal & Bass
Richard Manuel: Back Vocal & Electric Piano
Levon Helm: Back Vocal & Drums
Robbie Robertson: Acoustic Guitar
Garth Hudson: Lowrey Organ
Chest Fever
Richard Manuel: Lead Vocal & Piano
Robbie Robertson: Electric Guitar
Rick Danko: Bass & Violin
Levon Helm: Drums
Garth Hudson: Lowrey Organ & Tenor Sax
John Simon: Bariton Sax
Lonesome Suzie
Richard Manuel: Lead Vocal & Piano
Robbie Robertson: Electric Guitar
Rick Danko: Bass
Levon Helm: Drums
Garth Hudson: Lowrey Organ & Soprano Sax
This Wheel's On Fire
Rick Danko: Lead Vocal & Bass
Richard Manuel: Back Vocal & Piano
Robbie Robertson: Electric Guitar
Garth Hudson: Clavinette (with Fuzz) & Lowrey Organ
Levon Helm: Drums
I Shall Be Released
Richard Manuel: Lead Vocal & Piano
Levon Helm: Back Vocal & Drums
Rick Danko: Back Vocal & Bass
Robbie Robertson: Acoustic Guitar
Garth Hudson: Lowrey Organ
Music from Big Pink - The Band - (41:35) - 1968 - Capitol SKAO-2955
Gatefold sleeve LP
Original Master Recording released on vinyl in 1980 (Mobile Fidelity MFSL-1-039)
Compact Disc: Capitol 46069-2 (1986)
Ultra Disc released in 198? (Mobile Fidelity UDCD-527)
Limited Edition CD: Capitol Japan M57626 (1998)
Remastered CD with bonus tracks: Capitol/EMI 50837 (2000)
DVD-Audio w/complete lyrics on screen, photo gallery and discography: Capitol/EMI Special Products 77939 (2003)
Limited Edition "mini-sleeve" CD: Caroline Records 22199, UK (2008)
180 gram vinyl LP: Capitol 427931 (2008)
"Audiophile" SACD: Mobile Fidelity 2044 (2009)
50th Anniversary Editions: Capitol/Universal Music Enterprises (2018)
AMG Rating: Best of Genre - Should be part of any collection
---
[History] [Members] [Library] [Discography] [Videography] [Filmography] [Pictures] [Audio Files] [Video Clips] [Tape Archive] [Concerts] [Related Artists] [Merchandise] [Guestbook] [Chat Room] [Search] [What's New?] [Main Page]
Webmaster