Music from Big Pink 50th Anniversary Edition:
Super Deluxe Box Set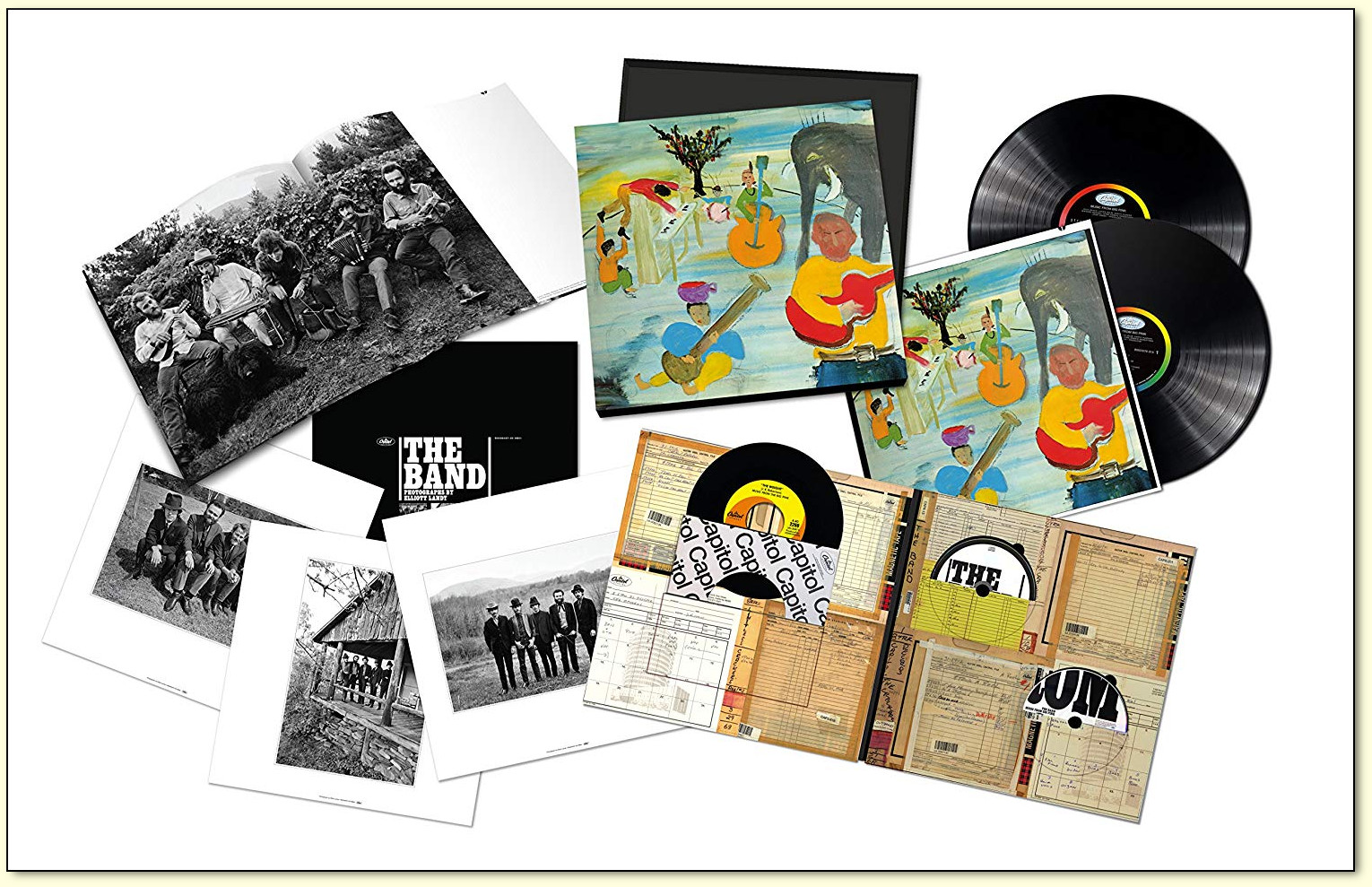 Remixed and expanded box set version of the Band's debut album, released by Capitol/ Universal Music Enterprises in 2018, 50 years after the original album came out.
The ultimate review of this release can be found at the legendary Peter Viney's blog site.
The remixed original tracks are also available as a one-CD version (with bonus tracks) and on 45rpm 2-LP sets in either pink or black vinyl:
In celebration of the 50th Anniversary of The Band's landmark debut album, Music From Big Pink is released in a Super Deluxe (CD/Blu-Ray/2LP/7-inch) box set. All the Anniversary Edition configurations feature a new stereo mix for the album, produced by Bob Clearmountain from the original four-track analog masters, achieving a striking clarity and incorporating some previously unreleased chatter from the studio sessions. The 50th Anniversary Edition box set also includes five outtakes and alternate recordings from the 'Big Pink' sessions and a previously unreleased a cappella version of "I Shall Be Released." Exclusively for the box set, Clearmountain has also produced a new 5.1 surround mix for the album and the bonus tracks, presented on Blu-ray with the new stereo mix in high resolution audio (96kHz/24bit). All the new audio mixes have been mastered by Bob Ludwig at Gateway Mastering. The box set also includes an exclusive reproduction of The Band's 1968 7-inch vinyl single for "The Weight" / "I Shall Be Released" in their new stereo mixes and a hardbound book with a new essay by noted music journalist David Fricke and classic photos by Elliott Landy. For the LP, Chris Bellman cut the vinyl lacquers for the album's new stereo mix at 45rpm at Bernie Grundman Mastering, expanding the album's vinyl footprint from one LP to two.
--from officialtheband.com
Contents
CD
2018 Stereo Mix
Tears Of Rage
To Kingdom Come
In A Station
Caledonia Mission
The Weight
We Can Talk
Long Black Veil
Chest Fever
Lonesome Suzie
This Wheel's On Fire
I Shall Be Released
Bonus Tracks
Yazoo Street Scandal (Outtake)
Tears Of Rage (Alternate Take)
Long Distance Operator (Outtake)
Lonesome Suzie (Alternate Take)
Key To The Highway (Outtake)
I Shall Be Released (A Cappella)
Blu-Ray
Same tracklist as for CD above, in new 5.1 surround mix + 96kHz/24bit high resolution stereo (exclusive to the box set)
2-LP
Side One
Tears Of Rage
To Kingdom Come
Side Two
In A Station
Caledonia Mission
The Weight
Side Three
We Can Talk
Long Black Veil
Chest Fever
Side Four
Lonesome Suzie
This Wheel's On Fire
The Weight
7" Single
The Weight
I Shall Be Released
Book
Essay by David Fricke
Photos by Elliott Landy
---
[History] [Members] [Library] [Discography] [Videography] [Filmography] [Pictures] [Audio Files] [Video Clips] [Tape Archive] [Concerts] [Related Artists] [Merchandise] [Guestbook] [Chat Room] [Search] [What's New?] [Main Page]
Webmaster