'Big Pink' Is Just a Home in Saugerties
---
by Richard Goldstein
From the New York Times, August 4, 1968.
The text is copyrighted, please do not copy or redistribute.
---
Once the pariah of American musical culture, rock has evolved into a full-fledged art form, perhaps the most preened and pampered of our day. But somehow, in making the leap from sewer to salon, pop music has ceased to be an adventure. Much of what we cherished in progressive rock is musically advanced but emotionally barren. The Indulgence of a new, cerebral audience has endangered that raw vitality which was once a hallmark of the rock experience. It doesn't take an anti-intellectual to sense that the very musicians and composers who once sanctified rock are now beginning to feel alienated from their own thing.
To them, rock is de rigueur but rather dull. Their scene needs an airing out. It needs to re-discover its roots, to feel natural again. That search for musical identity is leading the underground back to old stand-bys by Chuck Berry, Little Richard and Fats Domino. These "ravers" from the distant fifties first brought the frenzy of unadulterated rhythm and blues to young, white audiences.
Record executives - ever sensitive to unexpected commercial boomlets - are dusting off old 78 R.P.M. records in hopes of the total resurrection of the style of the fifties. But the rock revival now sweeping England and surfacing stateside is only the most apparent sign of a much deeper dissatisfaction with today's pop scene. In one sense, when a young musician rediscovers "Rock Around The Clock," he is also showing his contempt for a current sound, which has sold its soul for one too many harpsichords.
John Wesley Harding (Columbia - CS 9604), Bob Dylan's recent album offers the pop audience another possibility. In looking back at his own roots, Dylan realized that country and western music (perhaps the least respectable pop form in sophisticated circles) still possessed the charm, earthiness, and emotionalism that rock had "outgrown." The pop audience was already far more familiar with country style than it might have realized. After all, rock begin as a fusion between country music and rhythm and blues - a sound called "rockabilly." In "John Wesley Harding," Dylan resurrected this tradition and made it accessible to his generation by poeticizing what was already implicit in it. He made it inevitable that a sizeable chunk of the folk-rock vanguard would desert the pop scene and take creative refuge in country music.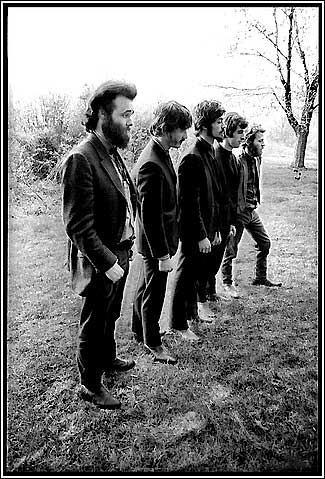 The Band is heard in its recording debut
Its twang is country but it moves like rock
Photo by Elliott Landy

That is what has happened. Buffy St. Marie, the folk-singer who preened before a symphony orchestra a few months ago, has dropped all that harmonic finery and gone to Nashville. Her new album, I'm Gonna Be a Country Girl Again (Vanguard VR 9250, stereo VSD 79280) represents a very solid change of venue. The Stone Poneys too have created a successful country-rock synthesis, with the voice of Linda Ronstadt ringing dewy clear on songs like "Neck Deep In High Muddy Water" on a Capitol single.

Finally, the Byrds, who were pioneers in folk-rock, and among the first in pop music to use electrical distortion have backed away from the psychedelic barrage and are preparing a country album. Like Dylan's recent work, it will probably be muted in tone, and reverent in spirit. It may well rip the lid off progressive rock.

Fortunately, we needn't wait for the Byrds to understand what the country-rock synthesis is all about. Already, the movement has its first major album: Music From Big Pink (Capitol SKAO 2955) by The Band. You can tell right away that this is country music by its twang and its tenacity. But you know it's also rock, because it makes you want to move.

First, let's deflate some potential mythology about this album. Big Pink is not another naughty euphemism for acid, but a house in West Saugerties, New York, where most of the group's material was created. The rather ignoble painting on the front of the Jacket is by Bob Dylan, who has better hands for the piano.

The Band itself is composed of five seasoned young musicians, who paid their country dues in the late fifties, touring with a Canadian rockabilly singer named Rompin' Ronnie Hawkins. On their own, as the Hawks, they played backwater bars, scrounging to survive and learning how to move people. Later, Robbie Robertson and his friends perfected that skill as Bob Dylan's backup band, accompanying him in concert and occasionally playing on his records.

Dylan himself is responsible for one song on this anthem; a haunting ballad called "I Shall Be Released." He co-authored two others with Band members Richard Manuel and Rick Danko respectively. "Tears Of Rage" scorns ponderous, despite the Band's dramatic rendition, but "This Wheel's On Fire" is filled with a stabbing, sinuous intensity.

It's impossible to say with any certainty how much of a hand Dylan had in shaping the Band as it sounds today. Certainly, there are Dylanesque elements in the group's original material. Its language - rambling, cryptic, emotional-is especially reminiscent. Dylan's sense of the elusive epigram is apparent in a line such as "Go Down, Miss Moses" from Robertson's "The Weight." But fortunately, the Band is far more than its master's worthiest voice. So essentially has Robertson grasped Dylan's approach that their songs appear as equal clauses in the same sentence, That kind of harmony can only have come of personal inter-action? No producer in a 72-track recording studio could evoke Dylan's terse melancholy as honestly as these five friends have, with their wailing voices and mangy sound.

The vocals are immediately appealing. To an old rockabilly fan, the falsetto work and the harmonies will seem deeply satisfying because they are so basic and so real, That same authenticity applies to the Band's music as well. They won't blow your mind the first time around, but that's not what they're after. They are no dulcimers or synthesizers here; just the basic rock combination of organ, drums and guitars, augmented by an occasional piano and a pinch of brass. There are no ten-minute flights of atonality, either. For the most part, the Band eschews solos to create a unified sound which forces attention to the material at hand. Garth Hudson is an exciting, charismatic organist, but he plays to the group, not at his audience. That's a novelty in rock, which is an exhibitionist's medium. Yet, the modest virtuosity which each member of the Band displays makes many of today's high power groups seem terribly diffuse.

But their sparsity also makes Music From Big Pink a difficult album for the uninitiated listener. I recommend a half dozen hearings before passing judgment. No one should confuse the Band's commitment to simplicity with dullness. The simplicity ethic has always been present in folk music, and it will probably become an important tenet of country-rock as well.

The Band wears dun while other musicians prefer day-glo. Their album jacket as a whole, inside and out, especially designed by Milton Glazer to look casual, is in clear repudiation of the acid-nouveau which graces many a rock album today. Even a name like the Band's can be construed as a slap at the ornate titles rock groups often choose for themselves.

But there is far more to this ethic of simplicity than reverse snobbism. On its own stylistic terms, the Band is an honest, versatile and immensely vital new group. So many rock musicians think they must assault an audience to make their presence felt. The Band tries for less, but accomplishes more; it makes me long to hear real music - Just music - once again.
---
[History] [Members] [Library] [Discography] [Videography] [Filmography] [Pictures] [Audio Files] [Video Clips] [Tape Archive] [Concerts] [Related Artists] [Merchandise] [Guestbook] [Chat Room] [Search] [What's New?] [Main Page]
Webmaster