Liner notes for The Band 2000 remasters
---
by Barney Hoskyns
The Band biographer Barney Hoskyns wrote the original liner notes for the remastered 2000 reissues of The Band's first four studio albums. Capitol Records (i.e. Robbie Robertson) decided not to use Hoskyns' notes. Canadian music professor and Band expert Rob Bowman ended up writing the liner notes on the official releases.
Hoskyns' liner notes that are presented here were copied from the Rock's Backpages web site. Copyright © Barney Hoskyns 2000. Reprinted with permission from the author.
---
[Music from Big Pink] [The Band] [Stage Fright] [Cahoots]
---
Barney Hoskyns for Rock's Backpages, October 2000
It all began with a house. An unremarkable ranch house sitting at the end of a long dirt driveway in the shadow of a mountain called Overlook. A pink box with a basement, just a few miles east of the artists' sanctuary that was Woodstock, New York.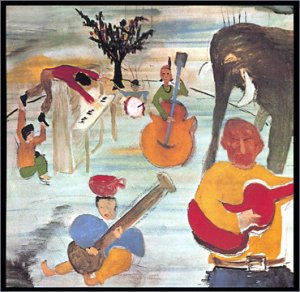 Rick Danko came by to look at the box in the spring of 1967 and decided he'd had enough of living in cities. "Being a country boy from southern Ontario, I realised that since I'd been living in cities for seven years," he says. "And I just realised that I didn't have to be in cities anymore."

Mere months before, Danko had wrapped up a tour with Bob Dylan and the Hawks which has gone down in rock history as one of the great cataclysms — a big electric bang which rankled the folk purists of the olde worlde as royally as it had enraged the coffeehouse politicos of the new one. Following a bellicose climax at London's Royal Albert Hall in late May 1966, Dylan returned to Woodstock to recover, only to suffer a motorcycle accident which was — according to who you ask — either a) serious, b) a perfect excuse to hide away from the prying eyes of the pop community, or c) both of the above. "It was serious enough that it took him a year or so to get himself back together," is what Rick Danko says of the spill Dylan took on a Woodstock back road on July 29, 1966.

Danko himself first visited Woodstock in the late fall of that year, at a point when Dylan was attempting to edit a mischievous, obfuscatory film of the 1966 tour called Eat The Document. By the following spring, Rick and fellow Hawks Richard Manuel and Garth Hudson were installed in the house they baptised "Big Pink", hidden away off Stoll Road in the woods of West Saugerties.

"It's funny, because from 1960 to 1965 the band played every night in nightclubs," says Danko of the apprenticeship the Hawks served as the backing group for rock and roll singer Ronnie Hawkins. "We didn't really know any better and that's all we knew to do. And then Bob put us on some kind of retainer, and that allowed us some freedom to figure out what an artist really is. It bought us some time and got us out of that rut every night. Because if you're not careful you'll end up sounding like a bar band."

Dylan, who was living in rather grander style in the old Woodstock artists' colony of Byrdcliffe, did more than put the Hawks on a retainer. He began showing up at Big Pink most days, guitar in hand, songs jostling for space in his head. "Maybe a hundred and fifty songs were recorded in a seven or eight month period," remembers Danko. "Bob would come and bang the songs out on his typewriter and we'd go down into the basement and make some music up for them. The tapes were part of Bob's rehabilitation — he was getting stronger and feeling better. And from that we started getting our writing chops together a little bit."

Many are the bootleg tapes which have leaked out from those hush-hush basement sessions. Some of the Big Pink originals even made it onto an official double album called The Basement Tapes, compiled by Robbie Robertson in 1975: Dylan gems like 'You Ain't Goin' Nowhere' and 'Nothing Was Delivered', together with songs that Robertson, Manuel, and Danko had written or co-written. Some even saw the Hawks reunited with their errant drummer Levon Helm, who'd jumped ship halfway through the American leg of Dylan's electric tour.

"I was certainly lonesome for the band," Helm remembers. "I guess I believed that at some point we would get back together. I didn't figure that they would give up their dreams just to be Bob's backup band. Nor did I have any false ideas about becoming a troubadour and thumbing my way through life with a set of drums strapped to my back."

Two of the Basement Tapes songs, 'Tears of Rage' and 'This Wheel's On Fire' (both co-written with Dylan; the first by Manuel, the second by Danko), would take their place on the debut album by The Band — a recording strongly encouraged by Dylan himself. "We were up there just living," Robertson recalled. "There was nothing that we had to do, no obligations. But Bob had been wanting us to record for a long time, and our fun was beginning to run out. We needed to take care of business a little."

By the time Albert Grossman signed them to Capitol in February 1968 — as "the Crackers", a derogatory term for poor white southerners suggested by Levon Helm — the quintet had already set to work on their first album with producer John Simon. "I got very infatuated with them," Simon says. "I thought it was just the best music I'd ever heard. They were true originals, they didn't listen to the music of the day." What particularly struck Simon was the band's innate sense of democracy: "They were absolutely like brothers, all of them. I can't recall a single real argument during those sessions."

Like Dylan on the stark, Biblical John Wesley Harding, The Band of Music From Big Pink were going radically against the grain of contemporary rock. Having opted out of the Summer of Love, the group turned away from the psychedelic pop and heavy blues of the day, delving back into the past to create a unique hybrid of soul, country, folk and gospel — a rootsy Americana which has proved to be a decisive touchstone for the alt.country/No Depression sound of the Nineties.

"Back when people were stacking up Marshall amps and blowing out their ear drums, The Band was down in the basement at Big Pink trying to get a balance," says Rick Danko. "It wasn't about one person trying to blow the others away, it was about trying to play together and find an economical common ground."

Right from the mournful opening of 'Tears of Rage', Music From Big Pink was all about chemistry, earthiness, empathy: five instinctively soulful players working together, voices blending, parts locking in time: "One voice for all, echoing around the hall," as they sang on 'We Can Talk'. Nothing smooth or slick: a gutty, gritty sound conjuring a funky eccentric backwater world. Sweet pining reverie and rollicking gospel from Richard Manuel, ribald good-ole-boy bravado from Levon Helm, bemused fecklessness from Rick Danko; an afterthought, 'The Weight', that became The Band's most famous song; one blasting, organ-churned rocker in 'Chest Fever', but mostly a sense of bluff camaraderie and smalltown strangeness.

"John Simon understood the recording console, he understood tape machines," said Robbie Robertson. "He asked us how we wanted the record to sound, and we told him: 'Just like it did in the basement.'" Simon stressed the importance of dynamics in the arrangements: "We saw what we could find in the bass and drums that was interesting," he says, "trying always to ensure that the parts were different for each section of the song. The other instruments fell in around the different grooves."

Capitol were so pleased with what they heard from the A&R sessions that they flew The Band and Simon out to L.A. to finish the album in their own eight-track studio. Six more tracks — 'In A Station', 'Lonesome Suzie', 'I Shall Be Released', 'Long Black Veil', 'Caledonia Mission', and 'To Kingdom Come' — were taped with the assistance of engineer Rex Updegraft.

Unsurprisingly, when Music From Big Pink was released in the summer of '68. rumors made the rounds that Dylan was playing on it. Aside from his three songwriting credits, however, all Bob had contributed to the album was the charming piece of naive art that graces its front cover. Perhaps more telling was Elliott Landy's group portrait of The Band with their families on Big Pink's inside sleeve. "The whole idea of the picture was totally unusual to me," admits Landy now. "Despite having a lot of relatives, my whole issue at the time was to separate from my family."

"We were rebelling against the rebellion," confirmed Robbie Robertson. "If everybody else was going east, then we were going west. It wasn't like we even discussed it, there was this kind of ingrained thing from us all along. It was an instinct to separate ourselves from the pack."

Big Pink's impact wasn't immediate but it was profound. At a time when the Rolling Stones were snarling 'Street Fighting Man' and Cream flattening Fillmore audiences with Wheels of Fire, The Band came across like some rustic brotherhood. The first people to sit up and pay serious attention were their fellow musicians.

"I got hold of a bootleg tape of Big Pink at the end of the last Cream tour," recalled Eric Clapton. "I used to put it on as soon as I checked into my hotel room, do the gig and be utterly miserable, then rush back and put the tape on and go to sleep fairly contented until I woke up the next morning and remembered who I was and what I was doing. It was that potent!" For Clapton, "the sound of music changed drastically after that first album".

Three decades on, Big Pink still sounds wholly fresh and original. It's not "country rock", and it's not rock and roll. It's an album that blends all the key American musics together but adds a flavor that evolved organically from the teamwork of five players. Without it we might have had the Eagles but we'd almost certainly never have had Sheryl Crow's Tuesday Night Music Club and Counting Crows' August and Everything After. Or Wilco's Being There, the Jayhawks' Hollywood Town Hall and Mercury Rev's Deserters' Songs (featuring Levon Helm and Garth Hudson).

"Out of all the idle scheming," sang Richard Manuel on 'In a Station', "can't we have something to feel?" Big Pink answers with an emphatic yes.

*

Tears of Rage

Richard Manuel was tinkering on the piano in Big Pink's basement one afternoon when Bob Dylan charged into the room with the typed lyrics of 'Tears of Rage'. "I had a couple of couple of movements that seemed to fit, so I just elaborated a little," Manuel was to recall. The song made for a startling opening track, not just because it was so slow but because its lyric was sung from a parent's point of view — a father hurt by his daughter's rejection of his love and his values. The Band's friend Happy Traum compared 'Tears of Rage' to the Beatles' 'She's Leaving Home', but Dylan's canvas was broader than that. This was about healing a rift between generations.

To Kingdom Come

Big Pink's second track is notable for one particular reason: it is only one of three songs with a lead vocal by Robbie Robertson in The Band's whole recorded oeuvre. A crisply rolling, semi-funky arrangement bolsters an obscure and Dylanesque lyric about sin and salvation, the song's groove anchored in choppy piano phrases and an insistent, driving beat.

In a Station

Manuel at his most sweetly dreamy and melancholic, on a song partly inspired by the beauty of Big Pink's location. ("Once I climbed up the face of a mountain/And ate the wild fruit there...") The plinky toytown keyboards and pining slide guitar underscore the song's tender yearning. Manuel claimed 'In a Station' was his "George Harrison-type song". Smitten with Big Pink, Harrison would himself make a pilgrimage to Woodstock to meet The Band.

Caledonia Mission

Danko assumes lead vocal duties on this underrated gem, a song that builds from spare country-soul verses to a terrifically funky, almost gospelish chorus. A cryptic lyric from Robertson, this time about a missionary in the imaginary town of Modock, Arkansas, although the mention of "the magistrate" supposedly refers to an occasion on which The Band were busted by Mounties on the Canadian border.

The Weight

Funny to think that The Band's signature song was literally recorded as an afterthought. "'The Weight' was, like, 'OK, this doesn't have a very complicated chord progression, it's just kind of traditional so we'll cut that when we get stuck for a song," Robertson recalled. A laid-back country-gospel song about "the impossibility of sainthood", it was pure picaresque, peopled by odd shadowy characters like Anna Lee and Crazy Chester — not to mention the "Fanny" of the raucous choruses. Strangely enough, this was Levon Helm's only lead vocal on Big Pink.

We Can Talk

Unbridled gospel fervor from Richard Manuel, whose clomping churchy piano synchs perfectly with Garth Hudson's swirling organ patterns. "I don't know where that gospel thing came from," Manuel later reflected. "I just got up one morning and found it on the piano." Vocally, Helm, Danko and Manuel combine magnificently on this song, weaving lines together, picking up words from one another and harmonising at the ends of phrases. "It's a funny song that really captures the way we spoke to one another," noted Helm in his This Wheel's on Fire. "Lots of outrageous rhymes and corny puns."

Long Black Veil

A murder ballad penned in the Fifties by Nashville writers Marijohn Wilkin and Danny Dill, 'Long Black Veil' song had been a hit for, among others, Lefty Frizzell. In The Band's hands it sounded slightly stilted, however affectingly Rick Danko sang the lead part and however untraditional Richard Manuel's Wurlitzer electric piano was. "I thought it was a great song," claimed Robertson. "It was in the tradition that I wanted to begin writing in."

Chest Fever

The hardest-rocking number on Big Pink sounds thumpingly heavy sandwiched between 'Long Black Veil' and 'Lonesome Suzie'. A showcase of sorts for "Professor" Garth Hudson, who mimics Bach's famous Toccata and Fugue in D minor in the intro, the song is — in its author Robbie Robertson's words — "a reversal on that old rock and roll thing where they're always telling the girl, 'He's a rebel, he'll never be any good'." The relentless groove briefly gives way to a hilarious middle eight wherein all five Band members (plus John Simon) wheeze along on a variety of horns, sounding for all the world like a decrepit Salvation Army band.

Lonesome Suzie

Richard Manuel indulges his Tin Pan Alley side with this forlorn portrait of a smalltown spinster, dripping with compassion and sung in his surest falsetto voice. "Where is all the understanding?/Her problems can't be that demanding..." Words, unfortunately, that could later have been sung about Manuel himself. Wrote Helm, "It was a quiet song that told a story and was pretty typical of Richard's general philosophy, which was to be kind to people. Richard was complicated and felt things really deeply, more than most people."

This Wheel's on Fire

The second "basement tape" song on Big Pink was this Dylan-Danko collaboration. "At the time I was teaching myself to play the piano," Danko later recalled. "Some music I'd written on the piano the day before just seemed to fit with Bob's lyrics. I worked on the phrasing and the melody, and then Bob and I wrote the chorus together." The curious keyboard sound was supposedly created by running a telegraph key through a toy organ. Decades later the song lived again when the slower, more stately version by Julie Driscoll, Brian Auger & the Trinity was used as the theme music to the hit sitcom Absolutely Fabulous.

I Shall Be Released

Manuel again went to his falsetto register for this yearning ballad — a kind of prayer sung by a man who sounds like a martyr, recorded originally at Big Pink by its author Bob Dylan. The arrangement is almost empty, with Manuel's voice bathed in the unfurling ambient texture of a Roxochord organ played through a wah-wah and cushioned by the gentle rippling of Levon Helm's fingers through the snares of his drum. A perennial favorite for Live Aid-style singalongs.

*
Bonus Tracks
Yazoo Street Scandal
Written by Robbie before Levon Helm's return to the Hawks fold in late 1967, 'Yazoo Street Scandal' is a raucous slice of New Orleans-ish funk tailor-made for Helm's good-ole-boy voice. Recorded in Studio A at A&R in New York on January 10, 1968, the song was listed on promotional Big Pink sleeves sent out to disc jockeys that summer but only saw the official light of day in the alternate, possibly speeded-up version on The Basement Tapes.
Tears of Rage
An alternate take (#8) of the opening track on Big Pink from the A&R session on January 10, 1968, this 'Tears of Rage' is very close in feel to the released one, with occasional differences in Richard Manuel's vocal phrasing. The song had been written at Big Pink by Manuel with Bob Dylan, who sang the version which appeared on The Basement Tapes.
Katie's Been Gone
A lilting, sweet-sad Robertson-Manuel song first heard on The Basement Tapes — and subsequently on the 1994 Across the Great Divide box set — this is almost certainly one of several Hawks demos cut at CBS's Studio E in New York in September 1967. (John Simon thinks these sessions may have been produced by former Motown staffer Mickey Stevenson, co-writer of 'Dancing in the Street'.) Since the drumming sounds very unlike Levon Helm — John Simon has said it might be ace New York sessioneer Gary Chester — the track suggests that these demos were cut before he rejoined the Hawks. (Historical footnote: Did the title of Steely Dan's album Katy Lied come from this song?)
If I Lose
The Band's two real country boys, Helm and Danko, exercise their cornball chops on this cover of the Stanley Brothers' 1960 side, originally recorded for Starday in Florida. Like 'Ain't No More Cane', this tale of a gambling ne'er-do-well who relies on his woman's wallet is a perfect vehicle for The Band's country side and steeped-in-tradition harmonies.
Long Distance Operator
A funky Bob Dylan blues cut on February 21st, 1968 at Gold Star's Studio B in Los Angeles, shortly after the Big Pink sessions had finished at Capitol. First heard on The Basement Tapes, it's an excellent vehicle for Richard Manuel's Ray Charlesy baritone and for the loose, funky grooving of Levon Helm and Rick Danko. The harmonica is probably a Helm overdub.
Lonesome Suzie
A real rarity, this one: an early version of the disconsolate Richard Manuel ballad on Music from Big Pink, arranged in a vaguely swingy style and featuring soprano and alto sax — probably Garth Hudson and producer John Simon. The shuffle rhythm doesn't suit the song, which is doubtless why the Big Pink plumps for a more staightforward 4/4 groove.
Orange Juice Blues (Blues for Breakfast)
Another Hawks demo, recorded at CBS' Studio E in New York on September 5, 1967. Faster and punchier than the version on The Basement Tapes, this rollicking Manuel R&B song made its debut on the Across the Great Divide box set. The drummer is clearly not Levon Helm (again, it could be Gary Chester), lending further weight to the theory that these demos for Capitol were tracked before his return.
Key to the Highway
Recorded on September 10, 1968 at either Gold Star or the Capitol studio in Los Angeles, 'Key to the Highway' is an old Bill Broonzy song tackled here by Levon Helm in his plummiest yelp of a voice. Unremarkable by Band standards, it's supposedly one of a handful of blues covers the group recorded after finishing work on Big Pink.
Ferdinand the Impostor
A legendary song, written by Robbie and sung by Rick Danko, about a hapless and unfortunate soul who's "done nobody wrong" but nevertheless ended up in the slammer as a result of his failed impersonations. As with 'The Weight', 'Ferdinand' is populated by a small multitude of characters: "Benny the barber looked at me, passed out tickets cautiously," Rick sings in one fine couplet, "to see the burning of the soup, down at Lucy's chicken coop..." No one has ever offered adequate explanation as to why this delightful song — most likely cut at the September 1967 CBS sessions in New York — failed to make it on to Big Pink.
---
The Band: The Band (Capitol)
Barney Hoskyns for Rock's Backpages, October 2000

It was in the early summer of 1968 that legendary rock promoter Bill Graham drove up to the Catskill mountains to propose that The Band make their live debut at one of his Fillmore venues.

"Everyone had told me about this mythical group of guys who lived up in the country and woodshedded," Graham told me shortly before his tragic death in a helicopter crash in 1991. "Music From Big Pink was the first chance to eat the meat." To Graham, The Band's first album was all about sensuality and flow: "There was a funky, groovy, swirly character to the sound, and I loved the odd sort of non-voices of Rick Danko and Richard Manuel and Levon Helm. The music held up to the myth for once."

A big part of the myth, though, was bound up with The Band's reluctance to show its face — the almost puritanical sense of anonymity they'd inherited from the reclusive Bob Dylan. To Bill Graham's dismay, the group seemed less than keen to commit to live shows. Having barely played onstage since the electric Dylan and the Hawks tour of 1966, they wanted to lay low in Woodstock a while longer. Guitarist and putative leader Robbie Robertson told Rolling Stone's Paul Nelson that "we don't want to make the arena circuit where people don't hear nothing or know nothing and all that matters is taking three bucks off the kids."

As luck would have it, when the group started to change its tune, bassist Rick Danko broke his neck in a car accident and scuppered any realistic chances of touring. The delay only enhanced the mystique: little did the rock community know that its beloved backwoodsmen were raising hell on the back roads of Ulster County — or, for that matter, that drugs had seeped into the pastoral idyll of their lives.

With Danko in traction through the fall and early winter of 1968, the rest of the group hunkered down in their respective abodes. Of the five of them, Robertson put the time to the best use, commencing work on a number of the songs that would appear on their second and greatest album — the one you hold in your hands. As the autumn leaves began to redden on the branches of Woodstock's maples, Robertson felt inspired to sketch out the music and lyrics for the track that would end up closing the record. "It was a time of year when Woodstock was very impressive," Robbie recalled of the backdrop to 'King Harvest (Will Surely Come)'. "It just made you realize that this was the culmination of the year for so many people."

Fall may have been impressive, but the Woodstock winters were hard. Come December, The Band — four-fifths of them Canadian, after all — decided they'd seen enough snow for one lifetime. And thus it was that in January 1969 they upped sticks for the very different climate of southern California.

What did Los Angeles — Rock Babylon — have to do with the sinewy, old-world sound of The Band? Almost nothing. But in L.A. there was little chance of your station-wagon getting stuck in the snow, and the group's road manager Jonathan Taplin had found an amazing house off Sunset Boulevard — the place where Sammy Davis Jr. had nested with May Britt, no less. One look at the mansion in question was enough to convince Robertson and producer John Simon that it was just the ticket. Its large poolhouse, they thought, would make a perfect studio.

The recording of (most of) The Band in the Sammy Davis poolhouse makes the group lo-fi pioneers of a sort. Few bands had set up shop in such makeshift conditions, but the rough, no-frills sound defined the downhome character of their music. "Everything in rock was kind of going in that high end direction," said Robbie Robertson. "We wanted something different, a kind of woody, thuddy sound."

Prior to recording, Robertson and Simon flew to Hawaii for a week of hard work on the songs. By this point Robertson had taken on the lion's share of the songwriting, and the concept of an album about the American south was already fixed in his mind as he polished and refined songs like 'The Night They Drove Old Dixie Down' and 'The Unfaithful Servant'.

Much of the subject matter of The Band's "story songs" derived directly or indirectly from drummer and Arkansas native Levon Helm. "The inspiration for the greater part of Robbie's song catalogue came straight out of Levon's mouth, I think," says Band friend and associate Ian Kimmett. "I mean, Levon was a very passionate southern man. The crafting, the composing and the songwriting nucleus may have been Robbie's, but the storytelling was Levon's." Significantly, Helm's voice was much more to the fore on The Band than it had been on Music From Big Pink: bawdy and knowing on 'Rag Mama Rag' and 'Up on Cripple Creek', mournful and indignant on the Civil War swansong 'The Night They Drove Old Dixie Down'.

No less important than the vocal "characters" on the songs were the arrangements, which had the five members trading instruments in a fascinating kind of musical chairs. "They were wonderfully selfless and wonderfully pragmatic," remembers John Simon. "It was always a question of what worked best for each song, not who was going to sing the lead vocal or who was going to shine instrumentally." The Band was truly the sound of a band — of a five-headed entity in which all the constituent parts were equally important.

"I started thinking that the music was finally taking shape with the second album," says Helm. "We had actually figured out some methods of how to really turn the heat up and get the music to cook: how to blend our voices three different ways, how to get the track together and not make it so complicated. We'd sit and talk about medicine shows and, shit, the tune would just come to us. A lot of those good lessons Dylan had given us started to manifest themselves."

For Danko, The Band's secret lay in the fact that each of the group's members thought in terms of the whole sound — and that all of them played several instruments. "Levon, for example, is as much of a bass player as he is a drummer, as much of a guitarist as he is a bass player," Rick says. "We listened to each other, complemented each other, balanced each other out." For Helm, everything revolved around "the master musician" Garth Hudson, arguably the most brilliant keyboard player in the history of rock. Hudson's swirlingly churchy counter-melodies and incidental licks — the gurgling Jews'-harp clavinet on 'Cripple Creek', for instance — put The Band on a different plane from most of their contemporaries.

By April nine songs had been taped in the poolhouse, and three more ('Cripple Creek', 'Jemima Surrender', Richard Manuel's heartbreakingly delicate 'Whispering Pines') were added from a session at New York's Hit Factory in April. When the album finally appeared in its famous brown sleeve in the autumn of 1969, the acclaim was deafening.

"Me and a bunch of guys from New Orleans would listen to The Band all the time," remembers Mac "Dr. John" Rebennack. "The music sounded to me like a cross between Memphis and New Orleans. It was really in the pockets of those places without ever copying the original stuff." For Elvis Costello, The Band "was like receiving a letter from the other side of the world, a world you couldn't possibly understand let alone visit. It was only later when you knew a bit more about Hank Williams and Bessie Smith that you started to fill in the blanks."

What The Band did more effectively and distinctively than any comparable album of the period was to bring the American past back to life — to put it center-stage in the rock and roll spotlight in a way that was never reactionary or cosily nostalgic. An album made by four Canadians and an Arkansas renegade, it was rock and roll pickled in America's roots musics that spoke movingly and grittily of an older, funkier world. Who could have imagined that a Civil War song sung from a southern viewpoint would be embraced by free-festival longhairs? Or that 'Rockin' Chair', the song of a couple of old seadogs come home to "old Virginny", would melt the hearts of drugged-out hipsters?

The Band remains a cornerstone of Americana — an album that takes the elegaic, mysterious, and rambunctious spirit of the Big Pink basement tapes and lends it a new truth and cohesion.

*

Across the Great Divide

As he'd done on Big Pink, Richard Manuel took the lead vocal on the album's opening track. But this time the mood was very different, loping and blithely good-humored where 'Tears of Rage' had been dragging and mournful. Imagine Fats Domino let loose in a Faulkner landscape. Manuel played piano triplets and beseeched his gal Molly to stop waving her gun at him; Rick Danko's fretless bass gulped at each bar; Robertson and Hudson supplied whimsical fills and asides; and Helm's drums were as "woody and thuddy" as James Van Eaton's on the classic Sun hits of Jerry Lee Lewis.

Rag Mama Rag

The album's second track was a perfect instance of The Band's flexibility and open-mindedness. Initially attempted in the poolhouse as a more conventional rock song, 'Rag Mama Rag' didn't, in Robbie Robertson's words, "feel like what I was hearing in my head." When Levon Helm gave up the drum stool to Richard Manuel and shifted to mandolin, Robertson's lusty, bumptious "rag" was transformed into something that seemed to hail from turn-of-the-century New Orleans. Garth Hudson tinkled on an upright piano, Rick Danko sawed away on a cheap fiddle, and — in lieu of a bass guitar — John Simon puffed away on a tuba. A floppy, rollicking masterpiece.

The Night They Drove Old Dixie Down

An instant and dramatic contrast to 'Rag Mama Rag', with Helm singing in the unrecognisably plaintive voice of young Virgil Caine, a survivor of the attacks made on the Danville and Richmond railroad by General George Stoneman's Union cavalry during the American Civil War. "It took me about eight months in all to write that song," remembered Robertson. "I only had the music for it, and I didn't know what it was about at all. Sometimes you have to wait a song out." Over a stark arrangement and piano chords that descended before climbing back up to the chorus, Helm sang with a callow, battered pride that — as Greil Marcus wrote — "leaves behind a feeling that... every American still shares this old event".

When You Awake

With its soft, skanky beat, this dreamy Manuel-Robertson collaboration was a perfect vehicle for Rick Danko, who sang it in the voice of an earnest country bumpkin. "It's a story about someone who passes something on to you, and you pass it on to someone else," noted Robertson. "But it's something you take to heart and carry with you your whole life."

Up on Cripple Creek

Firing off with an intro so viscerally funky it was sampled years later by hip hop duo Gang Starr, 'Cripple Creek' was another track that had to simmer for a while. "It took a long time to seep into us," recalled Levon Helm, who sang lead on it in his best good-ole-boy drawl. "We cut it two or three times, but nobody really liked it. It wasn't quite enough fun. Finally one night we just got hold of it, doubled up a couple of chorus and harmony parts, and that was it."

Whispering Pines

Again, a perfect response — slow and elegaic — to a preceding track. Richard Manuel wrote the music for, and sang a falsetto lead on, this almost mystical song of loss and loneliness. "Richard briefly lived in a house in Woodstock that had belonged to the painter George Bellows," recalled sometime Band manager Joe Forno. "There was an old piano in the house which had been left behind, and Richard wrote 'Whispering Pines' on it. "Robbie Robertson followed the melancholy of Manuel's chords and came up with a suitably desolate lyric, reaching a serene kind of resolution in the final words, "The lost are found".

Jemima Surrender

The yelping good-ole-boy of 'Cripple Creek' returns on this gnarly rocker recorded — like 'Creek' and 'Whispering Pines' — at the Hit Factory in New York. Helm sang and played guitar while Manuel brought his inimitably loose sticksmanship to the drums and Hudson picked up where he left off on 'Rag Mama Rag'.

Rockin' Chair

The old-timey string-band arrangement was perfect for Robertson's enchanting song about a pair of retired seafarers: Helm on mandolin, Hudson on accordion, Robertson himself on acoustic guitar. "In my time I've run up against some old people who were able to explain things to me and make me see things in a way nobody else could," Robertson said. "Their experience made me feel like not saying a word. At this time, in this country, there's a whole thing that old people are almost put away. I can't buy that."

Look Out Cleveland

This was about as hard-rocking and contemporary as The Band got, with the apocalyptic theme clearly suggesting storms of a more political kind. "When we were doing the album," Robertson remembered, "there were all these riots and outbursts around the country, and it was kind of like living on the fault-line of revolution." Sandwiched between the old-world feel of 'Rockin' Chair' and 'Jawbone', 'Cleveland' sounded an urgent present-day note that would recur on Stage Fright's 'Just Another Whistle Stop'.

Jawbone

Richard Manuel's character on 'Jawbone' could have been the same feckless roustabout of 'Across the Great Divide' — an endearing loser of the type The Band had known all too well in their Ronnie Hawkins days. "These people would live this life with other choices and say, 'No, this is what I choose; I like the action,'" recalled Robbie Roberston. Recorded with the poolhouse bathroom as an echo chamber, the song was full of typically odd time signatures and changes and boasted one of Robbie's most full-blooded guitar solos.

The Unfaithful Servant

American Gothic meets Tennessee Williams. "Everyone is now interested in being the same, so I was kind of playing a game in writing this song," Robbie Robertson commented on this heartfelt ballad's political incorrectness. Sung beautifully by Danko, the track concerned the fate of a man who had in some unspecified way transgressed against his mistress and sent packing. The simple instrumentation was bolstered by lugubrious horn parts played by Garth Hudson and John Simon.

King Harvest (Has Surely Come)

The climax of The Band came with this superbly bitter song of union dues and crop failure — James Agee's Let Us Now Praise Famous Men in song. "The chord progression was a little bit complex," Robertson recalled. "There's a sifty feeling we were trying to get, which was subtle and bold at the same time." Manuel took the anguished lead vocal, Hudson filled every available space with his Lowrey organ riffs, and Helm played his heart out in one of his most intuitively brilliant drum performances. "This was one track where I got my drums sounding the way I always wanted them," Levon remembered. All that and a livid, stinging Telecaster solo from Robertson.

*
Bonus Tracks
Get Up Jake
A stereo mix of an undemanding singalong first heard in its live incarnation on Rock of Ages in 1972. Recorded in the Sammy Davis Jr. poolhouse during the sessions for The Band, it was mixed on July 9, 1969, but didn't make it on to The Band. A mono version was later used on B-side of 'Ain't Got No Home', while this stereo mix made its debut on the 1989 anthology To Kingdom Come.
Rag Mama Rag
An alternate mix of this signature Band track, this hails from the first set of L.A. mixes for the second album. It's pretty close to the released version, except that Danko and Manuel can be heard hollering alongside Helm from the start of the song.
The Night They Drove Old Dixie Down
An alternate mix of another signature track from The Band, complete with unused horn and keyboard overdubs that make the track feel more widescreen than it does in its released version. Mixed by the group on June 3, 1969.
Up on Cripple Creek
Take 9 of 'Cripple Creek — from the sessions at New York's Hit Factory that completed recording for The Band in June 1969 — is more or less identical to the finished version of this funky, downhome classic. Only a few vocal variations distinguish it from the track most Band fans know.
Whispering Pines
A shimmeringly beautiful take (#14) of Manuel's most sublime showcase on The Band, recorded on June 16, 1969 at the Hit Factory. Manuel starts uncertainly and forgets the line "there is no in-between", but his singing in the first few verses is even more heartrending than it is on the released version.
Jemima Surrender
A minor mystery. This sounds so unlike the released version on The Band that it may date from the poolhouse sessions rather than from the Hit Factory. In addition, it sounds as though Manuel is playing piano (with Hudson on organ), whereas on the released version he plays drums (and Hudson plays piano). Nor is there a lot of guitar on this track, where on the released version both Helm and Robertson play guitar. Probably, then, a prototype version of a track to which the group returned at the Hit Factory.
King Harvest
A version of The Band's closing track, complete with opening jam, from a promo film shot in an outbuilding on Albert Grossman's estate in Bearsville. Excerpts from this film, directed by Jim Signorelli, were featured in the BBC/VH1 Classic Albums series, though some viewers thought they were watching footage from the Sammy Davis poolhouse. The drums sound much more trebly and echoey than they do on The Band, and Robertson's closing solo isn't a patch on the album's version. "Tempo sounds slow, John," Helm calls out at the end. "Ah think we're warmed up!"
---
Barney Hoskyns for Rock's Backpages, October 2000

The Band had good reason to call their third album Stage Fright. On the eve of their live debut at Bill Graham's Winterland theater in San Francisco on April 17, 1969, their guitarist and principal songwriter Robbie Robertson came down with a mysterious illness that almost derailed the show.

Even Robertson himself wondered whether fear wasn't a contributing factor that night. Here the group was, having played all of thirteen minutes live in four years, headlining for the first time with their own material — and with no Ronnie Hawkins or Bob Dylan to hide behind. Headlining, moreover, in front of a crowd of hippies in the capital of acid rock, a musical style they'd pointedly eschewed in the secluded confines of Woodstock, New York.

Many people, when they heard the song 'Stage Fright' for the first time, assumed Robertson was writing about the group's sometime mentor Dylan. But 'Stage Fright' spoke as much for the five men who'd shied away from the limelight in the Catskill Mountains as it did for the counterculture icon who'd mellowed into the backwoods bard of John Wesley Harding and Nashville Skyline. When The Band played the Woodstock festival in August 1969 and then backed Dylan at the Isle of Wight two weeks later, the scale of the gatherings freaked them out.

The success of The Band caught the quintet by surprise, making them stars in their own right at last. (On 12 January 1970 they were on the cover of Time, no less, with the misleading tagline "The New Sound of Country Rock".) After touring for the first three months of the year, they returned to Woodstock to limber up for their next album. This time the fraternal spirit was harder to summon: although some of them were starting families, fame and money had disrupted the group's tenuous chemistry, and drugs and alcohol were messing with the health of at least three of them.

"After the Time cover, things got a little crazy," says Rick Danko. "There was an element of crazies who would come looking for us, people who thought our songs were meant for just them and that we were talking just to them. Luckily, the people in Woodstock looked after us. The local judges and the police called us 'the boys'. And we felt that protection."

Robbie Robertson's original brief for Stage Fright was for The Band to cut a live album before an invited audience at the Woodstock Playhouse. "I thought, 'Let's have a little bit of a goof here,'" he remembered. "'Let's do some touching things, some funny things. Let's do more of just a good-time kind of record.'" It didn't take long for the town council to veto this idea, just as nine months before they'd vetoed the Woodstock festival itself. And in any case, by the time The Band had resigned itself to using the theater as another of their ad hoc studios, the music taking shape was anything but touching or good-time.

"I found myself writing songs I couldn't help but write," recalled Robertson, who'd always been wary of confessional or autobiographical writing. Along with the title track, songs like 'The Shape I'm In', 'Daniel and the Sacred Harp', 'The Rumor' and 'Just Another Whistle Stop' did more than hint at the turmoil behind the scenes. Even 'Sleeping' — wistfully lovely though it is — was a little too close to the mark when it came to its singer and co-writer Richard Manuel.

True, the setup at the Playhouse was congenial enough when recording began in late May. "It was the same sort of arrangement we'd had before," said John Simon, who was to receive "special thanks" rather than a production credit on the album's sleeve. "The control room was down in the prop room, with a tent erected around the console to keep it warm, and the recording room was on the stage." Patti Smith, who ventured up to Woodstock to report on the sessions for Circus, found the atmosphere friendly and anticipated an album that was "pretty positive, looking at things with a friendly, ironic eye."

An additional element this time around was Todd Rundgren, hotshot engineer and protege of The Band's manager Albert Grossman — and a boy wonder whose style was rather different to The Band's. "Todd stood out like a sore thumb among the Woodstock crowd," remembered Grossman associate Mike Friedman. "He was wearing red velvet pants and had green hair, and he had no use for most of that scene." Friedman claimed he'd watched Levon Helm chasing Todd round the studio "trying to kill him because he'd made some nasty remarks about Garth Hudson being an old fart."

"Because of the incredibly slow pace at which they worked, Stage Fright was one of the more maddening experiences I had as a sound guy," Rundgren says. He also admits that he "wasn't quite fully fleshed-out in terms of socio-political skills," and that Stage Fright was not the only occasion on which "there would be friction in the studio because of my lack of wisdom in dealing with people."

One result of having Rundgren on board was that Stage Fright was cleaner, more polished than its beloved predecessor. This time around, The Band sounded like a rock group, with each instrument clearly defined in the mix. Particularly prominent was Robertson's guitar, treated with various effects and devices that pushed it into the foreground. (The mix had its own curious history, incidentally: Robertson wanted Rundgren to mix the whole album, but Helm argued for sending the tapes to Glyn Johns, the renowned British engineer and budding producer. "It turned into a game," Johns recalled. "It was like a competition, which I thought was howlfully amusing." It's generally agreed that most of the mixes are Johns'.)

Also noticeable on Stage Fright was the relative lack of harmony singing. This time, more of the songs were recorded with solo vocals, making the voices sound slightly distant from each other. Only on 'The Rumor' did Helm, Danko and Manuel properly come together, weaving lines together in the rough-hewn neo-gospel style they'd mastered on Big Pink and The Band. Not that there wasn't marvellous singing on the record: Helm sounded like a redneck Lee Dorsey on the boisterous opener 'Strawberry Wine', and Manuel was at his most droopily soulful on 'Sleeping'. On 'Stage Fright', Danko sounded genuinely spooked.

Instrumentally, Garth Hudson was magnificent throughout: playfully fluttering on the accordion on 'Strawberry Wine', harrowing and searching on the distorted organ of 'Stage Fright', dreamily evocative of childhood on 'All La Glory''s shimmering solo. Danko's fretless bass anchored the songs in a deep, rubbery throb, and Helm's drumming was as organic and intuitive as it had been on The Band. Robertson's needly Telecaster incisions on 'Sleeping' and 'The Rumor' were spine-tingling.

One question suggested itself: Why was Manuel contributing less and less as each Band album rolled around? Four credits on Big Pink, three on The Band, and now just two on Stage Fright. "I did everything to get him to write," said Robertson. "I wrote with him, I begged him, I pleaded with him, I offered to become his partner in songwriting... There's no answer. My theory is that some people have one song in them, some have five, some have a hundred."

"Robbie certainly didn't consciously intimidate Richard," recalled John Simon. "But when you met Robbie, he was so smooth and urbane and witty, whereas Richard was such a gee-golly-gosh kind of guy." Manuel was also, let's not forget, sinking deeper into addiction with each passing month.

Received more coolly than The Band, Stage Fright nonetheless reached the Top 5 in the Billboard Album Chart after its release in September 1970 — the highest-charting album of their career. Held in less affection than its two predecessors it might be; a compelling testament of a troubled time it will always remain.

*

Strawberry Wine

Kicking Stage Fright off on a deceptively cheery note, this Helm-Robertson song was cut with Manuel drumming and with a pulsing, insistent bass line from Danko. Helm sang the song with the lusty swagger he'd brought to 'Cripple Creek', and Hudson chattered busily away on his accordion. "We went in and did it and Levon sang it live," remembered John Simon. "It was terrific on take one and we didn't go any further." The Band at their good-old-boy best.

Sleeping

A Manuel-Robertson classic that could almost be an offshoot of Richard's earlier 'In a Station', this waltz-time gem starts with lowkey piano and guitar fills, then builds to a chorus dominated by Danko's ascending-and-descending bass line and Helm's near-bebop snare rolls. On the second chorus, the vocals drop out and Robertson solos in tandem with Hudson's pitch-bending Lowrey organ. 'Sleeping' was all about Manuel's desire to hide away, to opt out. "To be called by noon/Is to be called too soon" was a line that particularly amused his bandmates.

Time to Kill

Charming if fundamentally unchallenging, 'Time To Kill' made The Band sound happier than they were. Rooted in a simple strummed guitar riff, and sung by Danko and Manuel, the song was all about the easy summer life in the Catskill mountains — and by omission about the scarier, less homely world beyond Woodstock. Perhaps it wasn't surprising that certain critics thought the group had lost its edge when the track was issued as a single in the summer of 1970.

Just Another Whistle Stop

Allaying the abovementioned fears was this Manuel-Robertson song of strife and redemption — a sequel of sorts to The Band's 'Look Out Cleveland'. With jumpy time changes and an urgent, jittery vocal from Manuel, 'Whistle Stop' acknowledged the darker, more turbulent world of urban America. "From beside a train," wrote Time critic and future Martin Scorsese screenwriter Jay Cocks, "a man like a carnival pitchman looks out at a street where a boy is pursued by screaming police sirens and flashing lights. The pitchman offers a trip away from all this, and the song becomes a rhythmic invitation to salvation aboard a train to glory."

All La Glory

Again an immediate contrast to the preceding track — a softly dreamy lullaby sung by Helm in uncharacteristically tender voice. "It's a song to a young person," John Simon told Rolling Stone. "I can't be sure, Robbie may have written it for his little girl, or it may be more universal than that." With Robertson's delicate guitar picking offset by Hudson's sleepy accordion phrases, 'All La Glory' remains one of The Band's loveliest ballads.

The Shape I'm In

Robbie Robertson did little to disguise the fact that this was essentially about the shape its singer, Richard Manuel, was in. Over a pounding bass pulse, 'The Shape' was a frazzled plea-for-help from a Skid Row burnout — a Jawbone floundering in the modern world. "Go out yonder, peace in the valley/Come downtown, have to rumble in the alley," Manuel began, positing the sanctuary of rural life against the hustle of the streets. The Band rarely sounded more raw or honest.

The W.S. Walcott Medicine Show

A throwback, perhaps, to the mood of The Band, 'Medicine Show' was based heavily on Levon Helm's memories of the travelling shows he'd seen as a kid in Arkansas. Introducing us to the young faith healer who's also a "woman stealer", and to Miss Brer Foxhole "with bright diamonds in her teeth", the song is slightly contrived as tintype portraiture but irresistibly funky. John Simon and Garth Hudson give us a reprise of the two-man horn section heard on Big Pink and The Band.

Daniel and the Sacred Harp

An Appalachian reworking of the delta blues myth that had Robert Johnson acquiring musical genius in exchange for his soul. "I guess it's about greed in the context of Christian mythology," Robertson said of the song. "At the time I was very into Sacred Harp shape-note singing, so I had that in the back of my mind." It's Manuel on lead vocal, Rick Danko playing the fiddle and Garth Hudson on accordion, the mood slightly stiff but the message clear enough.

Stage Fright

The late Ralph Gleason called 'Stage Fright' the best song ever written about performing. Based partly on Robertson's possibly psychosomatic illness as The Band prepared to be "caught in the spotlight" in San Francisco, the track was written by Robbie on the piano and intended for Manuel to sing until it became obvious that it suited the querulous, uneasy voice of Rick Danko far better. "They gave this choirboy his fortune and fame," Danko sang, "and since that day he ain't been the same..."

The Rumor

Sombre and paranoid, the final song on Stage Fright was thought by some to be about Bob Dylan, by others to address the damage done by gossip in general. In truth it was somewhere between the two. 'The Rumor' was about Woodstock," volunteers John Simon cheerfully. "In Woodstock, you could tell from where someone's car was parked who they were fucking." Sketching out a small town in which a man could be ostracized on the basis of mere tittle-tattle, The Band's three principal voices pleaded for compassion, merging in overlapping phrases to reassure the victim that the fog will eventually "roll away" to reveal "a brand new day". One of the group's most piercingly soulful performances.

*
Bonus Tracks
Daniel and the Sacred Harp
A first take of this faux-Appalachian fable, recorded at the Woodstock Playhouse sessions on June 4, 1970. Prefaced by a brief discussion between Helm and Manuel — and a brief interpolation from engineer Todd Rundgren — this version is more straightforward and strummed than the one on Stage Fright, with Helm accenting every offbeat rather than every other one.
Time to Kill
A rejected Glyn Johns mix from Island Studios in London, dated June 13, 1970. As one might expect from Johns (producer of the Stones and Led Zeppelin), it's slightly bigger and brighter than the more muted Rundgren mix that made the cut.
WS Walcott Medicine Show
This alternate mix is from Todd Rundgren's first set of mixes at New York's Record Plant in late June 1970. The differences between it and the final version are negligible, although the horns are certainly more prominent.
---
The Band: Cahoots (Capitol)
Barney Hoskyns for Rock's Backpages, October 2000

Ironically, after the release of Stage Fright in September 1970, The Band spent the ensuing three months touring America. "We had it set up pretty well," remembered tour manager Jonathan Taplin, later the successful producer of films such as Taxi Driver. "We had a little turbo-prop airplane that would land near Woodstock in Kingston, so it would literally take twenty minutes to get to the plane and go to any college or venue where we were playing."

"Some of the shows were real good," recalled the group's guitarist, chief songwriter and de facto leader Robbie Robertson. "Sometimes it got real accurate and sometimes we were just crazy rock and roll musicians. But when it was really good, when we all played well, it made us feel just tremendous."

After finishing the tour in Miami in December, The Band went into winter hibernation in their adopted hometown of Woodstock, New York. Here their manager Albert Grossman was recovering from the death of Janis Joplin, one of his biggest acts, and immersing himself in the building of a large recording studio near his Bearsville estate. Nicknamed "The Grey Cloud", Grossman was now at the hub of a music scene which had burgeoned in and around Woodstock. Bob Dylan was gone, but Van Morrison and many others owned houses in the area. Grossman wanted to establish a complex of studios and restaurants in Bearsville, two miles west of Woodstock along Route 212.

A barnlike structure in the middle of a forest clearing off 212, the main Bearsville studio soon became a second home to The Band, who were gearing up to record their fourth album. "Instead of sitting around home and turning on a 2-track, we can go down to the studio and turn on a 16-track," drummer Levon Helm said early in 1971. "And instead of some asshole coming in and bootlegging the music we can have the record company do it for us nice and legit."

"In my mind I had my own key to the studio and had drums set up everywhere that I never had to take down," Helm recalls today. "I had this wonderful world built up in my head where The Band would just be making music all the time, and it would just be hand over fist with money and albums, and who's got time to count it?"

What Helm hadn't reckoned on was Robbie Robertson hitting a nasty patch of writers' block, not to mention their bandmate Richard Manuel drying up completely. "It was frustrating, a horrible feeling," Robertson remembered. "I just didn't have the spirit to write. A lot of the songs were half-finished ideas." Manuel, meanwhile, was fast becoming a chronic alcoholic.

More than ever, Robertson was having to hold The Band together and keep it on course. "I saw that Robbie became the leader because nobody else wanted to be the leader," said Bill Graham, who'd promoted their first live shows as The Band; "Levon had been the leader, but he wasn't enough of a decision-maker." Road manager Jonathan Taplin noted that having to write almost all the songs "put a lot more pressure" on Robbie.

"I can't emphasize how much success had changed everything," Rick Danko told Stephen Davis. "We were outrageous in our behavior, and it was impossible to get people in one place at one time. And when we did, it was hard to work because when we looked at one another and saw how wrecked we were, it was hard not to crack up."

Given all that, it's a wonder that there was so much good music on Cahoots. It would be pointless to pretend that the album is on a par with The Band or Music From Big Pink, but its many high points have been too cavalierly dismissed over the years. 'Life is a Carnival', with its extraordinary antiphonal horn arrangement by Allen Toussaint, remains the single funkiest track The Band ever recorded. Bob Dylan's 'When I Paint My Masterpiece', sung by Helm, is a droll fusion of Parisian chanson and Arkansas hoedown, and the drummer's singing on the closing 'River Hymn' is exquisite. 'The Moon Struck One', sung by Manuel, seems to issue from the same melodic wellspring as his own earlier 'In a Station', while his boozy sparring with neighbor Van Morrison on '4% Pantomime' is a hoot. Rick Danko's multi-tracked vocals on 'Volcano' help to transform that song into a blast of horny joy.

Huge fans of Allen Toussaint's classic R&B and soul productions, The Band couldn't believe their luck when the New Orleans maestro agreed to write the horn charts for 'Life is a Carnival', a song based on a sprung funk groove Helm and Danko had worked up at the Bearsville studio in the late spring. Lee Dorsey's Toussaint-produced Yes We Can album, released the year before, had exerted a big influence on the group's rhythm section, and Danko was just then in the process of writing songs with cajun singer Bobby Charles, author of 'See You Later, Alligator' and 'Walking to New Orleans'.

"They'd heard Lee's album and they were, I guess, impressed a little," Toussaint said in 1973. "They're such good guys and communications were very, very good. They immediately know where you're coming from. The instrumentation was different from what I'd previously used, but I talked it over with Robbie."

For all the infectious propulsion of 'Life is a Carnival', Cahoots was first and foremost an album of lamentation, a record that mourned the passing of key American traditions. On the cover, Gilbert Stone's painting showed The Band standing beside a mausoleum; behind them a ghostly Preservation Hall band could be seen in an old summer house in the distance. A sense of loss permeated songs like 'The River Hymn', 'Last of the Blacksmiths' and 'Where Do We Go From Here?'.

"The record poses the question, 'What are things coming to?'" remarked Robertson. "It dealt with the fact that things like carnivals and blacksmiths were vanishing from the American scene." For Robertson, American culture was fast becoming bland and soulless. "I mean, what are you going to write about now?," he asked one interviewer. "'They came back home and watched TV"? It's not quite the same as 'The whole congregation was standing on the banks of the river'. There's so much season to it, so much more character."

For Greil Marcus, writing in his acclaimed Mystery Train, Cahoots suggested that The Band "could not survive the honest demands of the greater joint-stock world" that was present-day America. Yet Robertson's pining for bygone tradition needs to be seen in the context not only of his status as an outsider — a Canadian — but of the collapsing state of The Band itself. Could his elegies for the blacksmith and the American eagle actually be sublimations of his feelings about the group?

Released to muted reviews in the fall of 1971, Cahoots never made it higher than #21 on the Billboard album chart, and spent just five weeks in the Top 40 compared with Stage Fright's fourteen. Three decades on, though, it can be heard afresh as the sound of The Band continuing the process Stage Fright had begun: adjusting to a modern world in which they didn't quite belong.

*

Life is a Carnival

Co-credited to Helm, Danko and Robertson, this insatiably funky track was pure New Orleans strut. "Rick and I worked [it] out music-wise and Robbie put [it] to words," Helm wrote in his autobiography This Wheel's on Fire. "It was one of the last of those real good Band songs that came out of that workshop setting we liked. Rick and I worked on the rhythms for five days." A song about what Robertson called "the hustle and freakiness of the street", 'Carnival' really came alive with its Allen Toussaint-arranged horns. "When other people wrote horns, everybody would come in and everybody would go out," noted Robertson. "With Allen's thing, everybody would play separately. It's kind of like a Dixieland approach."

When I Paint My Masterpiece

A Bob Dylan song about an impecunious American artist at large in Rome, 'Masterpiece' was an amiable blend of country and chanson with Helm singing and strumming mandolin, Manuel behind the drums, and Garth Hudson supplying suitably schmaltzy accordion. "It was [that song's] official debut, since Bob didn't release his own version for a couple of more months," Helm recalled. "We figured we couldn't go wrong having one of his songs on the record." Helm, Danko and Hudson revived the song at the 1992 "Bob-fest" concert for Dylan at Madison Square Garden.

Last of the Blacksmiths

Richard Manuel sang this angry, anguished Robbie Robertson song about the decay of hands-on craftsmanship in an increasingly technologised America. Manuel's piano — bright, brittle — is very much to the fore, and Hudson blows a banshee-esque soprano sax.

Where Do We Go From Here?

Another lamentation, this time for the plight of the American eagle, the railroads, and the buffalo. Sung by Danko, the song's title could have referred just as easily to The Band itself — a group that felt increasingly lost and uncertain. "There's a very moving feeling in there wanting to come out," Robertson was to claim, "but it ain't there in this version."

4% Pantomime

The Band's Woodstock neighbor Van Morrison guested on this drunken romp of a song. "Richard and Van were close pals," remembered Mary Martin, who'd hooked the group up with Dylan six years earlier. "For Van, Richard was the real soul of The Band." Morrison had only recently finished his classic Moondance album when he dropped in at Bearsville and dueted with Manuel on Robertson's song about two musicians stranded in L.A. with nothing but a bottle of Johnnie Walker Red for consolation. "They were acting this whole thing out," recalled Robertson of Manuel and Morrison. "For a second while I was watching it, it became soundless — all hands and veins and necks. It was almost like this whole movement thing was going on and the music was carrying itself."

Shoot Out in Chinatown

Lightweight but fun, 'Chinatown' was a typical Robertson story song of the period, set amidst the Chinese saloons and opium dens of turn-of-the-century San Francisco. With its oriental guitar fills and rowdy, overlapping vocals, the track anticipates 'Ophelia' and 'Forbidden Fruit' on Northern Lights — Southern Cross.

The Moon Struck One

Manuel again sang lead, this time on a dreamy nocturnal ballad that recalled both 'In a Station' and 'Sleeping'. It was almost as if Robertson was intentionally writing in Manuel's style. Robertson had originally wanted jazz legend Gil Evans to orcestrate the song, but the idea came to nothing.

Thinkin' Out Loud

A pleasant mid-tempo song with Danko singing lead and playing busy acoustic bass fills, Manuel clomping away on the drums, and Hudson fooling at the piano. Robertson's lyric was typically littered with eccentrics and bizarre images, not to mention the motifs of loss: "Transylvania Train circus never came/Heroes are all gone/No trampolene found without a scream/Who's looking for a job?"

Smoke Signal

Helm returned to 'Jemima Surrender' territory with this stomping little rocker, the star of which was once again Garth Hudson's unfettered barroom piano doodling. Even here Robbie Robertson was making his points about America: "You don't believe what you read in the paper/You can't believe the stranger at your door/You don't believe what you hear from your neighbor/Your neighborhood ain't even there no more!"

Volcano

Danko remembered that Cahoots was the first Band album on which he properly worked the board in the studio. "I multi-tracked my voice for the first time on 'Volcano'," he told Stephen Davis. "It was a time of experimenting for me: arranging, producing, getting involved in that way." With its squalling horns and lasciviously funky chorus, the track was one of the album's cheerier moments.

The River Hymn

Robertson's closing elegy about "the old days" — the days when "the family was family-oriented and the building of this country was going on" — was the prettiest thing on Cahoots, sung by Levon Helm in a voice pitched somewhere between Virgil Caine and 'All La Glory'. Helping out on the chorus was Helm's common-law wife (and the mother of his daughter Amy) Libby Titus — the first time a woman's voice had been heard on a Band album.

*
Bonus Tracks
Endless Highway
Recorded at Albert Grossman's Bearsville studio on February 2, 1971, this Cahoots outtake was ditched and the song only reactivated for the Watkins Glen festival in 1973. By that time it was no longer being sung by Richard Manuel but by Rick Danko, who can also be heard singing it on the Dylan/Band live album Before the Flood.
When I Paint My Masterpiece
An alternate take (#10) of the endearing Bob Dylan chanson covered on Cahoots, this version was mixed but ultimately rejected in favor of Take 17. Once again the main differences can be found in the phrasing — in this case, Helm's — of certain lines.
Bessie Smith
Hard to date this, a Danko-Robertson song which originally appeared on The Basement Tapes in 1975. Featuring Rick and Robbie as co-leads, the track almost certainly hails from the Big Pink sessions in early 1968, either those held at A&R in New York or the ones at Capitol and Gold Star in L.A.. Why it didn't make the album is a mystery, since it remains one of the loveliest Band songs of the period.
Don't Do It
A Marvin Gaye cover that might have been a single from Stage Fright, 'Don't Do It' was a cracklingly funky tribute to Motown that sadly never saw the light of day. Fortunately Rock of Ages kicked off with a sensational live version augmented by the glorious horn arrangements of Allen Toussaint. Note: In the absence of the original master recording, this 'Don't Do It' is a cleaned-up track from an acetate and is included here mainly for historical reasons.
Copyright © 2000 Barney Hoskyns
---
[History] [Members] [Library] [Discography] [Videography] [Filmography] [Pictures] [Audio Files] [Video Clips] [Tape Archive] [Concerts] [Related Artists] [Merchandise] [Guestbook] [Chat Room] [Search] [What's New?] [Main Page]
Webmaster