The Jungle Bush Beaters: Distant Drums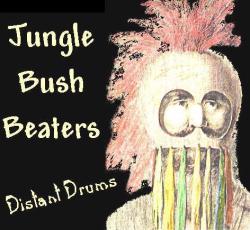 The Jungle Bush Beaters, named after Levon Helm's first high school band in Marvell, AR, are Levon's nephew and former Cate Brothers Band drummer Terry Cagle (drums, vocals,) Loren Bailey (guitar, vocals,) Larry Hight (guitar, steel guitar, sax, vocals,) Lee Hight (guitar,) and Tommy Payton (bass, vocals.) Terry Cagle and the Cate Bros. toured and played with The Band on their first reunion tours in the '80s.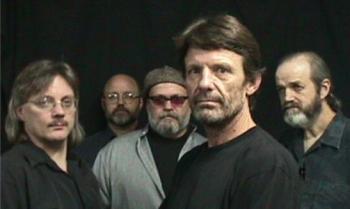 The Jungle Bush Beaters, l-r: Loren Bailey, Larry Hight, Tommy Payton, Terry Cagle, Lee Hight
The Jungle Bush Beaters' debut album Distant Drums was recorded at Fat Rabbit Recording Studio in Forth Smith as a demo for venues and clubs, and later released in 2000 when the band decided to put it on the market. The music is described in reviews as "rock'n roll with a bluesy feel." Included is a cover of "Rain Down Tears," recorded by Levon Helm for his RCO All-Stars album. For more about the Jungle Bush Beaters, check out their web site.
Tracks
Anything You Want Me To
Show Me the Money
Mr. Lucky
Rain Down Tears
Love Gotcha
Last Hand of the Night
Uphill Peace of Mind
I'll Leave a Light On
Give It Up
The Jungle Bush Beaters - Distant Drums - 2000 - Fat Rabbit ?
---
[History] [Members] [Library] [Discography] [Videography] [Filmography] [Pictures] [Audio Files] [Video Clips] [Tape Archive] [Concerts] [Related Artists] [Merchandise] [Guestbook] [Chat Room] [Search] [What's New?] [Main Page]
Webmaster