The Cate Brothers Band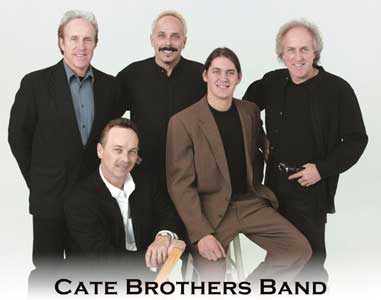 The 2002 line-up. L-r: Ernie Cate, Mickey Eoff, Ron Eoff, Dave Renko, Earl Cate.

The link between the Band and the Cate Brothers dates back to 1966, when Levon Helm was their drummer for a few gigs in Arkansas after he had left the Hawks' tour with Bob Dylan. In 1981, five years after The Last Waltz, Levon and the Cates did a series of concerts in Canada and the US. When the Band finally was reunited again in 1983, they started out as an eight-piece ensemble with Levon, Rick Danko, Garth Hudson, and Richard Manuel, plus the following members of the Cate Brothers Band:

Band guitarist Jim Weider also played with the Band during this period. The Cates teamed up with the Band again on the beginning of their 1985 tour, but had to leave after a while due to economical problems. Jim Weider instead continued as the guitarist of the Band. The Cate Brothers Band have in the later years done occasional performances with Levon, Garth Hudson, and the Band.

Levon Helm appeared on The Cate Brothers' debut album Cate Brothers (1975) and on their fourth effort, Fire on the Tracks (1979). No Band members are credited on their later releases. The Cates also contributed to Levon's solo albums Levon Helm (1978), American Son (1980), and Levon Helm (1982).

Levon's nephew Terry Cagle and his group the Jungle Bush Beaters, named after Levon Helm's first high school band, released the album Distant Drums in 2000.

I saw the Cates live for the first time during a trip to Arkansas in the spring of 2002. They're brilliant! For more on the Cate Brothers Band, see their official web site.
---
[History] [Members] [Library] [Discography] [Videography] [Filmography] [Pictures] [Audio Files] [Video Clips] [Tape Archive] [Concerts] [Related Artists] [Merchandise] [Guestbook] [Chat Room] [Search] [What's New?] [Main Page]
Webmaster