Hirth Martinez: I'm Not Like I Was Before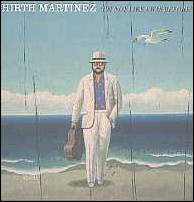 Singer / songwriter / spacecase Hirth Martinez was a minor sensation in 1975, when Robbie Robertson discovered his "genious" and produced the debut album Hirth from Earth, an aquired-taste LP filled with "songs of UFOs as well as loneliness and self-doubt". Garth Hudson guested on Hirth from Earth and was also present on the 1977 follow-up Big Bright Street.
Hirth Martinez's third album, titled I'm Not Like I Was Before (let's hope he's right) was released on Nov.25, 1998, on the Japanese Dreamsville Records label. This is a Japan-only release with Band-cohort John Simon as producer and arranger.
Garth Hudson play accordion, tenor sax and piano on several songs on I'm Not Like I Was Before. According to my dear Japanese friend Hideki Watanabe, the song "All Things Possible" stand out as the best track on the CD.
Some of the songs from this album resurfaced in 2000 on the EP release Feeling So Fine.
Tracks
Old Friends
5/4 Samba
I'm Not Like I Was Before
Sometimes / Always
The Girl
Busy Man
For The Moment
These Days
Somewhere In The Power Of Her Love
Lonely And Blue
Slowly
All Things Possible
Sidemen
(only members of The Band listed)
Garth Hudson, accordion on track 2, 4 / tenor Sax on track 6, 10 / piano on track 12
Hirth Martinez - I'm Not Like I Was Before - 1998 - Dreamsville Records, Japan, YDCD-0001
---
[History] [Members] [Library] [Discography] [Videography] [Filmography] [Pictures] [Audio Files] [Video Clips] [Tape Archive] [Concerts] [Related Artists] [Merchandise] [Guestbook] [Chat Room] [Search] [What's New?] [Main Page]
Webmaster